Chargesheet in Shruti abduction case filed
Faridkot, December 26
The Faridkot police today filed a chargesheet in the Shruti abduction and rape case against all the 20 accused, who are at present lodged in the Central Jail, Faridkot.
MSP hike too meagre, says SAD
Chandigarh, December 26
Describing it as "a cruel joke" on the farming community, the SAD today rejected the Rs 65 increase in the minimum support price (MSP) of wheat to Rs 1,350 for the rabi season 2013-14.
GPRS system to check kerosene pilferage rejected by transporters
Chandigarh, December 26
Pilferage of kerosene oil across Punjab seems to have resumed, after the state government-initiated plan of enabling GPRS on oil tankers, ferrying kerosene oil from the depots of the Oil Marketing Companies to the 17,300 kerosene agencies, failed. Subsidised kerosene oil meant to be distributed to the poor is now allegedly being sold in the open market on a premium, while the poor continue to wait for their supply of the kerosene oil.
42% of water samples non-potable in Patiala
Patiala, December 26
Of the 499 water samples collected by the District Health and Family Welfare Department from January 2012 till November 30 in Patiala district, 212 have been found to be non-potable while the results of 35 samples are still awaited.
People living in constant fear: Capt
Fatehgarh Sahib, December 26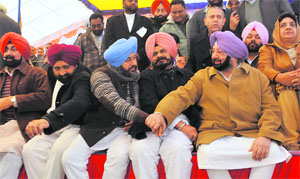 The Congress today demanded the expulsion of Revenue Minister Bikram Singh Majithia for "spreading hooliganism" in the state. Addressing a gathering at Shaheedi Jor Mela here, PCC president Capt Amarinder Singh said people in the state were living under constant fear. He said if the SAD should expel Majithia from the party and order an inquiry into his role in "promoting gooda raj" in the state.


PCC chief Amarinder Singh (right) with party leaders at Fatehgarh Sahib on Wednesday. Tribune photo: Vicky Gharu

Mann for Governor's rule in Punjab
Fatehgarh Sahib, December 26
Alleging lawlessness in the state, Shiromani Akali Dal (Mann) president Simranjit Singh Mann today demanded the imposition of the Governor rule in Punjab.
Jain to contest Moga byelection as SAD nominee
Chandigarh, December 26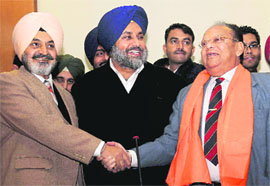 In a first in Punjab politics, Congress legislator from Moga Joginderpal Jain today resigned from the party and joined the Shiromani Akali Dal (SAD) to pave the way for a byelection that he will now contest as Akali nominee. Jain's desertion from the Congress is seen as SAD president Sukhbir Singh Badal's masterstroke.
From Left: PS Gill, former DGP, Deputy CM Sukhbir Badal and Joginderpal Jain at the SAd headquarters in Chandigarh on Wednesday. Tribune photo: Manoj Mahajan

Councillors stage dharna in Sangrur
Sangrur, December 26
Several municipal councillors today staged a dharna outside the office of the Municipal Council at Lehragaga, about 40 km from here, demanding that the elections for the posts of President, Senior Vice President of the council be held soon. The protesters also locked the main gate of the council office.
'Cancer survey will dispel fear'
Bathinda, December 26
The symptom-based door-to-door cancer detection campaign in Punjab is expected to serve as data bank for all forms of the malady, said Dr Sachin Gupta, consultant oncologist at Max Hospital, Mohali.
Doctors threaten to protest if changes not rolled back
Ludhiana, December 26
The Punjab Civil Medical Services (PCMS) Association threatened to protest against the government if it doesn't immediately rollback the changes made to the eligibility criteria for admission to MD/MS courses.
Sangrur district faces acute shortage of medical staff
Sangrur, December 26
In Sangrur district, 40 per cent posts for medical officers, 50 per cent posts for staff nurses, 60 per cent posts for radiographers and 100 per cent posts for radiologists have been lying vacant.
Director (Health) pulls up doctors in Bathinda
Bathinda, December 26
The Director, Health Services, Punjab, Dr Ashok Nayyar on Tuesday paid a surprise visit to the Bathinda Civil Hospital wherein he pointed out various anomalies and instructed the doctors to remove all the glitches to provide better health services to patients.
Released prisoner brings message from Sarabjit
Amritsar, December 26
Jitender Singh, an Indian prisoner released by Pakistan today, brought home a message from Sarabjit Singh and Kirpal Singh, both on death row in the neighbouring country.
Protests held against 'lawlessness'
Ludhiana, December 26
Political parties and non-government organisations today held a protest against the state government for rampant 'lawlessness' and attacks on police officers.
Majithia says he will come out unscathed
Amritsar, December 26
From a greenhorn in politics during the 2007 Punjab Vidhan Sabha elections to one of the most prominent faces of Punjab politics today, Revenue Minister Bikram Singh Majithia has, indeed, come a long way in the last over five years.
'Sunny terrorised Cong men in Majitha'
Amritsar, December 26
The voices against Cabinet Minister Bikram Singh Majithia have become shriller following the assault on police officer SS Mand by Youth Akali Dal leaders at Ludhiana.
SAD cadre not involved, says Sukhbir
Chandigarh, December 26
Deputy chief minister Sukhbir Singh Badal today claimed the SAD cadre was not involved in the altercation with police officer SS Mand and that a distinction should be made between a police officer being attacked at a private function and one attacked while on duty.
'Kidnapped' girl found
Faridkot, December 26 Five months after a minor girl was allegedly kidnapped by a youth, the police today recovered the victim from Verka in Amritsar. The police have arrested a youth, Nirmal Singh alias Nimma. His two accomplices were arrested three month ago.
Government plans separate force for night policing
Chandigarh, December 26
Deputy Chief Minister Sukhbir Singh Badal today said a separate force for policing during night hours would be constituted in the state. Sukhbir, who also holds the Home portfolio, announced this on the sidelines of a function held here to induct Congress legislator Joginderpal Jain into the Shiromani Akali Dal (SAD).
Sanjh Kendras to go online
Mansa, December 26
Sanjh Vans, an initiative of Mansa Senior Superintendent of Police (SSP) Narendra Bhargav, will be launched all across the state, said ADGP (law and order) SK Sharma.
Nature's dance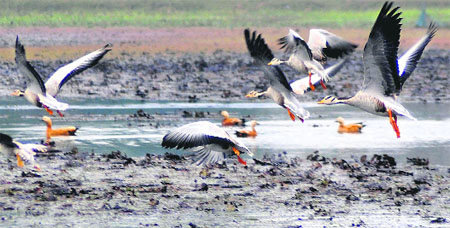 Migratory birds taking off from one of the ponds at Motte Majra village in Mohali on Wednesday. Tribune photo: Vicky Gharu
Bathinda man held for filing false theft case with police
Bathinda, December 26
A man from Chet Singh Wala kept the Bathinda police on tenterhooks on Tuesday by raising an alarm over the theft of his vehicle from the Civil Hospital area. The alarm later turned out to be false.