M A I N N E W S
Honour killings: SC summons Haryana top cop, two SPs
R Sedhuraman
Legal Correspondent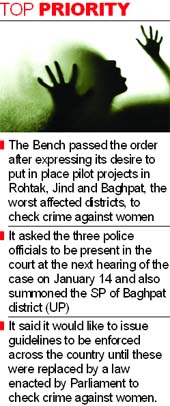 New Delhi, January 4
The Supreme Court today summoned the Haryana Director General of Police (Law and Order) and the Superintendents of Police of Rohtak and Jind districts in a case relating to checking honour killings of young couples involved in same "gotra" or inter-caste marriages at the instance of khap panchayats.
A Bench comprising Justices Aftab Alam and Ranjana Desai asked the three police officials to be present in the court at the next hearing of the case on January 14. It also summoned the SP of Baghpat district in Uttar Pradesh.
The Bench asked the PIL petitioner, Shakti Vahini, to contact the Sarb and Meham Choubisi khap panchayats of Rohtak and Jind districts and ask them whether they would like to present their views on matrimony and other community issues in which they interfered. It directed advocate Ravi Kant, counsel for the petitioner, to convey its sentiments to the two khap panchayats.
"We are open and willing to hear their views in the matter," the Bench said. It also asked Additional Advocate General Manjit Singh Dalal to communicate its order to the three police officials.
The Bench passed the order after expressing its desire to put in place pilot projects in Rohtak, Jind and Baghpat, the worst affected districts, to check crimes against women as recommended by senior advocate Raju Ramachandran, appointed as amicus curiae to help the SC in disposing of the PIL.