From luxury cars to 5-star stay, red carpet out for diaspora
Chandigarh, January 4
Luxury cars, police protection and stay in a five-star property— the Punjab Government has rolled out a red carpet for the Punjabi diaspora that has converged here to participate in the two-day NRI Sammelan.
Tribune Analysis
SAD succeeds in bridging gap with NRIs
Chandigarh, January 4
The Pravasi Punjabi Sammelan 2013 is set to be unique in more ways than one. The SAD has been successful in bridging the gap with not only the NRI community but also the NRI media. The SAD has used the momentum of its second consecutive assembly elections victory to reach out to the NRI community. Though it has come out with legislations, including the human trafficking and compulsory marriage registration Act, besides deciding to create fast-track courts to hear NRI cases, the SAD is keener to woo the NRI community politically.
Disrespect to National Emblem
Cong complaint against minister to be probed
Jalandhar, January 4
Following a complaint by the Congress against Local Bodies Minister Bhagat Chunni Lal and his son Mohinder Bhagat, Deputy Commissioner of Police (DCP) Sarabjit Singh today marked an inquiry to Additional DCP Navjot Singh Mahal.


In poll mode, Congress asks Moga electorate to teach Jain a lesson
Faridkot, January 4
With Congress MLA Joginder Pal Jain joining the SAD, the Congress has already braced itself for the Moga byelection. In poll mode, the party organised a public meeting in Moga, calling upon the voters to 'teach a lesson' to Jain who had ditched his supporters for personal gains.
Ludhiana DC selected for best election practices award
Ludhiana: The Election Commission of India (ECI) has selected the Deputy Commissioner of Ludhiana Rahul Tiwari and 12 other DCs/SSPs from all over the country for the Best Election Practices Award 2012.


Finally, govt recognition for Jallianwala Bagh martyrs
Chandigarh, January 4
Nobody seems certain about the number of people killed in the Jallianwala Bagh massacre on April 13, 1919. A list prepared by the then Deputy Commissioner of Amritsar says the number was more than 500. Another list prepared in 1921 by the then Home Secretary puts the figure at more than 400.
Area under wheat unlikely to exceed 33 lakh hectares
Chandigarh, January 4
The state Agriculture Department says though it had received information that wheat was sown on 35 lakh hectares across the state this year, the figure appears exaggerated.
500 arms licences may be fake in Amritsar
Amritsar, January 4
A special investigation team constituted by the district administration has found the number of suspicious arms licences much more than what was assumed earlier.
Rapists deserve toughest punishment, says Bardhan
Amritsar, January 4
Veteran CPI leader AB Bardhan has said there should be strictest possible punishment for those found guilty in rape cases.
Tension over Bathinda gurdwara escalates
Rampura Phul, January 4
Tension over management of a gurdwara between members of the Bhullar community and the SGPC escalated today with members of the community blocking the busy Bathinda-Barnala highway, alleging that the state government was helping the SGPC to take control of a shrine which had been with the community for decades.
Self defence camps for girls in Patiala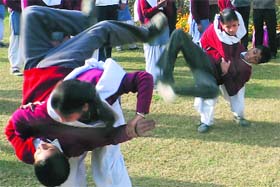 Patiala, January 4
Various government schools in Patiala are holding 40-day camps under the Sarv Sarv Sikhsha Abhiyan to help girls defend themselves.






Schoolchildren take part in a Taekwondo training camp in Patiala on Friday. Tribune photo: Rajesh Sachar

7,650 suspected cancer cases detected in Sangrur
Sangrur, January 4
Over 7,650 suspected cancer cases have been detected out of the over 15.5 lakh persons surveyed in the district under the cancer awareness and symptom-based early detection door to door statewide campaign.
Former SGPC Secretary Giani Mohinder Singh dead
Amritsar, January 4
Giani Mohinder Singh, who was one of the longest serving secretaries of the SGPC, today passed away at the age of 104. Born in Tarn Taran in 1908, he served on key posts in various gurdwara committees.
PSPCL official caught taking bribe
Patiala, January 4
A team of officials from the Vigilance Bureau (VB), Patiala, today arrested a Regular Team Maid (RTM) attached with the Punjab State Power Corporation Limited, posted in Tohra village, after he was allegedly caught red-handed accepting a bribe of Rs 2,100 to settle a consumer's inflated bill.


Allot letter of intent carefully, HC to Punjab
Chandigarh, January 4
In a significant judgment, the Punjab and Haryana High Court has directed the State of Punjab to ensure that the letter of intent for a property is not issued in favour of an allottee, unless eligibility certificates have been scrutinised.
ANTI-SIKH RIOTS
SC turns down plea for relief to 200 families
New Delhi, January 4
The Supreme Court today dismissed a petition of a New York-based organisation, Sikhs for Justice, pleading for rehabilitation of about 200 families in Chandigarh affected by the 1984 anti-Sikh riots.