M

a h a r a j a Y a d a v i n d r a S i n g h
today is the Birth centenary of Late Maharaja Yadavindra Singh

My father regretted donating property to govt: Malvinder
Umesh Dewan
Tribune News Service

Patiala, January 6
On the hundredth birth anniversary of Late Maharaja Yadavindra Singh of Patiala, his younger son, Raja Malvinder Singh says his father regretted giving away his many properties to the government and rated politics of his times as a "dirty game".
Malvinder remembers his father as a frank and multi-faceted person. "He was a nationalist at heart and a versatile person -- a good human being and disciplined soldier," says the younger of the two sons of the late Maharaja. Youngest in the family, Malvinder adds that his father lived his life for the betterment of society.
After performing religious ceremonies as a mark of remembrance for late Yadavindra Singh at the burj of Baba Ala Singh at the historic Qila Mubarak on Sunday morning, Malvinder remained busy attending to relatives and family members of Yadavindra Singh in the sprawling lawns of his Patiala residence. He shared several interesting anecdotes about his father with The Tribune.
"Everyone knows about the biographic details of my father, who was an iconic person, but not many know that he didn't like politics. Though he contested one election as an Independent candidate from Dakala constituency in the 1960s, he resigned as a legislator after a few months.
"Politics is not my cup of tea, he told me," recalls Malvinder. "Bahut gandh ho gaya hai. Politiciana nu honour naam de cheese hi nahi pata (It's a dirty game. Politicians don't know what is honour and self-respect). These are what my father's views on politicians were," he recalled.
Discussing the father-son relationship, he said though it used to be formal, "but when I got commissioned in the army on November 5, 1963, and was leaving on November 6 to join duty, my father called me and made me a drink.
He said you will have drinks in the army; so have the first with me because I don't want to know from others that you drink behind my back. I cherish those memories," said a visibly emotional Malvinder.
His father's sense of responsibility towards the motherland can be gauged from the fact that apart from a few residential and other properties, Yadavindra Singh also donated his palaces to the government.
"My father donated Old Moti Bagh Palace building to National Institute of Sports, Pinjore Gardens, half of the properties at Chail, and the Yadavindra summer residence to the Indian Government", he said, while adding that later his father regretted doing so.
"Though my father didn't share this with his children, but we got to know that he told someone: 'Koi kadar nahi kisi nu gift di (no one cares about things they get free of cost). I am peeved over the plight of the NIS. I should have donated my properties not to the government, but to institutions so that at least these should be properly taken care of and utilised'," recalled Malvinder about his father's disillusionment.
Malvinder added he was of the opinion that the Old Moti Bagh Palace should have been donated to the Indian armed forces, but his father thought otherwise.
When asked to share memories of the coronation ceremony of Yadavindra Singh, Malvinder said, "I got to know from my father's contemporaries that the takhtposhi/raj tilak ceremony was a grand one, as it used to be during those days."
Construction of the new Moti Bagh Palace — presently the residence of Yadavindra Singh's son and Punjab Pradesh Congress Committee chief Capt Amarinder Singh and daughter-in-law Minister of State for External Affairs Preneet Kaur — was initiated by the Maharaja in 1959 and completed in 1962.
Not for professional golfers
To commemorate the centenary celebrations, the Maharaja Yadavindra Singh Centenary Tournament will be held at Patiala's Golf Club on January 9 and 10




He refused to be wooed by Jinnah to accede to Pakistan
K. Natwar Singh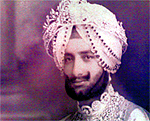 Maharaja Yadavindra Singh

MaharajaYadavindra Singh was born on January 7, 1913. His father was the legendary Maharaja Bhupindra Singh. One day he would dine with the Viceroy and the next day, he would invite Pt Moti Lal Nehru and Mohammad Ali Jinnah. On another day, he would play cricket on the highest cricket ground in the world at Chail. He was among the most powerful and influential Maharajas of his time. He was also Chancellor of the Chamber of Princes. Maharaja Bhupinder Singh passed away on March 23, 1938.
This was the man whom Maharaja Yadavindra Singh succeeded. A great responsibility fell on his shoulders. At the time of Partition, he had to participate in momentous events which involved the future of the Indian princes. The Indian princes had to decide whether they would accede to Pakistan or accede to India. Mohammad Ali Jinnah was very keen to sign an agreement with the Maharaja of Patiala to consider his joining of Pakistan. Maharaja Yadavindra Singh was then 33 years' old. He was also the Chancellor of the Chamber of Princes. He did not take any interest in Jinnah's suggestions. He persuaded all the rulers of the Punjab to accede to India. This decision of his was greatly praised by Sardar Vallabhbhai Patel, who was, at that time, holding the portfolios of Home and Princely States. The Maharaja was also instrumental in persuading other princes to remain with the Indian Union. The other great responsibility which fell on his shoulders was that of the rehabilitation of hundreds of thousands of refugees from Pakistan.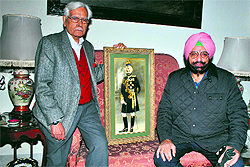 K Natwar Singh and Malvinder Singh, with a photo of Yadavindra Singh. Tribune photo: Rajesh Sachar

After the future of the princes was settled by Sardar Patel, Maharaja Yadavindra Singh was appointed the Rajpramukh of the PEPSU. He held that office for nine years. In addition, he was the President of the Indian Olympic Association and a great patron of the game of cricket. The House of Patiala could be called the father of the Indian cricket. Maharaja Bhupinder Singh had taken the first Indian cricket team to England. He also looked after the great cricketer Ranjit Singh, who had been an ADC to Maharaja Bhupinder Singh's father. The domestic tournament was named after Kumar Shri Ranjitsinhji and the trophy was subsequently named Ranji Trophy which was presented by Maharaja Bhupinder Singh to the Board of Control for Cricket in India.
Maharaja Yadavindra Singh had great knowledge of agriculture and horticulture. He was, therefore, selected to lead the Indian delegation to the meetings of the Food and Agricultural Organisation of the United Nations. These meetings were held in Rome. He was also invited to be a member of the Indian delegation to several sessions of the General Assembly of the United Nations. The leader of the delegation was to be Krishna Menon. The Maharaja had a very engaging and impressive personality and was greatly sought-after, apart from being a gracious and generous host. His friendship extended to eminent persons in Europe and America.
In 1965, the then Prime Minister, Lal Bahadur Shastri, sent him as India's Ambassador to Italy (Rome). He resigned from the Ambassadorship in the late 1966 to contest the Assembly elections in the early 1967 and was elected unopposed. However, he found the atmosphere in the Assembly not of his liking and withdrew from politics. In the meanwhile, he was busy with a number of activities, including chairmanship of the committee to celebrate the 500th birth anniversary of Guru Nanak Dev. He also generously gave anonymous financial assistance to several organisations.
In 1972, the then Prime Minister Indira Gandhi appointed him Indian Ambassador to Holland. Unfortunately, he passed away at the Hague on June 17, 1974, at the age of 61. I was then posted in London. He spoke to me a few hours before his death. My wife and I brought his body to Patiala where he was cremated. His funeral was largely attended by eminent persons and public from all over Punjab. He was not only a great Sikh but also a very patriotic and public-service-minded Indian.
The writer is a former Union Minister and son-in-law of Yadavindra Singh



A towering man in all respects
Roopinder Singh

Yadavindra Singh

Nature gave him the height, variously recorded as 6'4" or 6'5". His accomplishments made him look taller in the eyes of his contemporaries. Indeed, what first struck anyone who saw Maharaja Yadavindra Singh of Patiala was his towering personality and immaculate appearance.
Born a century ago on this date, he was a king who led from the front, be it in running the affairs of the state; in leading the princes of India into incorporating their states into the Union of India; in rehabilitating refugees after Partition; in
promoting the Punjabi language, sports, horticulture, agriculture; and in diplomatic and other assignments.
Maharaja Yadavindra Singh ascended the throne of the state of Patiala at the age of 25 after the demise of his father, the famous Maharaja Bhupindra Singh.
A course at the Police Training School at Phillaur and an attachment to the 11th Sikhs added to his expertise which was put to use in the Patiala Police Force. His appointment as Secretary in the Departments of Forests and Horticulture allowed him to work on something he was passionate about. He also assisted his father, who was the Chancellor of the Chamber of Princes.
After his accession to the throne in 1938, Maharaja Yadavindra Singh was instrumental in cutting down much waste in state expenditure, and in promoting education and sports. When World War II broke out in 1939, he founded the Khalsa Defence of India League, and led the effort to recruit Sikhs in the British Army. He also went to war front in Italy, the Middle East and Malaya.
He also played a major role in the resettlement of the refugees: Muslims who had to be repatriated to Pakistan and the large number of Hindus and Sikhs who were welcomed into the state. Among them were teachers and students of Aitchison College, Lahore. The Yadavindra Public School in Patiala came about as a place that would continue the education and traditions of his alma mater in Patiala.
When PEPSU was merged with East Punjab in 1956, he ceased to be the Rajpramukh of the state. In 1958, he represented India in Paris at the 10th annual conference of UNESCO and put his knowledge of horticulture to good use as the leader of the Indian delegation to the UN Food and Agricultural Organisation for a decade or so.
He became Indian Ambassador to Rome in 1965, and served till 1967, when he returned to Punjab to stand as an Independent candidate to the Punjab legislature. He won, but soon realised that politics was not his cup of tea. He presided over the annual sessions of Sikh Educational Conference and was chairman of the Punjabi University Commission.
In 1971, he became the Indian Ambassador to the Netherlands. It was in The Hague that he suffered a severe heart attack on June 17, 1974, and did not survive. He was 61.
Maharaja Yadavindra Singh is still remembered as a king who stood tall among his contemporaries. He played a crucial role in pre and post-Independence India. He contributed significantly to the fields of sports and education and was a person who left behind a legacy that has ensured his place in history.
Timeline
Born on January 7, 1913 in Patiala
Got early education in England
In 1933, attended Aitchison College, Lahore
He played in one Test representing the Indian team in 1934
Served in the Patiala State Police
After the demise of Maharaja Bhupindra Singh, he succeeded him as Maharaja of Patiala in 1938
Served in the army and was posted in Malaya, Italy and Burma during the second World War; was later given honorary rank of Lieutenant General
After Independence, Yadavindra agreed to the incorporation of the princely state into India on May 5, 1948
Yadavindra was designated as the Rajpramukh of the new Indian state of Patiala and East Punjab States Union until it was merged with Punjab in 1956
Yadavindra married Maharani Hem Prabha Devi of Saraikela, Orissa, in 1935. His second marriage took place with Maharani Mohinder Kaur in 1938
Yadavindra had four children; daughters Heminder Kaur and Rupinder Kaur and sons Capt Amarinder Singh and Malvinder Singh
Yadavindra also served as president of the British Indian Olympic Committee from 1938 to 1947 and as president of the Indian Olympic Committee from 1947 to 1960
He served as Indian delegate to the UN General Assembly from 1956 to 1957 and to UNESCO in 1958
The building in which the premier school Yadavindra Public School is housed was donated by Sir Yadavindra Singh. The old Moti Bagh Palace, which now houses the NIS, was also donated by Yadavindra Singh
Yadavindra served as Indian Ambassador to Italy from 1965 to 1966 and as Indian Ambassador to the Netherlands from 1971 until 17 June, 1974
He died suddenly at the age of 61 on June 17, 1974 in The Hague, Netherlands