Exhibition on Ghadar Movement put off, but PM to release stamp
Cochin, January 6
When three-day 11th Pravasi Bharti Divas gets underway here tomorrow, there will be no exhibition on the centenary celebrations of the Ghadar Movement, one of the major uprisings among overseas Indians for freedom from the British colonial rule.
NRI conference brings in no investment
Chandigarh, January 6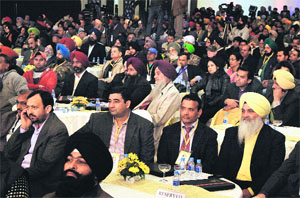 The two-day Pravasi Punjabi Sammelan, which concluded at Jalandhar yesterday, achieved nothing for Punjab as far as investment is concerned, but it did a lot to address the concerns of the NRIs. It also brought the SAD closer to the Indians living overseas. The NRIs saw their major concerns regarding harassment through false cases and problems in getting documents regarding their properties being addressed.
Delegates at NRI Sammelan

Cash-strapped govt spending Rs 30 cr annually on political appointees
Chandigarh, January 6
The cash-strapped Punjab Government is spending a whopping Rs 30 crore annually on its more than 100 political appointees. The Akali-BJP government is out to please its favourites by appointing them as advisers, officers on special duty (OSD) or chairpersons and vice-chairpersons of various boards and corporations, all at the cost of the public exchequer.
Red Cross sends 10 children to de-addiction centre
Faridkot, January 6
Already struggling with a high number of drug addicts, Faridkot is now exposed to a new murky world of drug habits which are no longer restricted to cocaine, heroin and liquor. The Red Cross Society today caught 10 children, all aged below 13, who had been using correction fluid, nail polish remover, shoe polish and enamel paints to get a high. These children belong to poor families of the local Sanjay Nagar.
Ardas at Golden Temple in memory of Satwant, Kehar
Amritsar, January 6
Akal Takht Jathedar Giani Gurbachan Singh today honoured kin of Indira Gandhi's assassins at the Golden Temple today to commemorate the 24th death anniversary of Satwant Singh and Kehar Singh.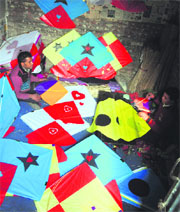 aiming high:

With Lohri approaching, a kite-maker busy making kites in Ludhiana on Sunday. Tribune photo: Himanshu Mahajan
Despite checks, illegal mining on in Ferozepur
Ferozepur, January 6
Scores of stringent measures undertaken by the local administration to check illegal mining of sand have failed to produce desired results as the process continues unabated in this border district.
HIV rising among injecting drug users in Punjab
Chandigarh, January 6
A sentinel surveillance programme conducted by the Department of Community Medicine, PGIMER, has found the prevalence of HIV among injecting drug users (IDU) in Punjab has been on the rise since 2006 when the first survey was conducted.
Teachers urge Guv not to repeal pension scheme
Patiala, January 6
The Punjabi University Teachers' Coordination Committee (PUTCC), in its full house meeting today strongly condemned the decision of the Punjab Assembly to terminate the Pension-cum-Gratuity Scheme for Government Aided and Privately Managed Colleges, 1996, for teaching and non-teaching staff. The decision was taken on December 21 last year.
Panel to suggest changes in law ineffective: Cong
Chandigarh, January 6
The Punjab Pradesh Congress Committee's legal cell today said the panel formed by Chief Minister Parkash Singh Badal to suggest amendments to criminal laws for protection of women was an "ineffective" mechanism to tackle the "deteriorating" law and order situation in the state.
Rakhra stopped from laying down foundation stone
Patiala, January 6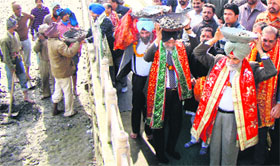 The Hindu Suraksha Samiti stopped the Punjab Rural Development and Panchayats Minister Surjit Singh Rakhra from laying down the foundation stone of the new parking lot for the Mata Kali temple here today.
Punjab Rural Development and Panchayats Minister Surjit Singh Rakhra doing kar sewa at the Mata Kali temple in Patiala on Sunday. Tribune photo: Rajesh Sachar

Rape: Need to change mindset of people
Patiala, January 6
The Centre for Social Change and Development in India held a seminar on 'Violence against women: Wrong perceptions and Damage Control Measures' at the Central State Library here today.
Govt Mohindra College to post exam results to parents
Patiala, January 6
The Government Mohindra College, Patiala, will from now onwards send postcards, mentioning the student's performance in conditional exams and number of classes attended, to their houses.
Computer teachers shouldn't do clerical work, DGSE to schools
Ludhiana, January 6
Addressing the long pending demand of computer teachers at government schools, the Punjab Education Department has directed that school authorities cannot deploy computer teachers on official work.
Amloh cooperative society chosen for President's medal
Fatehgarh Sahib, January 6
The Khanyan Multipurpose Agricultural Cooperative Society in the Amloh subdivision of the district has been chosen by the National Cooperative Development Corporation for the 2012 President's medal. The medal is given to organisations which have made an outstanding contribution to the field of cooperative movement in the area.
Primary schools shut till January 12
Chandigarh, January 6
The Education Department today extended winter vacations( for students and staff) in government primary, private recognised and aided schools in the state up to January 12.
Truck stolen
Tarn Taran, January 6
Four unidentified persons decamped with a truck after thrashing its driver and cleaner here today.
False cases worry police forces
Bathinda, January 6
While widespread protests are being staged after the brutal rape and murder of a 23-year-old girl in Delhi and concern is being voiced over the safety of women, the number of false complaints lodged by women to settle scores too is on the rise and is worrying the police
Bhog performed in memory of 'Damini'
Barnala, January 6
In memory of Delhi gang rape victim Damini, the Ex-Serviceman wing of the Shiromani Akali Dal (SAD) performed the bhog of Sri Akhand Path Sahib at Gurdwara Singh Sabha Sahib here today. Members of various political, religious and social organisations took part in the ceremony and prayed for the departed soul.
Patiala case: Status report ready
Patiala, January 6
The crime branch today held a meeting pertaining to the completion of the status report on the action taken against erring officials and the circumstances leading to suicide by a teenaged gangrape victim in Patiala's Badshahpur village.The report reportedly admits negligence on part the of lower-rung officials.
Nabha murders: 2 years gone, no breakthrough
Nabha (Patiala), January 6
Two years after four members of a family, including two women, were shot dead in their house here, various police probes have failed to find the assailants. Despite an FIR for shoddy investigations against the investigating officer, leading to the accused being acquitted by a local court, the police continues to grope in the dark.
3 jawans held for thrashing constable
Patiala, January 6
The Government Railway Police (GRP) has arrestedthree Army jawans posted at Patiala for allegedly thrashing GRP constable Gurmail Singh.
Rajpura police books three for rape bid
Patiala, January 6
The Rajpura police has registered a case against three persons for allegedly trying to rape a woman, a resident of Bakshiwala village. Inquiry officer Bhinder Singh said the victim was admitted to AP Jain Government Hospital at Rajpura yesterday. After the victim filed a complaint today, the police registered a case against Jung Singh, his son Kulwant Singh, and brother Dharam Singh under Sections 376/511, 323, 506, 120-B, 34 of IPC. One of the accused Kulwant Singh has been arrested while the others are still on the run.
Woman held captive for a year rescued
Fatehgarh Sahib, January 6
A 21-year-old Ludhiana-based woman, who was allegedly forced into prostitution and spent over a year in captivity, was today rescued by the police here.