Don't fall in Sukhbir's trap, Capt warns NRIs
Chandigarh, January 5
Punjab Pradesh Congress Committee president Capt Amarinder Singh has cautioned the Non-Resident Indians (NRIs) participating in the Pravasi Punjabi Sammelan against getting carried away by the alleged false promises made by Deputy Chief Minister Sukhbir Singh Badal.



Bhattal to approach Election Commission on village wards
Sangrur, January 5


Alleging that the SAD-BJP government has "completely politicised the formation of wards in villages ahead of the panchayat elections in the state, Lehragaga MLA Rajinder Kaur Bhattal said she would approach the Election Commission (EC) in this regard. She asked Congress workers to highlight "discrepancies" in the formation of rural wards in their respective villages.


Number of voters goes up by 9.92 lakh in a year
Chandigarh, January 5
The number of voters in Punjab has gone up by 9.92 lakh to 1.84 crore as on January 1, 2013 in comparison to electors in the corresponding period last year.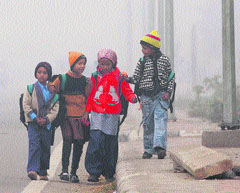 Braving intense cold: Children on their way to school on a foggy morning in Amritsar on Saturday. photo: vishal kumar
Family blames police for suicide by ex-ASI
Ropar, January 5
The family members of former Assistant Sub-Inspector (ASI) Manak Singh, who allegedly committed suicide in the wee hours yesterday, blamed the local police for the tragedy. They said the police instead of taking action against the erring officials was trying to protect them.
Groundwater in Sangrur falling at alarming rate
Sangrur, January 5
Groundwater has been depleting by almost 1 m every year in the district. It has reportedly gone down by 8 m to 10 m in the last about one decade. One of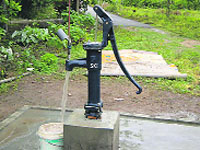 the main reasons of the depletion of groundwater is said to be its over exploitation. Sources said in 2002, the groundwater's depth range was between 10 m and 25 m in the district. The same went down to 18 m to 30 m by 2012. Deepak Sethi, Assistant Geologist, Agriculture, said as per an analysis of groundwater, prepared in 2004 by the Central Ground Water Board and the Water Sources Directorate of Irrigation Department, in collaboration with the state Agriculture Department, if the recharge of water (through rainwater, canals etc) was 100 per cent then, its discharge was 192 per cent. As per another analysis done in 2009, if the recharge of water was 100 per cent then, its discharge was 264 per cent.
Empowering women a priority, says Landran
Chandigarh, January 5
The Punjab State Commission for Women will no longer be a toothless body. Empowering women, quick redressal of their complaints and gender sensitisation will be the top priorities of the commission from now.
Jallianwalla Bagh: Govt move may set martyrs' record right
Amritsar, January 5
The state government's initiative to identify the martyrs of the Jallianwalla Bagh massacre and trace their descendants is likely to put an end to the confusion caused by three different lists of martyrs for years now.
Sehajdhari Sikh Party to fight against SAD in DSGMC poll
Amritsar, January 5
With the Election Commission of India approving the change of name of the Sehajdhari Sikh Federation to the Sehajdhari Sikh Party, its president Dr PS Ranu has announced to oppose SAD candidates in the upcoming Delhi Sikh Gurdwara Management Committee (DSGMC) elections.
In a first, sitting Congress legislator in the fray
New Delhi, January 5
With the nomination filed by three-time Congress MLA from Jangpura Tarvinder Singh Marwah, it is for the first time in the history of the Delhi Sikh Gurdwara Management Committee (DSGMC), an elected member of a political party is contesting its elections to be held on January 27.
Reschedule loans, demand dairymen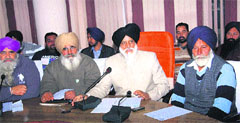 Chandigarh, January 5
A large number of dairy farmers, who gathered here today under the banner of various farmer unions, has urged the state government to get their loans taken to set up dairy farms rescheduled and interest waived.

Dairy farmers hold a press conference in Chandigarh on Saturday . tribune photo



Rights violation case against Badal in US court on Jan 29
New York, January 5
A US judge in Wisconsin will hold an evidentiary hearing on January 29 in a human rights violation case filed by a Sikh rights group against Punjab Chief Minister Parkash Singh Badal.
HC sees no wrong in banks financing earnest money
Chandigarh, January 5
The Punjab and Haryana High Court has not found any illegality in banks financing application money for plots and flats in Punjab and Haryana. It has dismissed petitions filed in public interest against advertisements and process of financing the application money by the banks.


Ex-serviceman held on attempt to rape charge
Barnala, January 5
The police today arrested an ex-serviceman (a retired honorary Captain), Gurdev Singh (65), from Bakhatgarh village for allegedly making an attempt to rape a Class III student in Bakhatgarh village.