Lakhs keep date with salvation
Faith draws devotees from far and wide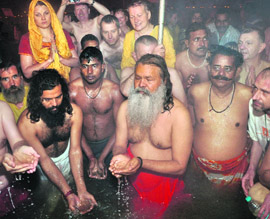 Seeking Nirvana: The Mahamandleshwar of Maha Nirvani Akhara along with his followers offers prayers.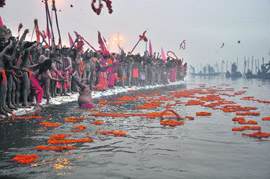 Bare devotion: Naga sadhus line up for the holy bath.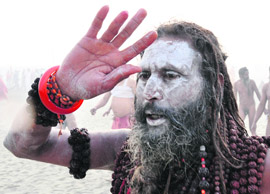 Face of faith: A sadhu with ash smeared over his body arrives for a holy bath.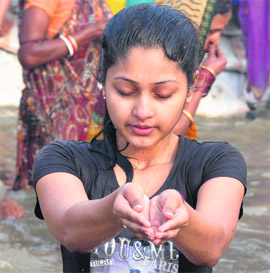 Modernity meets tradition: A girl prays while taking a dip.

It's an unending human caravan. The nearly 2-month-long Mahakumbh brings with it VIPs, sadhus and anyone wanting to be a part of the biggest global congregation. Special Correspondent Aditi Tandon and senior photographer Mukesh Aggarwal mingle with moksha-seekers to capture the mood
The exuberant hordes that bathed today in the sole "sun festival" of Hindus (all other Hindu festivals except Makar Sankranti depend on the movement of the moon) were foreigners.
One among them was Swami Jagraj Puri, an Australian, who left his home in Sydney 40 years ago to settle in India.
A follower of Hinduism, he is now the chief of an important Hindu sect.
He led a procession to the ritual bath today. "Which other religion would show such acceptance?" he says, adding that Mahakumbh was a magnificent meeting of hearts, synonymous with the meeting of the three rivers.
There were thousands of poor pilgrims who undertook days of journey for the holy dip.
"We carry ration and wood sticks with us for cooking. We have been saving for three years for this journey," says Girish Mandeha, a fisherman from MP, accompanied by him.
They sleep under the sky on the Ganga banks.
Such is the faith of the people in the purity of Ganga, now battling pollution, that a family, which yesterday saw a body floating in the river, drank its waters.
Murari Lal from Bangalore told this correspondent, "We saw a body yesterday when we went boating.
But that cannot deter us from taking a bath. We are also taking home the Ganga water."
It's this faith that makes Mahakumbh, the oldest festival in the world, bring together people from diverse religions - Muslims, Sikhs, Christians, who all took bath today as did Buddhists from Thailand.
This sense of divine union found a reflection in every event - be it the grand arrival of Hindu akhara leaders in processions to the ghats; the magical trance of naked Naga sadhus who made the atmosphere electric or the dance of foreign yogis to Ram bhajans.
As a Naga Sadhu Swami Saraswati, an IAS-turned-sanyasi, explained, "The message of Mahakumbh is simple - in faith we are one."
Aiding the festive spirit was the fact that the day remained event free. No vehicle plied in the city. Suddenly, it seemed as though the complex jigsaw puzzle called humanity had fallen in place, thanks to the faith the Ganga inspires.


Female nagas steal the show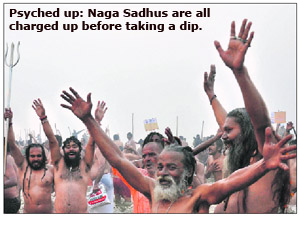 For the first time in any Kumbh, little-known female sanyasins of the largest Hindu akhara, Juna Akhara, independently entered the Sangham Ghat area of the Ganga riverbank to take part in the first ritual bath. Led by a Sanyasin Debyagiri, who heads this female wing, the sanyasins posed a tough competition to the male sadhus in resplendence and decoration of their convoys
Security agencies breathe easy
Security agencies were relieved that the 13 akharas did not come to blows during the first holy bath. The entry of akharas had been staggered to ensure a gap of 15 minutes between the arrival of two. The most aggressive, Juna Akhara, with maximum naga sadhus, was placed fifth for entry. The first to arrive were the milder Mahanirvani and Atal Akharas. Akharas have violently clashed during baths in the past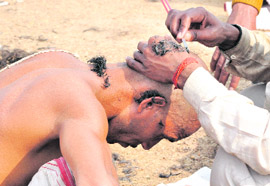 Barbers have a field day
Thousands of Hindus, including those from Nepal, had haircuts on the day of Makar Sankranti, ensuring the barbers of Prayag had a field day. One barber said the donation of one strand of hair during Mahakumbh is considered equal to one cow. That's the reason for the haircutting spree in which several foreigners also took part
Shankaracharyas boycott bath
Shankaracharyas of the four peeths did not take the holy dip in protest against the denial of allotment of land to them at a crossroad in Prayag. Earlier, the Shakaracharya of Dwarka peeth Swami Saroopanand had asked the administration to keep the camps of four Shankaracharyas together on one crossroad. The demand was opposed by all 13 akharas
Freezing Ganga tests devotees
The temperature ahead of the holy dip fell significantly and the waters were icy cold when the pilgrims started to take the holy dip. Some said it was around 4 °C in the morning, which made the task of pilgrims difficult. But several women were seeing braving the cold in their urge to wash away sins