Police yet to rescue 3-yr-old girl
Chandigarh, January 17
Even 60 hours after a three-year-old girl, Harmeini, was allegedly kidnapped from a Sector 22 hotel, the police has not been able to rescue the girl as the kidnapper is shrewder than the police could think of.
Himachal MLA's nephews arrested
Panchkula, January 17
Gurmeet and Dharampal, nephews of HP MLA Ram Kumar Chaudhary, wanted in the Jyoti murder case, were arrested by the Panchkula police today. They confessed that they had helped him in killing Jyoti.



Rain brings mercury down
Chandigarh, January 17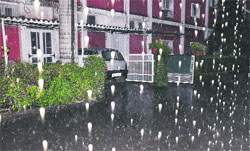 After basking in the sun for a few days, residents woke up to a cloudy sky and hailstorm on Thursday morning. The season's first rain of 12.2 mm kept the residents indoors. The woolens are out once again and more rain is expected in the next few days.


Hailstones seen falling through the windowpane of a car in the wee hours of Thursday in Chandigarh. Tribune photo: Manoj Mahajan
MC auctions two parking lots of Sectors 22, 34
Chandigarh, January 17
The municipal corporation today auctioned two paid parking lots of Sector 22 and 34 and earned Rs 44.60 lakh.
Now, five-year-old boy tests positive for swine flu
Chandigarh, January 17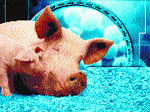 A five-year-old boy from Himachal Pradesh tested positive for swine flu today. The total number of cases has risen to 25 at city hospitals, including six deaths. Among them, five patients tested positive for H1N1 from the city, 10 from Punjab, two from Himachal, one from Jharkhand and one from Haryana. Rishab, a patient from Mandi district, was brought to the PGI, Chandigarh, and the reports were procured by the UT Health Department today.
Anti encroachment drive
50 challans issued to violators in Sec 17
Chandigarh, January 17
The enforcement wing of the municipal corporation today removed encroachments from various parts of Sector 17.
70 illegal tenements razed in Colony No 5
Chandigarh, January 17
The enforcement staff of the UT Estate Office today demolished 70 illegal tenements in Colony No 5.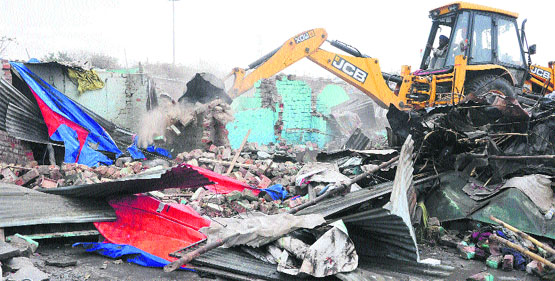 An earth-moving machine pulls down illegal tenements in Colony No 5 in Sector 50, Chandigarh, on Thursday. Tribune photo: Parvesh Chauhan
CH 01 AR 0001 fetches Rs 3.51 lakh
Chandigarh, January 17
The auction of vanity numbers in the new vehicle registration series CH 01 AR at the Chandigarh Registering and Licensing Authority (RLA) evoked a poor response today, as only 37 numbers could be sold.
Building bylaws violations
UT admn gives relief to traders
Chandigarh, January 17
A ray of hope has emerged for the traders, who were getting fresh notices of misuse or building violation, from the estate office against their resumed properties.
First, second floors of a house in Sector 35 sealed
Chandigarh, January 17
The UT estate office today sealed the first and second floor of a house (no. 320) in Sector 35 that was being illegally used as a paying guest (PG) accommodation.
Group clash
Cops yet to nab culprits
Mohali, January 17
The Mohali police is yet to nab the culprits who were involved in the group clash, which took place at Phase 7 here last night.
Now, acquiring licence for food business a click away
Chandigarh, January 17
Acquiring licence under the Food Safety and Standards Act will now be a click away. Applicants will be able to register online for the purpose as the facility for online registration and licensing has been launched in the city today.
Plug illegal entries to NH: DC
Mohali, January 17
Deputy Commissioner Varun Roojam has said that illegal entries to the national highway should be plugged in order to curb accidents.
MC to showroom owners: Get safety clearance from reputed institutions
Mohali, January 17
The Mohali Municipal Corporation has asked the owners of two showrooms in Shahimajara village to get a safety clearance from reputed institutions like the IITs and PEC University of Technology, Chandigarh, before occupying the buildings. The pillars of the showrooms had started giving and were declared unsafe.
Family denies allegations
Chandigarh, January 17
Two days after the UT police registered a case against a city-based builder, Harry Bajwa, for teasing and harassing a girl, Bajwa's family has denied all allegations and filed a counter complaint with the police in this regard. An inquiry has been marked to look into the allegations.


150 JBTS get appointment letters
Chandigarh, January 17
As many as 150 contractual Junior Basic Teachers (JBTs) of the general category were given appointment letters by the Education Department here today. This recruitment has been conducted by Sarva Shiksha Abhiyan Society.
Private schools have a free run
Chandigarh, January 17
Private schools have a free run in the absence of specific Ministry of Human Resource Development (MHRD) guidelines as far as admission against seats other than those reserved under the RTE Act is concerned.