PUNJAB

HARYANA

JAMMU & KASHMIR

HIMACHAL

REGIONAL BRIEFS

NATION

OPINIONS

LETTERS

BUSINESS

SPORTS

WORLD


Rain throws life out of gear
Amritsar, January 18
Heavy rain took the city by surprise on Friday. The showers, which started in the morning and continued till afternoon, spelled trouble for residents.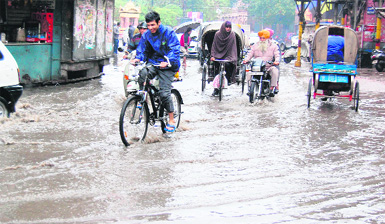 People face tough time commuting on a water-logged road. A girl enjoys the showers in Amritsar on Friday. photo: sameer sehgal
Another robbery rocks city
Amritsar, January 18
With another robbery rocking the city, it seems that all is not well with the law and order situation in the holy city. In the latest instance, a father-son duo was looted by robbers who entered the house by scaling up the wall of their residence in Verka area.
23 homeless brought to Raen Basera
January 18, 2013
BJP defies HC orders to greet state party chief
January 17, 2013
Gidda is a song! PSEB gets it all wron
January 16, 2013
Cancer claimed 2,750 lives in dist in five years
January 15, 2013
Report on temple preservation gathers dust
January 14, 2013
Tragedy strikes two families
January 13, 2013
Clerk suspended
January 12, 2013
Swine flu hits city, claims first victim
January 11, 2013
Pvt schools ignore govt instructions
January 10, 2013
UID project hit as pvt firm delays work
January 9, 2013
Cold wave claims three more lives
January 8, 2013