Heavy snow, rain cripple life
Tribune Reporters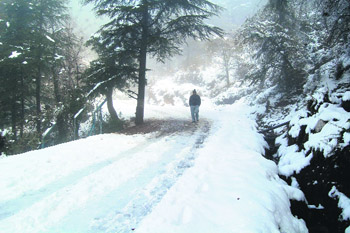 A man walks on a snow-covered road at McLeodganj in Dharamsala on Saturday. Photo: Kamaljeet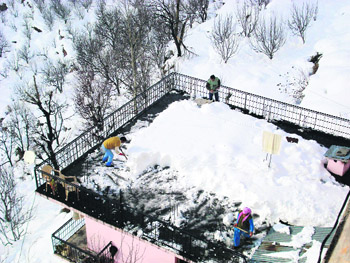 Residents clear snow from rooftops after a heavy snowfall near Manali on Saturday. Photo: MC Thakur

Shimla, January 19
Life was crippled in the higher reaches of the state, with water and power supply and vehicular movement being affected due to heavy snow and rain during the last 24 hours.
The situation in the higher reaches of Lahaul-Spiti, Kinnaur, Chamba, Kullu and Shimla districts was the worst. Most areas were plunged in darkness, with power supply snapped since last evening.
Vehicular movement to all parts of upper Shimla, Rampur and Kinnaur was disrupted, with no plying of vehicles beyond Dhalli. Most areas of the state capital remained without electricity for the last 24 hours.
Power supply was restored to some parts this evening, but that was erratic. With the Shimla-Kalka highway blocked between Tara Devi and Shoghi since yesterday, the supply of essential commodities was affected.
The supply could be restored in the evening, but only to some parts. Shimla Deputy Commissioner Dinesh Malhotra said efforts were on to open the road to upper parts of Shimla district and normalise water and power supply. With tourists making a beeline to Shimla to enjoy the snow, vehicular movement was almost at a snail's pace between Kandaghat and Shimla.
Trees were uprooted in more than 40 places in the town due to heavy snow. Many vehicles and some houses were damaged at a few places.
Water supply to Jakhu, which had over two feet of snow, was affected due to the freezing of water. Vehicular movement in the town came to a halt yesterday.
The Cart Road was cleared of the snow this afternoon with the help of two excavators engaged by the local municipal corporation (MC).
"We have cleared roads to hospitals, main markets and the Cart Road and efforts are on to clear the remaining roads as well," said Amarjeet Singh, MC Commissioner.
He said besides the 150 MC workers, an additional 100 Kashmiri labourers were engaged to clear the roads in Jakhu and other difficult areas manually.
Chief Minister Virbhadra Singh directed the official machinery in the entire state to ensure that the public did not face any inconvenience. He said all-out efforts were being made to ensure the availability of essential supplies and services to the people.
He directed the authorities concerned to ensure that drinking water, electricity and foodgrain and essential services were made available. He directed them to clear snow from roads to facilitate the smooth movement of vehicular traffic and make efforts to clear link roads in snow-bound areas.
Irrigation and Public Health Minister Vidya Stokes directed the district administration to restore vehicular traffic. She also directed the authorities to restore the supply of electricity and repair damaged water supply schemes on a war footing.
"Machinery and labourers have been deployed on the Theog-Hatkoti and Theog-Narkanda roads at various places for clearing snow," she said. She said the district administration was directed to clear link roads on a priority.
Temperatures in most parts of the state took a further plunge with more rain and snow during the last 24 hours. Shimla recorded -1.5 degree Celsius and between one and two feet of snow, depending on the height of the area.
The temperatures in other parts of the state were Bhuntar -1.1 degree Celsius, Kalpa -7.8 degree Celsius, Sundernagar 3.5 degree Celsius, Dharamsala 4.2 degree Celsius, Una 7.8 degree Celsius, Saluni -0.5 degree Celsius, Nahan 2.3 degree Celsius, Keylong -6.7 degree Celsius, Palampur 0.4 degree Celsius, Solan 0.6 degree Celsius and Manali -1.6 degree Celsius.
Kalpa had about two feet of fresh snow, besides the three feet received earlier. There were reports of fresh snowfall from the higher reaches. The lower parts of the state were lashed by heavy rain and hailstorms.
According to the forecast by the local Meteorological Centre, the weather would be dry in the mid-hills and low-hill areas of the state, but there could be more snow and rain in the higher hills during the next 24 hours.
With the western disturbance moving eastwards, the weather was likely to be clear, but with another feeble western disturbance emerging, weather could be inclement again in the western Himalayan region from January 23.
Manali: After two days of moderate-to-heavy snowfall in the upper Kullu valley, the sun appeared on Saturday morning. Local residents and tourists got some respite, but dark clouds were back in the sky in the afternoon.
For the second consecutive day, all long-route buses to Manali had to be halted at Patlikulh, 19 km from here. Only light vehicles could be plied thereon. The Public Works Department pressed snow-clearing machines and labourers into service to clear snow on roads.
Power supply to the upper Manali region was disrupted for the second consecutive day. Snowfall in the upper Kullu valley brought cheer to apple growers as it was considered as white manure for apple orchards.
Solan: Kasauli and surroundings areas received the season's first snowfall on Friday night. It snowed in the town after several years. With heavy rain lashing various parts of the district since Friday evening, the Dharampur feeder developed a snag, which affected power supply to Dharampur, Garkhal, Kasauli, Dagshai throughout Saturday.
Four trees fell in Barog and the Dharampur feeder developed another snag. There was a rush of tourists to Kasauli. Barog, Chail, Dagshai and Solan received a good amount of snowfall. The Chail-Kandaghat road was blocked due to fallen trees.
Tourists had a harrowing time in Chail as a fallen electricity pole led to disruption of power since Friday. Water supply was adversely affected. Buses from Shimla were delayed by two hours due to the blocking of the road at various places.
At least five buses from various destinations in Sirmaur district were stuck in the upper reaches there due to heavy snow. Haripurdhar, Nohradhar, Shillai and Gattadhar in Sirmaur district received heavy snowfall since Friday evening. About 5 feet of snow was recorded in the Churdhar area.
Chamba: The Chamba-Shimla highway via Jot was blocked on Saturday due to heavy snowfall, which was continuing for the last 24 hours. Transport services were being provided via Tunnuhatti. The Chamba-Hadsar and Chamba-Nayagran highways connecting the tribal terrain of Bharmour subdivision were blocked.
Electricity and water supply were disrupted. Dalhousie recorded more than 10 centimetres of snow. Kalatop and Khajjiar were covered under a thick white mantle. There was no let-up in snowfall in the higher reaches.
Kangra: Heavy rain lashed the Kangra valley till Saturday morning. McLeodganj, Dharamsala, Bagsunag and Naddi received the first spell of snowfall this season. A large number of local residents and tourists thronged McLeodganj to enjoy the snow.
The inclement weather continued on Friday night. The sky was overcast on Saturday morning and vehicles had to be driven with headlights on. As the day proceeded, it became sunny. It was overcast again in the evening.
Reports of rain on Friday night were also received from Jwalamukhi, Haripur, Shahpur, Dhraman, Nagrota Bagwan, Icchhi, Gaggal, Mallan, Palampur and Ranital.