wedding photography
Wedded to creativity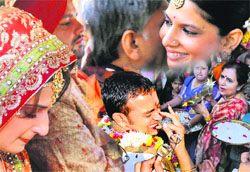 India is known for its follies, foibles and big FAT weddings. Weddings are a treasure of emotions, of moments beyond measure. Of late, the number of photographs taken at an average wedding has assumed staggering proportions. The most important photographs are usually those of the bride and the groom, and the rest of the wedding party. A major chunk of the money that is spent on the ostentatious weddings goes into capturing and perpetuating the magical moments through the lens of a camera.
subject matter: mathematics
Get into the number game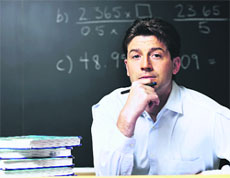 "No employment can be managed without arithmetic, no mechanical invention without geometry" — Benjamin Franklin
Mathematics as a core discipline offers promising career options for those who can decipher its relevance in various fields. This subject has immense potential to be assimilated in diverse industries. Students showing an early interest in pure mathematics have to go through a rigorous curriculum to build-up an effective approach to building a career.
Green is the way to go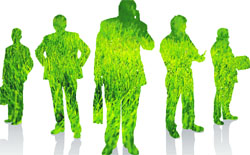 For career changers thinking about growth and advancement potential, forget the blue-collar and white-collar categories: Green is the way to go. A bull market has begun to develop in green careers for job seekers and those looking for a career switch. Green jobs mean making a better renewable energy sector than what is available at present, and a strong spirit of conscience to be more environment-friendly.
smart strategy: resolving conflict between employees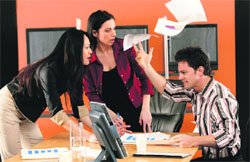 Breathe easy in the conflict zone
Dealing with conflict between employees is one of the most daunting tasks for any manager. As a consequence it is often tempting to pretend that the problem does not exist and everything is normal. However, ignoring conflicts does not make it go away but allows the situation to escalate. Petty disagreements soon turn into full-blown rivalry that divides co-workers into camps. It also has disastrous effects on the morale and productivity in addition to creating an unhealthy work environment.
cubicle trends
Living the dream
India has topped the list of countries where people are working in their dream-jobs with 44 per cent Indians admitting they have the career they wanted as a child, according to a survey. In the survey conducted by networking website LinkedIn, 44 per cent Indians said they had their dream-jobs, while just 21 per cent of the site's British users said they worked in the career they had wanted in their youth.
in conversation
Fair chance for non-engineers in B-schools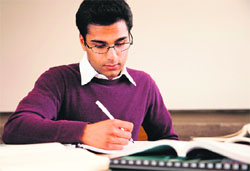 An MBA degree, no doubt, is among the most-coveted qualifications for lakhs of students in our country as each year multitudes nurture the dream of getting into the hallowed corridors of IIMs and other B-schools and move on to plush jobs with hefty pay packages. The first step towards realising the MBA dream is a good score in tests like CAT, GMAT, XAT etc.
(L)Ashish Bhardwaj, Vice-President, Asia Pacific, GMAC
CareerCature
Sandeep Joshi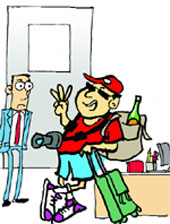 I am just waiting for the Boss to approve my leave application.
Career Hotline
Pervin Malhotra email your queries to careers@tribunemail.com ...
Cool Counsel
The art of asking questions
To formulate good questions and asking these efficiently is an important skill. This skill can substantially enhance one's career prospects whether one is selling, managing, coaching, counselling, parenting or consulting. Acquiring and mastering this skill requires a conscious effort to hone one's abilities.
Happiness @ work
Gems of ancient wisdom
Stand up for India's pride
The world is fast turning into a global village. As Republic Day approaches, let's vow not to lose our Indian identity in this great mix-up.