Note worthy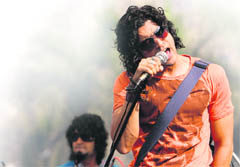 He made people, the mango people (the aam admi), who goes to a theatre to see an actor dance, romance, fight and at times shed copious tears, sit up and say, 'well, we didn't know an actor could sing well'. Actor Ayushmann Khurrana showed his rang with a hit track he sang for Vicky Donor, Paani Da Rang. Of course, this wasn't the first time that an actor was spotted recording a track for his or her film. In fact, Amitabh Bachchan is known for his singing capability. Ekla Chalo in Kahani was his recent marvel.
Net picking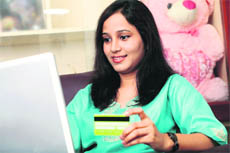 Bela, a hassled homemaker, felt jubilant last Saturday. The reason--she got an oversized, off-white tote-for just Rs 199. From getting her children ready for school to picking and dropping them to their respective tutors to dealing with domestic helps, clinching an online deal was all she could do for herself! Online deals are a steal…and Chandigarh is opening up to it.
Par Excellence
Putting—hear the ball fall into the hole
As the hole gets closer, to us the tendency of taking the eyes off the ball increases. There are some players who get completely 'hole bound', they keep looking at the hole and actually do not focus on the ball.
vanity box
Survive the cold
Skin deep
For many people, the cold clear days of winter bring more than just a rosy glow to the cheeks. They also bring uncomfortable dryness to the skin of the face, hands, and feet. For some people, the problem is worse than just a general tight, dry feeling. The skin turns extremely dry, resulting in flaking, cracking and even eczema. In this case you can moisturize.
Bold strokes

The camaraderie of the rouge and cerulean with a million other shades of the fading winter's warmth fall beautifully in the browns of the ceded leaves; that is exactly how art embraces change at the Sobha Singh Art Gallery, Sector 16.



women power: Niku Guleria

Master Chef
Cheesy bite
Food must taste good and look good. It requires a special culinary art to combine ingredients to give the dish an appetizing look. Here we have combined the whiteness of the mushroom with the greenness of the spinach to make an attractive and crunchy snack.
star track
Nothing impressive
Launch pad for Narmada
High maintenance
Randeep Hooda feels overworked
Family man
Rooney Mara engaged?
Fatherhood is intense: Channing Tatum
Lonely Valentine's Day for Marvin
Drew can't wait
Kangna goes vegetarian
chatter box
All is not well
Shreya shines on
Rakesh Bedi turns anchor
A twist in store
Back with a bang
Talent abound