M A I N N E W S
Avalanches, snow batter Himachal tribal belt
Tribune News Service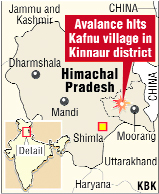 Shimla, February 6
Heavy snow continued to pound the tribal belt and other higher reaches of Himachal Pradesh for the fourth consecutive day today with Kinnaur district witnessing a series of avalanches.
Seven persons remained trapped for several hours after an avalanche in the Moorang Nullah buried eight houses at Kafnu village.
While six houses were vacated earlier, two were still occupied when the avalanche struck around 7.30 am. Local people carried out the rescue operation, which was hindered by 4 to 5 feet of snow.
Deputy Commissioner JM Pathania said 150 persons toiled for over five hours to remove the snow and rescue Birma Chand, Hira Mani and their daughter Tamanna.
The second family comprising Sarita and her three children was rescued after three more hours of efforts.


Harsh weather
Seven trapped for hours after avalanche hit Kinnaur village; more avalanches reported in other areas
Tribal areas and large parts of Shimla and Kullu districts without power
Traffic on Kullu-Manali highway blocked. Schools closed till February 11 in snow-affected areas of Shimla, Kinnaur, Lahaul-Spiti and Kullu districts
A team of home guards and doctors arrived at the scene from nearby villages and provided medical aid to those rescued.
Avalanches were reported at several other places, including Tinku Nullah, Jhangi and Ralli, as a result of which, large portions of roads remained buried under the snow.
Anticipating heavy snowfall, the district administration had already put in place machinery at strategic points to clear the roads, Pathania said.
Snowfall was still on, but dozers had been deployed to clear vital links.
The entire region is without power and the administration has made sufficient diesel available for the BSNL to run its telephone exchanges.
Entire Kinnaur district was under a thick blanket of snow, with Chitkul recording the highest snowfall of 6 to 7 feet. Cold desert areas of Pooh received around 3 feet of snow, while the adjoining Lahaul-Spiti district witnessed 4 feet of snowfall. Other higher area like Narkanda, Khara Pathar and Kothi saw 3 feet of snowfall. Tribal areas and large parts of Shimla and Kullu districts were without power, as a result of which telecom connectivity had been affected.
The administration has ordered the closure of schools till February 11 in snow-affected areas of Shimla, Kinnaur, Lahaul-Spiti and Kullu districts. Shimla also witnessed snowfall this morning after three days of downpour.
Mount Jakhu, the highest peak in the area, had 30 cm of snow, while lower areas had 10 to 20 cm of snow.
The nearby tourist resort of Kufri and Fagu received 50 cm of snow.
The vehicular traffic has come to a halt in snow-bound areas. The Kullu-Manali highway and the Hindustan-Tibet road beyond Shimla have been blocked. The Upper Shimla region and Kinnaur districts have been completely cut off.
Lower areas of the state got some respite from rain after four days of downpour as the weather improved.
The local meteorological office said the weather would clear over the next 24 hours.