BJP to make five new organisational districts
Ambika Sharma/TNS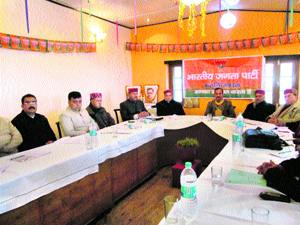 BJP's two-day "chintan baithak" concludes in Kasauli on Wednesday.

Kasauli, February 6
The BJP would soon divide bigger districts like Shimla, Kangra and Mandi into five new organisational districts to ease its administrative handling. A sub-committee headed by Suresh Bhardwaj, state general secretary, has been constituted to work out its nitty-gritty. Attributing its loss in the Vidhan Sabha poll to lack of effective handling in these bigger districts, BJP leaders view this move as an effective measure to overcome their loss in the future.
Addressing mediapersons here today after conclusion of a two-day "chintan baithak", state president of the BJP Satpal Satti said the extended core committee had decided in principle to chalk out five new districts.
According to the outline drawn for carving out new organisational districts, Mandi would be bifurcated into Mandi and Sundernagar districts, Kangra into Palampur, Nurpur, Dehra and Kangra and Shimla into Shimla and Mahasu organisational districts.
Apart from this, the Mandi Parliamentary by-election is the key focus of the party now and its candidate is likely to be announced soon.
While terming lack of coordination among various levels like booth, mandals, district, etc, as a major cause of loss in the Vidhan Sabha poll, he said efforts would be made to strengthen the organisation and training camps would be held to overcome new challenges.
The BJP president, while attacking the Congress government for 'dumping' 3.5 lakh jute bags bearing pictures of BJP leaders and instead replacing them with new bags bearing pictures of Congress leaders for distributing rations, said this was a wastage of public funds as Rs 45 lakh had been incurred on them. He also criticised the Congress for changing the name of '108 Atal Swasthya Yojna' and said a Prime Minister represented the entire nation and his name should be beyond party politics.
He criticised the decision of the Congress to stop work on a sabzi mandi at Prala in Shimla district which had been inaugurated by former Chief Minister PK Dhumal and said such decisions were 'politically motivated' and served 'no public cause'. Senior leaders, including national vice-president Shanta Kumar, national general secretary JP Nadda, state in charge Kalraj Mishra and co-in charge Shyam Jaju were conspicuous by their absence.
Satti, however, attributed their absence to their official engagements elsewhere and said Virender Kashyap, MP, Shimla, who is also the All-India general secretary of the SC ST Cell, and Anurag Thakur, who is the national president of the Bhartiya Janta Yuva Morcha, were among the national leaders who marked their presence at the meeting.
Those who were present at the meeting included former Chief Minster PK Dhumal, state general secretary Dr Rajiv Bindal, MP Virender Kashyap, MLA and former MLAs Randhir Sharma, Dr Rajiv Sehzal, Suresh Bhardwaj, Suresh Chandel, Kripal Parmar, Sukh Ram and Chander Mohan.