IIT Mandi at Kamand village all set for inauguration
Kuldeep Chauhan
Tribune News Service
Kamand (Mandi), January 30
The Indian Institute of Technology (IIT) Mandi here at Kamand village is set to become the first among new IITs to start formal functioning from the new campus. Union Human Resource Development (HRD) Minister MM Palam Raju, along with Chief Minister Virbhadra Singh, are likely to formally inaugurate the new buildings in its new south campus, which is coming up at this nondescript village on February 23.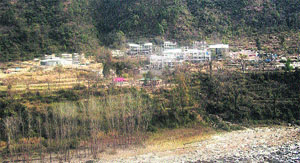 A view of the upcoming IIT Mandi campus at Kamand village along the Uhal river. Photo by writer
An IIT team of faculty, administration and engineers, under its Director Prof TA Gansalves, are making arrangements for the formal inauguration. The PWD and its contractor are readying the buildings, including academic, hostel and dining hall buildings, for the inauguration.
As many as 120 students of BTech II and a dozen of PhD and MSc have already been shifted to the new campus last September. The old buildings of the Animal Husbandry Department have been done up for housing the IIT Director office and residence and students hostel and labs.
Acting Registrar, IIT, Mandi, Lalita Sharma said the HRD minister and the Chief Minister would inaugurate the new campus and expect to shift the entire campus to Kamand by the end of this year. "Bamboo cottages have been set up for lodging students till new hostel buildings are ready".
Rajan Kapur, SE, PWD, and project in charge, said that they expected 11 new buildings to be ready in a month time. "We are trying to shift the entire campus from Mandi to Kamand by the end of this year, if all goes as planned".
The construction work on the north campus will start within a month or two. "We have acquired over 1,100 bighas of land from the Animal Husbandry Department in both north and south campus. Over 1,000 bighas of forest land has been diverted to the IIT so that work starts soon there as well," he added.

Another administrative reshuffle
Tribune News Service
Shimla, January 30
In another administrative reshuffle, the government yesterday shifted 11 IAS officers and 12 state Administrative Service Officers.
Vineet Chawdhry, Principal Secretary, Irrigation and Public Health, has been given an additional charge of the Cooperation Department, while Dr Ajai Bhandari, Secretary, Sainik Welfare Department, has been posted as Managing Director (MD), HP State Industrial Development Corporation. Bharat Khera, Secretary, General Administration Department, has been given additional charge of the Sainik Welfare Department.
Rajender Singh goes as Resident Commissioner, Pangi, vice Man Singh Verma, who goes as Additional Director, Land Records. Madhu Bala Sharma, Director, Women and Child Development Department, has been given additional charge of Director, SC, OBC and Minorities Affairs, currently with Abhishek Jain who takes over as Deputy Commissioner (DC), Una.
Dr Sunil Kumar Chaudhary, DC, Chamba, has been posted as MD, HP Backward Classes Finance and Development Corporation, Kangra, relieving Hans Raj Chauhan of the additional charge.
Kadam Sandeep Vasant, DC, Una, takes over as DC, Chamba, and Iva Sahay, Assistant Commissioner-cum-Block Development Officer, Bhawarna, has been posted as SubDivisional Officer (SDO) Civil, Arki. Yunus, Assistant Commissioner-cum-Block Development Officer, Una, goes as SDO (Civil), Nalagarh, Solan district, HP and Sudesh Kumar Mokhta, Assistant Commissioner-cum-Block Development Officer, Nichar, as SDO (Civil), Karsog, vice KK Sharma who takes over as joint Excise and Taxation Commissioner (HQ), Shimla.
Beer Singh Thakur, Additional Director, Social Justice and Empowerment, has been posted as DC, Lahaul & Spiti, vice SS Guleria, who takes over as Secretary, State Information Commission, Shimla.
Sanjeev Bhatnagar, Special Secretary (PWD), has been shifted to the post of Additional Director, Social Justice and Empowerment, while Shubh Karan Singh, SDO (Civil), Nalagarh, goes as SDO (Civil), Mandi, vice Rajesh Kumar who takes over as Deputy CEO, BBNDA at Baddi.
JC Patial, Sub Divisional Officer (Civil), Arki, has been posted as Secretary, HP Ex-Servicemen Corporation, Hamirpur, and Yash Pal Singh Verma, who goes as SDO (Civil), Theog, goes as DTDO, Solan, vice LR Verma, SDO (Civil), Sundernagar. Kailash Chand, SDO (Civil), Kandaghat, has been posted as Chief Executive Officer, HP Khadi and Village Industries Board, DTDO, Solan, as Mandi district, HP.
Mani Ram Bhardwaj presently under order of transfer as SDO (Civil), Banjar, is SDO (Civil), Theog.

Rs 4.48-cr parking lot for Kangra
Our Correspondent
Kangra, January 30
Kangra town will have a Rs 4.48-crore parking lot in its first phase on the campus of Yatri Sadan at Gupt Ganga with a capacity to accommodate 100 vehicles, including 11 buses.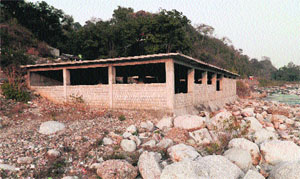 The incomplete building of bathing ghats near Achra Kund in Kangra. Photo: Ashok Raina
This was decided during a meeting of subdivisional authorities headed by SDM Ajeet Bhardwaj and District Tourism Officer Ashwani Kumar Sood held here yesterday. The SDM said as this temple town was witnessing a heavy influx of pilgrims, who visited the Bajjreshwari temple, one of the 52 Shakti peeths, there was a dire need of the parking lot.
He said the three-storeyed parking lot would have 5,200 sq m area and work on the project would start in March and be completed by April next year.
He said the drawing estimate was prepared by the Department of Tourism by hiring a Shimla-based consultancy firm. He said work would be outsourced. The parking lot would be earthquake resistant and an exemplary one.
He said for this project 33 per cent funds would be contributed by the state government and remaining 67 per cent by the Asian Development Bank.
He said as the authorities were searching for land within this temple town or in its vicinity to construct more parking lots.
The SDM said a green park spread over 4 kanals of land had been developed near the Yatri Sadan at Gupt Ganga and the plantation work in the park by the Horticulture Department would start soon.
During the meeting concern was shown regarding the amount of Rs 20 lakh spent on the construction of bathing ghats near Achra Kund on the Kangra bypass road without any fruitful results. The construction was a big hole in the government exchequer and the project now needed about Rs 10 lakh for its completion.
Sources said resentment prevailed among tax paying residents here over the misuse of government funds. The District Tourism Officer when asked why the construction was not monitored by the Tourism authorities, who funded the project, said there was no engineering wing to monitor the construction activities.
Residents have demanded that a high-level inquirybe ordered and guilty officials punished.

Illegal mining goes on unabated in Dugh, Poong rivulets
Agitated locals detain a truck in Dugh rivulet for 'loading gravel' from the riverbed
Dharam Prakash Gupta
Tribune News Service
Hamirpur, January 30
After the failure of the Mining Department and the district administration in reining in illegal mining in Dugh and Poong rivulets, near Hamirpur, by "politically influential" people, agitated locals detained a truck in the Dugh rivulet for allegedly loading gravel from the riverbed this morning.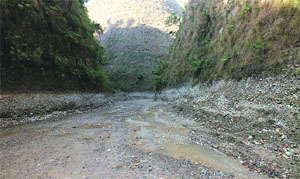 Scars of digging created during an illegal mining in the Dugh rivulet.
The illegal mining, which has been going on for a long time, has resulted in deep digging in several km areas of the rivulet.
Sanjay Kumar, vice-president, Khyah Lohakhariyan Panchayat, ward member Madan Lal and other villagers, who had detained the truck in the Dugh Khad, told The Tribune, "Illegal mining is going on unabated in the Dugh Khad for many months. Gravel is being extracted during night hours despite our several complaints to the Mining Department. The local panchayat has also passed a resolution against the practice".
The issue of illegal mining in the Poong rivulet was brought to the knowledge of the district administration some time back after which the SDM, Hamirpur, challaned a few tractor owners involved in it.
"The rivulet has turned into a motorable road and traditional bawlies and Kaseeri-Mahadev drinking water scheme has been adversely affected," the villagers said.
Blaming owners of two stone crushers installed on Poong rivulet, they said, "The stone crusher owners, who were close to the previous BJP government, have been illegally lifting gravel since the place is secluded". They demanded strict action against the owners of the stone crusher.
Sanjeev Kalia, district mining officer, said, "We have been issuing notices to the crusher owners, but have a limited staff to carry out the orders".
Ashish Singhmar, DC, Hamirpur, said, "I will speak to the Mining Department and take necessary action in this regard".

Tributes paid to Mahatma Gandhi
Tribune News Service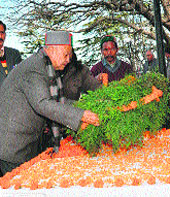 Chief Minister Virbhadra Singh lays a wreath on Mahatma Gandhi's statue on the Ridge in Shimla on Wednesday.
Shimla, January 30
Chief Minister Virbhadra Singh paid floral tributes to Father of Nation Mahatma Gandhi on his 65th death anniversary by laying a wreath on his statue on the Ridge Maidan in Shimla.
Virbhadra said Mahatma Gandhi was the epitome of peace, truth, non-violence and high moral values. He said the teachings and philosophy of universal brotherhood and co-existence that were dear to Mahatma Gandhi were more relevant today than ever before.
A session of patriotic songs and bhajans was also held on the occasion. Forest Minister Thakur Singh Bharmouri, chairman of the state-level Planning Development and 20-Point Programme Committee Ram Lal Thakur, MLA Mohan Lal Brakta, Shimla Mayor, Municipal Corporation, Sanjay Chauhan, Deputy Commissioner Dinesh Malhotra, Commissioner, Municipal Corporation, Amarjit Singh, and other officers also garlanded Mahatma Gandhi's statue.