A UN report says there are about 10 lakh registered users of heroin in India. However, with about 50 lakh estimated unregistered users, it is time to tackle the growing substance abuse among the youth
The white powder of death
Dr Rajeev Gupta
Thousands of young boys from Punjab and neighbouring states have fallen victim to the onslaught of heroin, one of the most lethal intoxicants. It has become a serious public health hazard. Heroin was originally developed by Bayer Pharmaceuticals Company as a cough suppressant in 1895. Derived from opium poppy, it is light, white in colour and bitter powder. When adulterated with talcum powder, powdered milk, sugar, strychnine and other substances, it takes the form of brown powder and is sold as "smack" or "brown sugar" and is called poor-man's heroin. According to a UN report, about one million heroin users are registered in India and about 5 million are estimated unregistered users in our country. Heroin was initially a casual pleasure provider among the affluent class in metros but now its use has percolated to all sections of Indian society.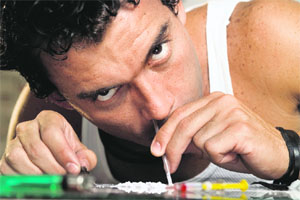 How it is used
Heroin is commonly sniffed (snorted in), smoked or injected. Heroin powder, kept on heated silver foil, emits fumes which are inhaled. These addicts gradually move from inhalation to injections, which is a highly potent agent. An addict keeps heroin powder in a spoon, mixes it with tap water and heats it, then injects the preparation intramuscularly or intravenously. Some addicts also prepare injections of brown sugar which may turn to be dangerous and even fatal at times.
Clinical effects
Heroin immediately induces a pleasurable feeling called 'rush'. After the initial alertness, the user remains drowsy for several hours. Heroin slows the heart functioning and the respiratory rate which can cause sudden death. Since quality and the purity of street heroin can never be ensured, its use always carries a high mortality risk. If used a few times, it has great potential for dependence and addiction. In fact, more than half of the individuals who have even occasionally used heroin become dependent. It causes physical and psychological dependence. Once addicted to it, a heroin addict spends time only in seeking and procuring the drug. In a patient who is heroin addicted/dependent, once the use of heroin is reduced or withdrawn, he experiences severe and intolerable withdrawal symptoms: body ache, vomiting, diarrhoea, restlessness, lacrimation, sneezing, agitation, disturbed sleep, sweating and cold flushes, blood clots and unconsciousness. Symptoms generally appear 24 to 48 hours after the last dose. Heroin addicts are known to have craving for even weeks and months after the physical withdrawal is over. Even visual cues can arouse strong craving and flashback in a controlled addict. This is why relapses are common among them.
Medical complications
Heroin addicts are known to suffer from chest infections, liver and kidney diseases. Injection drug users have local skin abscesses, collapsed and blocked veins, infection of the blood vessels and heart valves, arthritis and loss of menstrual cycles. Contaminated street heroin causes serious health complications. Fatal infections like Hepatitis B, Hepatitis C, HIV are quite common among intravenous users of heroin. They can pass on these infections to others through the use of shared needles and syringes and can sexually transmit these to their partners. After five years of use, the average heroin addict has a 90 per cent chance of having contacted Hepatitis C. Hepatitis C is an important cause of liver cancer. Cases of Hepatitis C are showing a steep rise in many areas of Punjab. Opiates are known to suppress the immune system and make the users prone to skin and systemic infections.
Personality breakdown
Heroin addicts become indifferent to their surroundings, family and friends. They lose their sensitivities and sense of responsibility both towards themselves and towards others. Often they are not able to meet the demands made on them in their personal and professional life. Heroin habituation directly affects the mood, memory, eating habits, sexuality and aggression of users. The natural inhibition threshold is rapidly broken down. Most addicts lie to family members, relatives and acquaintances. Many addicts also develop the habit of stealing to feed their addiction. Due to this breakdown of their inhibitions, they are able to resort to criminal acts and prostitution in order to obtain money for drugs. Thus, the use of heroin destroys the personality of the addicts. It's referred to as a breakdown of the personality.
Cost of addiction
In India, the street cost of smack is Rs 600-Rs 800/gm and that of heroin is Rs1,500-Rs2,000/gm. Addicts regularly use 1gm to 3gm of smack or heroin per day. The price depends upon the level of purity. As an addict regularly abuses drug, he develops tolerance towards it and needs a higher amount of the drug to reach the earlier high. Many addicts themselves become drug peddlers to support such a growing habit. The heroin addict must classically work in any or several of four occupations: "deal, steal, pimp or whore".
Road to crime
Heroin is associated with crime for the simple reason that its manufacturing, use and distribution is illegal. Many people turn to a life of crime in order to help fuel their addiction for the illegal drug. Since, addicts do not ordinarily hold jobs, they often turn to theft, followed by drug sales, stealing, shoplifting, mugging, burglary, armed robbery, con games, and violent offences and so on. In India more than half of heroin/smack used is locally prepared. States like Punjab and Rajasthan have become the transit route for heroin coming from Afghanistan. Pakistan became a major transit route in the 1980s, when trafficking was officially sanctioned in Afghanistan as a way to fund the Mujahideen. Recent confiscation of huge quantities of heroin from Punjab clearly indicates the magnitude of heroin being smuggled across the India-Pakistan border.
Risks

Heroin users have a death rate of 13-17 times that of their age-matched peers and a 14-fold risk of suicide. Between 10 and 35 per cent of deaths of heroin addicts are due to suicide.

Accidental overdose is a major cause of death among heroin addicts. Street heroin is often contaminated and its users can never determine its potency and purity.

If some addicts take heroin after stopping for few weeks, they risk an overdose, even with a smaller amount.

Most heroin addicts are multiple substance users and they may also use alcohol, cannabis, opium, spasmoproxyvon, sedatives or cocaine. The use of these substances also contributes to death due to overdose.

Under the influence of heroin, an addict may become deeply sedated and may inhale vomit and die.

Heroin injections may damage veins and can cause embolism and gangrene.
Warning signs

Presence of needles and syringes not used for other medical reasons.

Spoons with burn marks.

Aluminium foil or gum wrapped with burn marks.

Straw with burn marks.

Small plastic pouches with white or brown residue.

Sign of burns on fingers, palm.

Loss of menstrual cycles in females.

Staining of teeth.

Missing shoe laces used as a tie for injection sites.

Wearing long sleeves or long pants to hide needle marks, even in warm weather.

Severe itching.

Fits of unconsciousness.
Behavioural signs

Intolerance and sudden behaviour changes.

Frequent lying and deceptive behaviour.

Loss of motivation for future goals.

Hostile behaviour towards loved ones.

Avoiding eye contact.

Spending extra time in toilet/bathroom.

Slurred or incoherent speech.

Worsening of school or college records.

Worsening of work record.

Poor personal care and hygiene.

Unprovoked anger and violence.

Loss of interest in life.

Repeated stealing and borrowing money.

Broken promises.

Sexual dysfunction.

Long and unexpected absences.

Drowsiness or lethargic behaviour.
Management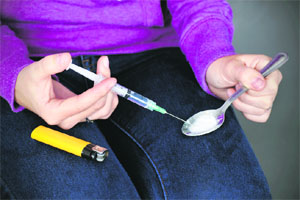 Heroin is a drug that is easy to take but difficult to leave.

Treatment and rehabilitation facilities are quite limited in our country.

Most addicts do not have access to even existing treatment facilities.

There is no registry being maintained for such cases.

There is no follow-up services in most of the places.

Drop out and relapses are quite common.

Punishment and confinement of heroin addicts are of no help.
India and the world

India is the world's largest producer of illicit opium in the world, which is used to make prescription drugs.

The UN recently declared India as South Asia's biggest consumer of heroin in its comprehensive demographic report.

It is a transit point for countries like Afghanistan, Bangladesh, Nepal and Pakistan.

Out of 40 tonnes of heroin produced in South Asia, 17 tonnes are consumed in India with a trade value of $ 1.7 billion.

Of the 17 tonnes of heroin consumed in India, about eight are of Afghan origin and the other nine are indigenously manufactured.
The writer is a Ludhiana-based psychiatrist and deaddiction specialist.