The euphoria that was most striking at US President Obama's inauguration on Monday could hardly mask the enormity of the tasks ahead of him. There is no doubt that on the positive side the American economy is showing signs of recovery. His hint during the inaugural speech that immigrants would get a better deal could also possibly help to enhance his acceptability and enlarge his support base among the Hispanics. Despite these pluses with which he starts his second innings, what should continue to nag Obama and his advisers — who have not disclaimed responsibility as a global policeman — is the growing instability in many regions of the world where the country has a high stake. The Middle East may have become predictable with a festering Syria alone causing some anxiety. Egypt and Libya have comparatively speaking become more manageable, provided the White House keeps only a listening watch.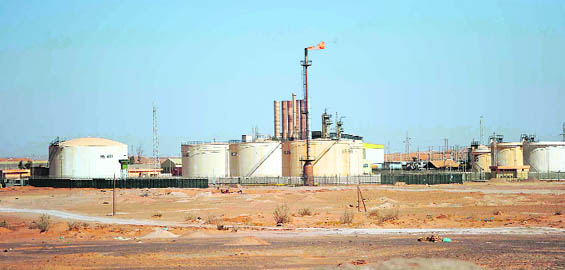 (Top) An oil installation on the outskirts of In Amenas, deep in the Sahara; (Above left) A delegation of Algerian and Japanese officials visit the Tiguentourine Gas Plant, 50 km from In Amenas; (right) Algerian soldiers patrol in the desert at an undisclosed location — Photos: AFP
A horrendous act
What should be most worrisome for the US and Europe are trends in North Africa that has become a hot bed of extremists of the Al-Qaida variety. This is especially against the backdrop of a horrendous happening last week in Algeria. The country no doubt saw a lot of unrest in the 1990s because of a bitter civil war. But it had somehow settled down to reasonable standards of governance once the conflict was over. The latest incident at a gas plant in the southern part of the nation that had the classical stamp of a terrorist action – armed attack, hostage-taking and wanton destruction and killing — is however a setback that would take a long time to reverse. This was at a gas plant that was seized by a jihadist group and led to enormous bloodshed.
It is ironic that the commencement of Obama's second term in office should coincide with the winding up operations against the militants (believed to be a suicide squad) who had taken control of the In Amaneas gas installation in southern Algeria, situated in the heart of the desert and about 1,300 km from capital Algiers. A joint venture between British Petroleum (BP), Norway's Statoil and an Algerian state concern called the Sonatrach, this plant, which produces about 10 % of the country's needs, was the scene of an armed intrusion by a group which is reported to have originally owed allegiance to the Al-Qaida in the Islamic Maghreb (AQIM) that was born in the 1990s as an offshoot of the horrendous Algerian civil war. The raiders took control of the plant on the morning of January 16, and held more than 700 hostages, who included many from different nationalities but had a majority of local citizens. This action was a totally unexpected, and the swiftness with which security was breached and the installation seized has surprised many experts. One first theory was that the raid was facilitated by some insiders owing allegiance to the marauders. This is yet to be confirmed. The Algerian Prime Minister has now gone on record to say that it all began on the ill-fated morning with the militants attacking a bus that was carrying plant workers to the nearby Amenas airport. After gunfire between the security staff escorting the bus and the attackers, the latter drove into the gas plant and took their hostages as also laid mines to prevent anybody from escaping. Refusing to negotiate with the militants, the government launched a major offensive with the help of its security forces. The three-day long operation ended after 29 of the invading group were killed. As is usual in such operations there was a huge loss of (48) lives (including 37 foreigners of eight nationalities) among the hostages. There has been muted criticism of the Algerian government for its decision not to associate other nations with the rescue operation, something which might have saved a few lives.
Motive unclear
The motive for the attack on the Algerian gas plant remains unclear. One theory that is trotted out is the government's decision recently to facilitate French operations against rebels in southern Mali by opening up its airspace to French jet fighters. This seems plausible going by the bond that exists between disparate elements owing loyalty to Al-Qaida. In any case this aggression against a third country for its sympathy towards a lawful demand for help in a contingency confirms the dastardly nature of the jihadists who brook no obstruction in their way. This is a warning to all countries, irrespective of their location, that they should desist from even a semblance of assistance to whichever nation is at the receiving end of jihadist misadventure. We ourselves had been a victim when Rajiv Gandhi was assassinated on May 21, 1991, for helping a beleaguered Sri Lanka savaged by LTTE thoughtlessness. Such a danger has become the hallmark of international relations in the present times.
Responsibility for the gas plant attack has been taken by a group called the Signed-in-Blood Battalion, a splinter of the AQIM. The battalion is led by Mokhtar Belmokhtar, who figured in the anti-Soviet operations in Afghanistan in the 1980s. Earning big money from cigarette smuggling across the Sahel region, he had been responsible for many acts of terrorism for which he has been convicted in Algeria and is now a fugitive from justice. Distinctive for the patch he wears on the eye he had lost during an operation, he is said to have masterminded the recent operation, although he chose not to be present at the site. The actual commander at the scene was Abdul Rahman al-Nigeri from Niger, and he had volunteers from six different countries, including Canada. This international composition of the militant squad is again a confirmation that terrorists have a large pool from which to choose — again a feature that nations fighting terrorists will have to factor in while evolving a counter-terrorism strategy. No wonder then that the US is so rigid in checking the credentials of anyone entering its territory, however genuine he or she may be. This is again why our policy of 'visa on arrival' becomes questionable.
The Algerian episode highlights how the terrorist scene in Africa has changed over the years. The twin bombings of 1998 — one at Nairobi and the other at Dar-e-Salam — aimed at US diplomats demonstrated that it was east Africa which was the theatre for action. Naturally, all American policy of containment and counter-reprisal concentrated in that geography.
Shift in strategy
Recent years have seen a shift in terrorist strategy and base of operations. There has been the birth of a host of groups which are in sync with al-Qaeda but have displayed a penchant for independent operations. According to some observers, this phenomenon of new groups operating outside Al-Qaida's purview and violently anti-American constitutes the "new face of terrorism." The optimism that followed bin Laden's liquidation, therefore, seems misconceived, and US policymakers have been specifically criticised for their apparent lack of appreciation of the nuances of a dynamic situation that offers little scope for complacence. This is no brand new turn of events.
A few days ago I quizzed my dear friend Louis Freeh, a former Director of the FBI, on the recent happenings. An iconic figure in the US, one who has retained his interest in security matters, he is very clear that the US cannot fight the battle single-handed but will have to collaborate with many other countries. He also believes that Al-Qaida is more a "movement" rather than a "space". It succeeds wherever the government is corrupt and more feared than respected. Freeh pleads for Arab Spring-like reforms which would place a premium on honest government and respect for the rule of law. Anything short of this is an invitation to disaster and will provide an opportunity for Al-Qaida to rejuvenate itself. Wise words, indeed, from a man who adores India and what it stands for!
It must be remembered that in a new dispensation which focusses on North Africa, Afghanistan and Pakistan could assume lesser priorities for the US. This has its own implications for India in the sense that a waning American interest in the area reinforces the oft-held belief that India is in wilderness when it has to fight events in our neighbourhood. The recent Pakistani aggression near the LoC is an example of a situation where we will have to fend for ourselves.
In the context of the events in Algeria there is at least a slight case for a re-look at our counter-terrorism policy. As always, it is our own judgment, rather than sensitivity to international opinion, that should mark all our policies and actions. Taliban, LeT and other similar outfits will continue to be hostile to us, especially because of the proactive nature of our presence in Afghanistan. Their affinity or lack of it to whatever that remains of Al-Qaida is irrelevant to us. What is of greater concern to us is their proclivity and capacity to hit us, and our infamous neighbour to aid mischief against us. When this is so, there is no room for any let-up of our guard.
I am especially concerned about the safety of our large power plants and other critical infrastructure. The Central Industrial Security Force (CISF) has shaped into a fine clued-up organisation. It needs all support for enhanced facilities to discharge its role. At the same time, we want to believe that, in conjunction with the IB and RAW, it makes periodic assessments of threats to our centres of production and maintenance services. Any laxity here could be disastrous. The Algerian incident should persuade us to beef up security at vital installations. Indian terrorists have proved themselves to be quick learners. They need to be kept under greater surveillance if we are to frustrate a repeat of what happened at the Algerian gas plant.
The writer is a former Director of the CBI