Ludhiana, Ropar MCs sell properties to keep afloat
Chandigarh, January 23
The Municipal Corporation of Ludhiana and the Municipal Council of Ropar are having to sell their land to tide over the immediate financial crises. If the government is to prevent this from happening again, it has to work out an effective plan to strengthen the financial stability of local governments in the long run.
Palm trees to adorn govt offices, schools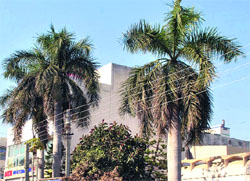 Patiala, January 23
Come April, the entrance to most government offices, schools and other institutions across Punjab may be adorned with eye-catching palm trees. So far, such trees are found in private gardens or seen alongside roads and canals in the state. The beautification project — 'Greening Punjab Mission' — assumes significance as it is the brainchild of none other than Deputy Chief Minister Sukhbir

Palm trees in Patiala. Tribune photo: Rajesh Sachar
Moga dist BJP upset with SAD leadership
Moga, January 23
Ahead of the Moga assembly byelection, the district unit of the BJP has expressed its resentment over the "insensitive attitude of the SAD leadership" and constituted a seven-member committee to press for their demands.
Faridkot Abduction Case
I'm being implicated, says former councillor
Faridkot, January 23
One of the 20 accused facing trial in the Faridkot abduction case case, who is a former Akali councillor, yesterday pleaded that he be discharged in the case as he was being implicated in the case to ruin his political career.
Camp for freedom fighters comes to naught
Fatehgarh Sahib, January 23

The State Freedom Fighters Department failed to redress the grievances of freedom fighters and their family at the special camp organised for them at the administrative complex here.

Rai Singh Patanga (centre), president, Rashtriya Swatantra Senani Parivarik Sangthan, at the camp in Fatehgarh Sahib on Wednesday. A Tribune photograph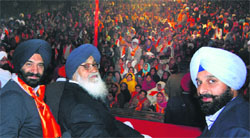 Chief Minister Parkash Singh Badal (centre) and Revenue Minister Bikram Singh Majithia (right) at a rally in Delhi on Tuesday. A Tribune photograph
Delhi Sikh Gurdwara Management Committee poll -2013
Majithia's men camp in Sarna citadel
New Delhi, January 23
Shiromani Akali Dal (SAD) Delhi president Paramjit Singh Sarna, who has had a easy run in Delhi for the past nine years, is now bottled in his own constituency of Punjabi Bagh by the Bikram brigade of Punjab Revenue Ministerand Youth Akali Dal (YAD) president Bikram Singh Majithia.

Tohra's pupil poses trouble for Badal
New Delhi, January 23
It was during 2002-2003 when Akali leader Parkash Singh Badal and SGPC patriarch Gurcharan Singh Tohra parted ways. Paramjit Singh Sarna, then a Tohra acolyte, ensured that Delhi Sikhs came out of the shadow of Punjab politics.
Tight fight for DSGMC
New Delhi, January 23
With both the SAD and the SAD (Delhi) locked in a tight fight for control of the Delhi Sikh Gurdwara Management Committee (DSGMC), attempts are being made to make the contest one between the "outsiders" represented by the dominant Jat peasantry class of Punjab and the majority trader community of Delhi.
It's cakewalk for Manjit Singh GK
New Delhi, January 23
SAD candidate Manjit Singh GK from the Greater Kailash ward of the Delhi Sikh Gurdwara Management Committee (DSGMC) has no rival candidate. Two contestants, Gurpreet Singh (Jassa) of SAD (D) and Swaranjeet Singh, an independent, had filed nominations against him. But they later announced to retire from the elections.
SAD wants EC to monitor polling
New Delhi, January 23
With the absence of interference of the Election Commission of India (ECI) in the conduct of the DSGMC elections, the SAD has alleged bias against the party.


Marketing board's appointments illegal: HC
Chandigarh, January 23
In yet another embarrassment to the Punjab Government, the Punjab and Haryana High Court has declared illegal the Punjab State Agricultural Marketing Board's action of not appointing professionals to the Junior Engineer' post only because they were better qualified.
Notice to govt on political appointments
Chandigarh, January 23
The alleged illegal appointment of three advisers to the Punjab Chief Minister and two officers on special duty have come under the Punjab and Haryana High Court's scanner, with the filing of a public interest litigation, alleging that the recruitments were made entirely on political considerations without any public advertisements being issued.
Consider Camelot's plea for eco clearance, HC to Centre
Chandigarh, January 23
Adding a twist to the controversy, an advocate today questioned the very existence of Tata Camelot project, even as the Punjab and Haryana high Court directed the Union Ministry of Environment and Wildlife to consider the housing development company's plea for environment clearance.


SAD leader's son booked for thrashing policeman
Ludhiana, January 23
In yet another incident of highhandedness by influential politicians and their kin, an Akali leader's son along with his aide allegedly assaulted a head constable and a home guard jawan near Bhangu Hospital in Doraha today.
Two accomplices of Sangrur imposter arrested
Sangrur, January 23
The local police has arrested two more persons in a case relating to an imposter Nitin Jain from Jagraon. He was arrested yesterday posing as an Additional Sessions Judge, Mohali.
40-yr-old beggar raped in Ropar
Ropar, January 23
A 40-year-old beggar was allegedly raped by two unidentified persons at Bharatgarh near here yesterday night. The victim, who stayed at the Chandigarh railway station, said one of the accused on the pretext of providing her a job brought her to Bharatgarh and raped her along with his accomplice.