Sarna claims false cases against 'sewadars'
Chandigarh, January 20
Cases have been registered against members of the Delhi Sikh Gurdwara Management Committee (DSGMC) Task Force. This comes as a setback to DSGMC president Paramjit Singh Sarna, who is engaged in a bitter struggle with the SAD over the control of the religious body.
Cancer incidence in state not so alarming, claims survey
Chandigarh, January 20
Contrary to the general impression, the incidence of cancer is not so alarming in Punjab, claims a door-to-door survey conducted recently by the state Health Department.
6 killed, 20 injured in Sangrur road accident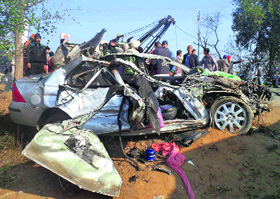 Sangrur, January 20
All five occupants of a car were killed in a collision with a private bus near Dirba, 30 km from here, today. They were identified as Gurjeet Singh (50) and his wife Hardip Kaur (45) from Laad Banjara village, Jagtar Singh (50) and his wife Balwinder Kaur (47) from Seehan Singh Wala village (near Moonak) and Harpal Kaur (42) from Daska village in Sangrur district.
The mangled remains of a car that collided with a bus near Dirba village in Sangrur district on Sunday. A Tribune photograph

Australian leader at Golden Temple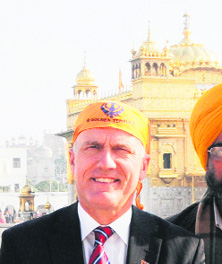 Amritsar: Eric Abetz, Leader of Opposition in the Australian Senate, on Sunday visited the Golden Temple. Addressing a press conference, he said India and Australia were strategic alliance partners who helped each other in promoting business interests of the either side. He said since India was a mature democratic country, Australia could not refrain from selling uranium to it. Eric was accompanied by Sanjay Sharma who is associated with an NGO, India-Australia Strategical Alliance Group. Sharma said he was planning to set up a unit in Delhi to manufacture bullet-proof jackets for the Indian Army. — TNS


Leader of the opposition in the Australian Senate, Eric Abetz, at the Golden Temple in Amritsar on Sunday. Photo: Vishal Kumar

Bid to gherao Finance Minister's house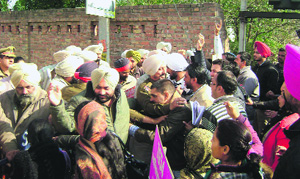 Sangrur, Januray 20
Members of the 7654 Sanjha Front Teacher Union, Punjab, led by union general secretary Daljit Singh, today tried to gherao state Finance Minister Parminder Singh Dhindsa's house here but were stopped by the police. Thwarted, they then staged a dharna on the main road. Some of them tried to break the police barricade to reach Dhindsa's residence.
Members of the teachers union try to break a police cordon in Sangrur on Sunday. A Tribune photograph

Power corporation seeks 700 Suvidha centres in rural areas
Patiala, January 20
The PSPCL has sent a proposal to the Punjab Government to open 700 Suvidha centres in rural areas of Punjab so that consumers can pay their bills without any hassle. At the Suvidha centres, people will be able to deposit their bills for various utility services, including water supply and telephone services.
PSPCL to purchase power worth Rs 8,680 crore this year
Patiala, January 20
With peak power demand this summer likely to touch 12,000 MW, the Punjab State Power Corporation Limited (PSPCL) has sought approval to purchase power worth Rs 8,680 crore from the Punjab State Electricity Regulatory Commission for the year 2013-14.
Faridkot police recovers 4 cell phones from jail
Faridkot, January 20
Led by the Faridkot Superintendent of Police, a police team of more than 150 personnel today searched the Faridkot jail and recovered four mobile phones. Nishan Singh, an accused in two rape and kidnapping cases, who is lodged in the jail, had reportedly made threat calls to the victim and her parents from a cell phone, asking them not to depose against him.
University job: SC candidate cries foul
Patiala, January 20
The controversy regarding the recruitment process at the Punjabi University refuses to simmer down. Chandigarh resident Maninder Singh alleged the university had not allocated a single seat to Scheduled Caste candidates even though three posts were reserved for them.He had given a walk-in interview at the Punjabi University for the post of workshop instructor in the Mechanical Department of the University College of Engineering on October 4, 2011.
Patiala MC fails to shut down illegal slaughterhouses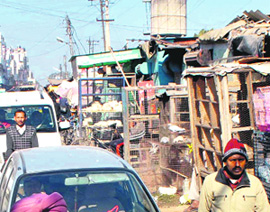 Patiala, January 20
Over a dozen unauthorised slaughterhouses in the vicinity of the Patiala bus stand openly violate the rules laid out in Punjab Municipal Corporation Act, 1976, and continue to operate with impunity. The animals are slaughtered in unhygienic conditions and the slaughterhouses dump the waste alongside the road, posing a grave health hazard for the people in the area.
A view of the unauthorised slaughterhouses situated close to the Patiala bus stand. Tribune photo: Rajesh Sachar

Absent for years, 197 govt teachers shown the door
Chandigarh, January 20
The Punjab Government has dismissed 206 employees, including 197 teachers and nine non-teaching staff, in the Education Department for remaining absent from duty for years together. Education Minister Sikander Singh Maluka today said the dismissed employees comprised 166 master cadre, 25 Sarv Shiksha Abhiyan and six computer teachers.
48,571 children get pulse polio drops in Ropar
Ropar, January 20
A total of 48,571 children were administered medicine on the first day of 3-day pulse polio campaign that started here today. A total of 66,800 children up to the age of five years will be targeted under the programme.
Badal assures of cane price hike
Chandigarh, January 20 Chief Minister Parkash Singh Badal has assured cane farmers in the state that their demand for sugarcane price hike would be decided soon.


Moga girl abducted, raped and dumped
Bathinda, January 20
A 24-year-old girl of Landeke village in Moga was allegedly abducted from the Chandigarh Sector 43 Bus Terminal on Friday, administered drugs, raped and thrown out of a moving car near Sangat Mandi this evening.
6 kg heroin worth Rs 30 crore seized
Bathinda, January 20
The police today arrested one person and seized 6 kg of heroin worth Rs 30 crore from his possession. The heroin was hidden in six containers. Addressing a press conference, IG, Counter Intelligence, Jatinder Jain said the accused was arrested during a special operation launched against drugs smuggling.