Row over Namdhari leadership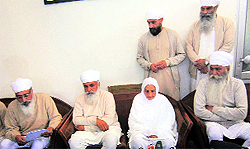 Satguru Uday Singh to be Chief, says Mata Chand Kaur
Bhaini Sahib/Ludhiana, January 16
Confirming her earlier decision, Mata Chand Kaur, widow of late Satguru Jagjit Singh made it clear today that Satguru Uday Singh was the unanimous choice for Namdhari Chief as directed by her late husband.

Mata Chand Kaur with Satguru Uday Singh (at her left) briefs media persons in Bhaini Sahib on Wednesday. A Tribune photograph

Badal seeks Rs 31 crore for watershed management
Chandigarh, January 16
Chief Minister Parkash Singh Badal today called on Union Rural Development Minister Jairam Ramesh in Delhi and urged him to ensure speedy completion of formalities related to construction of rural link roads in Punjab under the Pradhan Mantri Gramin Sadak Yojna (PMGSY).
Will move privilege motion against Joshi on mining policy, says Jakhar

Chandigarh, January 16
The state Congress will move a privilege motion against Industries Minister Anil Joshi in the ensuing Budget session of the Punjab assembly for "misguiding" the House on making sand and gravel available in the state at affordable rates by August 15, 2012.

Sunil Jakhar, CLP Leader
SAD demarcating rural wards for political benefit, Cong tells Guv
Chandigarh, January 16
The Punjab Congress today submitted a memorandum to Governor Shivraj Patil stating that the SAD-BJP government was demarcating wards within gram panchayats with an aim of benefitting candidates of the ruling alliance in the forthcoming rural elections.
Akali group, Jain supporters clash at party meeting
Faridkot, January 16
A meeting convened by Akali leaders at a gurdwara in Moga to discuss the party's election strategy for the Moga by-election last evening ended in an ugly duel between supporters of former Agriculture Minister Tota Singh and Joginder Pal Jain, who earlier resigned as Congress MLA from Moga and joined the SAD. He is now contesting the by-election as the SAD candidate.


Gang Rape: Expedite probe, Gurdaspur police told
Chandigarh, January 16
The Gurdaspur police has been directed to complete investigations into the gang rape of a 29-year-old woman in Gurdaspur district last Friday. All the seven accused persons have been arrested.
Expect little relief from power cuts this summer
Patiala, January 16
With work on the installation of 500-mega volt ampere (MVA) transformers at Amritsar and augmentation of transformers at Moga and Malerkotla from 250 MVA to 400 MVA not likely to be completed by August this year, the increase in the state's available transfer capacity (ATC) of power from the Northern Grid from the existing limit of 5100 MW will not be possible this summer.
Farmers confront power authorities at Dirba
Sangrur, January 16
A large number of farmers, led by leaders of the Bharatiya Kisan Union (Ugrahan), today gheraoed the office of the executive engineer (XEN) of the Punjab State Power Corporation Limited (PSPCL) at Dirba to protest against the supply of power to tube well motors at night. The XEN, Gurjant Singh, remained inside his office, during the protest.
Finally, Maqboolpura to get de-addiction centre
Amritsar, January 16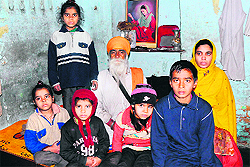 Following news reports on rampant drug addiction in Maqboolpura, also known as 'locality of widows' in these columns, the local administration has taken a note of the issue and ordered setting up of a de-addiction centre in the locality. It has also set the ball rolling for issuing BPL (below poverty line) cards and extending pension to the widows in the area.


Swaran Singh with his grandchildren at Maqboolpura on Wednesday. Photo: Vishal Kumar

Now, a house to come up in 20 hrs!
Jalandhar, January 16
Having remained in news for accomplishing a rare feat of constructing a 10-storey building in 48 hours, entrepreneur Harpal Singh has set another target of constructing a house in 20 hours which he is due to demonstrate on January 24.
defying fear with faith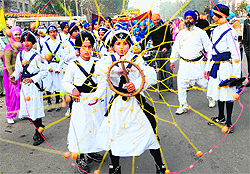 Sikh boys perform 'gatka' during a religious procession on the eve of the birth anniversary of Guru Gobind Singh in Amritsar on Wednesday. Photo: Vishal Kumar

PTU students express resentment over change in syllabus
Ropar, January 16
The fate of thousands of students pursuing Electrical and Electronics Engineering (EEE) in colleges affiliated to the Punjab Technical University hang in fire after the syllabus of the course was changed suddenly last month. Students said the decision had made them ineligible for a majority of posts in the public and the private sector.
Wireless sensors to check structural health of buildings
Chandigarh, January 16
To overcome the limitations of the existing methodologies of monitoring the structural health of buildings and put in place a system to ensure greater safety and sustainability of large structures, a hi-tech system based on a wireless sensor network (WSN) is being developed.
The iron hand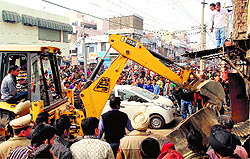 A JCB machine demolishes illegal structures alongside the Kasturba Road in Rajpura on Wednesday. Tribune photo: JS Virdi

Health institutes flout waste-disposal rules
Patiala, January 16
With the Punjab Pollution Control Board (PPCB) failing to keep a check on health institutes in Patiala, healthcare centres, nursing homes and hospitals have started dumping bio-medical waste in the open.
Patiala MC's fiscal crisis puts on hold development works
Patiala, January 16
With the fiscal health of the Patiala Municipal Corporation in a precarious state, most of the development activities in the city have come to a standstill. The financial crisis has virtually put a break even on works such as the patch work of potholes on roads.
Projects worth Rs 60 lakh for Fatehgarh Sahib
Fatehgarh Sahib, January 16 Mantar Singh Brar, Chief Parliamentary Secretary, Rural Development, laid the foundation stone of the Panchayat Ghar, which is to be constructed at a cost of Rs 10 lakh, at Kotla Bajwara village here.


Frame policy for relief to acid attack victims, HC tells state
Chandigarh, January 16
Punjab and Haryana High Court Chief Justice Arjan Kumar Sikri today said acid attack was worse than murder, as the Bench headed by him directed the Punjab Government to take a decision on framing a scheme for free medical treatment, grant of compensation and rehabilitation of acid attack victims.


Robbers target rich eunuchs
Gurdaspur, January 16
The Gurdaspur and Batala police are looking for robbers targeting rich eunuchs. A gang, which the police suspects include some eunuchs, today murdered Parvez Masih, the driver of eunuch Shano Rani, and injured his eight-year-old daughter. A complaint under Sections 458, 469 and 460, IPC, was registered at the Ghuman Kalan police station this morning on a complaint by Masih's wife.