Staff crunch to blame for Amritsar jailbreak
Amritsar, January 10
It was owing to poor infrastructure and an acute staff shortage that led to three undertrials fleeing the Amritsar Central Jail a few days back. One of the escapees was nabbed later.
Hold MLAs accountable, Navjot pleads with Badal
Chandigarh, January 10
In a direct communication to Chief Minister Parkash Singh Badal, Chief Parliamentary Secretary (Health) Dr Navjot Kaur Sidhu has sought greater accountability for elected representatives, including at the local body and assembly level.

6 months on, police yet to nab rape accused
Ludhiana, January 10
Nearly six months after a minor of Bhero Munna village near Sahnewal was allegedly raped by a 24-year-old man, the police has failed to nab the accused. Victim's mother said: "My 15-year-old daughter was raped on May 25 last year and the police has not yet arrested the accused. Even the case was registered after much persuasion on June 17. A medical examination of my daughter was done on June 19".
Govt sets up probe panel
Chandigarh, January 10
Taking cognisance of The Tribune report on the re-totalling scam in Guru Ravidas Ayurved University, Hoshiarpur, Medical Education and Research Minister Chunni Lal Bhagat today constituted a two-member committee to inquire into the issue.
Crime up yet CCTV cameras in border belt lying non-functional
Gurdaspur, January 10
At a time when incidents of firing and other petty crimes have been increasing in this part of the state, a dozen odd closed circuit television (CCTV) cameras installed at strategic points in Gurdaspur, Batala and Pathankot police districts have been lying non-functional.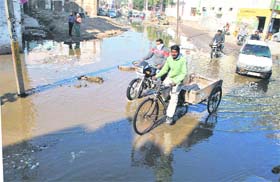 MC callousness

: Commuters make their way through a waterlogged street at Nabha Gate in Patiala on Thursday. Tribune photo: Rajesh Sachar
SGPC flays beheading of Sikh in Pak
Amritsar, January 10
The SGPC has condemned the kidnapping and subsequent beheading of a Sikh, identified as Mohinder Singh, by militants in Pakistan, terming it as a "barbaric act.". In a statement issued here today, SGPC president Avtar Singh Makkar has urged the Pakistan Government to ensure the safety of minorities while seeking adequate compensation for the next of the kin of the deceased.
US Sikhs seek stern action
Washington, January 10
Strongly condemning the murder of Sikh-Canadian woman Rajvinder Kaur Gill and the beheading of Mohinder Singh in Pakistan, the Sikh community in the US today demanded protection of minorities in that country.
5,811 suspected cancer patients in Ludhiana dist
Ludhiana, January 10
The district Health Department has identified as many as 5,811 suspected patients of cancer during a cancer awareness survey conducted recently. Ludhiana Civil Surgeon Subhash Batta said: "The survey has been conducted with the help of 3,790 volunteers, comprising health staff, Asha workers and students of nursing colleges.
Few takers for high security number plates in Muktsar
Muktsar, January 10
At a time when various districts are facing delay on the part of the transport authorities in fitting high security registration number plates to new and existing vehicles, the district transport office here is grappling with the problem of storing these plates as only a few vehicle owners turn up to get these fitted.
Vigilance Bureau received 3,249 complaints last year
Chandigarh, January 10
The Punjab Vigilance Bureau registered 81 cases against various persons last year, out of the 3,249 complaints it had received from various quarters. Of the received complaints, 2,120 were transferred to the departments concerned of the suspecting officials, 754 to the Director General of Police and 167 were being investigated by the bureau itself.
2 Bathinda villages shed cancer stigma
Bathinda, January 10
Jhajjal and Giana villages in the Talwandi Sabo block of the district are now free of the cancer stigma with the spotlight shifting to other places following the ongoing statewide cancer survey.
Seminar on martyr turns into political event
Patiala, January 10
Instead of recalling the contribution of Shaheed Udham Singh at a seminar organised to pay tributes to the martyr by the Kamboj Organisation of India here, many speakers just spoke on political lines and failed to mention the martyr's name even once during their address.
Standing tall: Job aspirants found with pebbles in socks
Ludhiana, January 10
Several unemployed youths were allegedly caught using pebbles in their socks to increase their height during an Army recruitment rally held at the Guru Nanak Stadium here.
HC closes petition against govt houses to riot victims
Chandigarh, January 10
A petition filed in public interest against the allotment of government quarters to the families of Sikh riot victims in Ludhiana has failed to find favour with the Punjab and Haryana High Court.
SC rejects Vigilance SP's bail plea
Mohali, January 10
In a major development, the Supreme Court today dismissed the anticipatory bail application of Amandeep Kaur, SP (Vigilance), the key accused in the ETO Ranjit Singh's suicide case.
HC: Lay down procedure for appointing VB chief
Chandigarh, January 10
The Punjab and Haryana High Court directed the Punjab and Haryana Governments to lay down procedure for appointing Vigilance Bureau chiefs while keeping in view the principles laid down by the Supreme Court in the Vineet Narain's case.