OPED —

Society
More than a spectacle of spirituality
The Kumbh Mela offers a remarkable show: millions of pilgrims bathing at the Sangam, parades of gurus on thrones, flanked by naked Naga Sadhus smeared in ash. But its sociological aspects are far more fascinating
Vandana Shukla


Hindu sadhus participate in a religious procession as the first "royal entry" for the Kumbh Mela at Sangam in Allahabad on January 3, 2013.— AFP
Beyond its photogenic appeal of exotica, what does Kumbh Mela mean to developing societies? Does it offer a model of peaceful co-existence, a search for quiet amidst crowds-- perhaps this is what our ancestors envisaged when they conceptualised the largest congregation of humanity at one place. Known to be the biggest religious congregation in India where millions of people gather to witness confluence of colourful holy men, naked sadhus, wondrous feats of asceticism and piety on a scale unparalleled anywhere else in the world, it is now inspiring sociologists to understand the Kumbh beyond its religious connotations. Various studies undertaken by Indian and foreign universities have now established, that the number of people coming to these melas have not dwindled over the centuries, despite growing influence of modernity and consumerism.


History of the Kumbh Mela
Ancient Timeline
10,000 BC: Historical postulates indicate presence of Neolithic Ritual River bathing fairs and festivals
600 BC: River melas are mentioned in Buddhist writings
400 BC: Greek envoy to Indian King Chandra Gupta reports on a Mela
300 BC: The present form of melas crystallizes at this time.
C.547: Earliest recorded founding date of an Akhara (Monk order), the Abhana Akhara
C.600: Chinese pilgrim and writer Hiuen-Tsang attends a mela at Prayag (modern Allahabad), organized by King Harshavardhana
C 904: Founding of Niranjani Akhara
1146 AD: Founding of Juna Akhara
1300 : Kanphata Yogi militant ascetics are employed in the Rajasthan army
1565: Madhusudana Sarasvati organizes fighting units of Dasanami orders
1684 : Frenchman Tavernier estimates 1.2 million Hindu ascetics in India
1690 : Saivites and Vaishnava sects battle at Nashik; 60,000 are killed
1760 : Saivites and Vaishnavas battle at Haridwar mela; 1,800 die
1780: British establish the order for royal bathing by the monastic groups
1820: Stampede leaves 430 dead at the Haridwar mela
1906: British cavalry intercede in a mela battle between sadhus
Recent History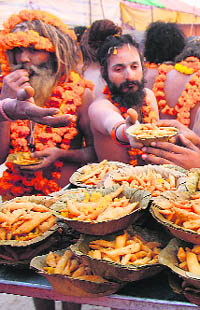 1954: Four million people, 1 percent of India's population, attend the Kumbh mela at Allahabad
1989: Guinness Book of World Records proclaims the crowd of 15-million at the February 6 Allahabad Kumbh mela 'the largest-ever gathering of human beings for a single purpose'
1995: "Half-mela" (at six-year interval) at Allahabad has 20 million pilgrims on January 30 bathing day
2007: Allahabad Ardha Kumbha Mela hosts 65 million pilgrims in 45 days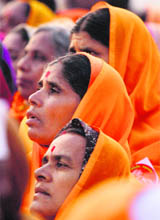 It is wonderful, the power of a faith like that, that can make multitudes upon multitudes of the old and weak and the young and frail enter without hesitation or complaint upon such incredible journeys and endure the resultant miseries without repining. It is done in love, or it is done in fear; I do not know which it is. No matter what the impulse is, the act born of it is beyond imagination, marvelous to our kind of people, the cold whites..
— Mark Twain on Kumbh Mela of 1895
The melas have experienced nightmarish incidents too; of cholera and stampedes from time to time, yet, they fail to influence the collective search for peace among people. They return with the same fervour and faith, year after year. While most crowded places give a feeling of claustrophobia, at the Kumbh pilgrims experience a sense of serenity and calm. Beyond the single unifying factor of religion, what brings so many people from different classes and shades of social hierarchy at one place, Prayag, is a mystery.
This year seventy to hundred million people are expected to visit Allahabad, braving icy cold winds and chilled waters between January 14 to February 25, for just a dip in the confluence of three rivers; Ganga, Yamuna and the mythical Saraswati on auspicious days. Close to Rs 1700 crore will be spent on organising the mela. How does the land of IT revolution keep its loyalty to an event like Kumbh, more and more intrigued researchers from developed countries are getting involved in demystifying this phenomenon, at sociological and psychological planes.
The myth of elixir and a pitcher
The first written evidence of the Kumbha Mela, known for the largest congregation of humanity for a single purpose, can be found in the accounts of Chinese traveller, Huan Tsang or Xuanzang (602 - 664 A.D.) who visited India in 629 -645 CE, during the reign of king Harshavardhana.
Similar observances date back many centuries, where the river festivals first started getting organised. According to medieval Hindu theology, its origin is found in one of the most popular medieval puranas, the Bhagavata Purana.
According to the Bhagavata Purana, the demigods had lost their strength by the curse of Durvasa Muni, and to regain their lost powers, they approached Lord Brahma and Lord Shiva, who directed the demigods to Lord Vishnu, the creator, who instructed them to churn the ocean of milk Ksheera Sagara for amrita (the nectar of immortality). This required them to make a temporary agreement with their arch enemies- the demons or Asuras, to work together with a promise of sharing the wealth equally thereafter. When the Kumbha (urn) containing the amrita appeared after the churning of the sea, a fight ensued between the demons and the gods. For twelve days and twelve nights (equivalent to twelve human years) the gods and demons fought in the sky for the pot of amrita(kumbha). It is believed that during the battle, Lord Vishnu, incarnated as Mohini, a beautiful woman and fled with the Kumbha of elixir spilling drops of amrita at four places: Allahabad, Haridwar, Ujjain and Nashik, the places where now Kumbh mela is celebrated at regular intervals of time.
A massive field for social research
The Maha Kumbh, as the 2013 Kumbh is known, occurs after every twelve years at either of the four places of Kumbh ie. Allahabad, Haridwar, Ujjain or Nashik. Since its inception, early in the first millennium CE(Classic Era 200–900 AD), the Kumbh has been drawing tens of millions of pilgrims over the course of a few weeks. A vast city of strangers emerges from nothing every twelve years, and yet it functions harmoniously. People treat each other civilly and supportively. They respect the needs and beliefs of others. The mela provides a forum for both individual and collective expressions of faith as pilgrims, religious teachers, and followers of monastic orders who converge at the confluence from all parts of India.
To understand this strange phenomenon, in one of the largest ever social- psychology collaboration between the UK and Indian Universities, scholars and researchers investigated the collective participation of pilgrims in the Magh Melas ( they occur every year preceding the Maha Kumbh, for 12 years) using the lens of social identity theories. The researchers studied the event, seeking to understand how people treat each other, how they experience the crowd and what impact the crowd has on their everyday lives.
Eminent scholars like Dr. Nick Hopkins, University of Dundee, UK, in association with Prof. Stephen Reicher, University of St. Andrews, UK, Prof. Narayanan Srinivasan, University of Allahabad, Dr. Clifford Stevenson, Queen's University, Belfast, Prof. Mark Levine, University of Exeter, UK and Gozde Ozakinci, University of St. Andrews, UK, with their team wondered how is it that people thrive in an environment that is densely crowded, intensely noisy and often risky for health? Pilgrims described the event as 'blissful' and 'serene'. They tried to figure out how is it that people, often frail and elderly, living in the most basic conditions, cope with a harsh and often freezing environment, they not only just endure these conditions, their well-being is enhanced through the experience.
"Sometimes we look at the Mela as an exotic event and focus on how different the pilgrims are from us. Our work shows how the pilgrim experience has lessons for all of us about how to create a good community and to ensure that people thrive in the community," says Dr Hokins. Dr Shruti Tripathi, research director of the Mela Project interviewed around 1000 participants from 90 villages before after and during the Magh Mela in the first properly controlled study of its kind. Pilgrims (knows as kalpvasi) and the non-attendees neighbours from their villages were studied and it was found that those who come to the mela, the kalpvasis enjoy better harmony and peace.
Teaching lessons in humanity
Kalpvasis who come for the Magh Mela, live a life of severe austerity for a month, yet they treat it as a privilege. They carry the thread of kalpvas, handed down through generations, and take pride in it. "They live in tents with minimal facilities, eat satwik food, bathe twice in ice cold waters, apart from religious merit, it brings them a sense of shared identity, a collective self realisation, this strengthens their identity. It has very positive impact on their mood, health and the feeling of community," says Dr Tripathi. Professor Reicher offers a more pragmatic view, "By all the tenets of conventional wisdom, the mela shouldn't work. It is crowded, noisy and unsanitary. One might expect people to be stressed, quarrelsome and conflictual. Yet the event is harmonious and people are serene. Studying the mela has forced us to reconsider many basic beliefs about how people function in society."
Looking at the spatial aspects of the mela, a study conducted by the architects from Harvard University concluded that the Kumbh Mela is a prototype for a concept that can be called the pop-up mega-city. The spatial model of the mela can be extended to situations outside of religious pilgrimage: understanding the spatial, social, and logistical elements of the Kumbh through interdisciplinary research will allow societies to propose the deployment of these systems in a variety of places and situations, in particular camps for refugees of war and natural disasters.