Teaching girls self-defence
A society that had become desensitised to violence against women is now demanding change. Apart from changes in policing and laws training in self-defence can empower women and also build up trust with the police
Upneet Lalli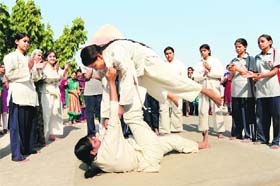 College girls participate in a basic judo camp for self-defence in Ahmedabad on January 5, 2013. The recent Delhi gang-rape is forcing women and girls to protect themselves with basic defence skills like judo and karate. Photo: AFP
OUR lives begin to end the day we become silent about things that matter". Martin Luther King had summed up the need to shake public apathy. Has the silence as regards violence against women ended in our society? The collective pain, grief, anger and despair seen over the past few days are an indication of a society that lost its patience with the insensitivity and injustice encountered in the daily life of women.
"Agitation is the marshalling of the consciousness of a nation to mould its laws", remarked Robert Peel. The sheer brazenness of perpetrators of violence against women denies the victim's right to justice and redress. It has led to a cry for stronger laws and harshest punishment to serve as deterrence to such crimes. It's not just the severity, but the certainty of punishment along with swiftness that ensures its efficacy. Lynch mob mentality spells danger to the rule of law. An effective justice delivery system is the need of the hour. In fact, Thomson Reuters in its report has ranked India fourth along with Afghanistan, Congo and Somalia as the most dangerous place for women. Not a single day passes without incidents of violence against women, many of which may also go unreported.
Mindset of a victim
The continuum of violence against women starts from pre-birth till death. In fact, "victimness" has become a part of the social construction of the "female". As girls we learn early in life to ignore the whistles, catcalls, stares and lecherous behaviour. We get conditioned to avoidance behaviour — avoid going out late, avoid being alone — and we can't step out of homes, assured of our total safety. Are women alone responsible for their safety? Is restricted mobility and autonomy a solution? Howsoever secure the child is in the mother's womb, it cannot obviously be there forever. Girls have to move out of home and society has a duty in providing a secure environment and this duty is cast upon everyone, particularly the law enforcement machinery.
The learnt helplessness in girls rarely gets challenged. One of the first lessons at the start of my career was how not to be either a victim or a mute spectator. I have seen that even educated, empowered women may continue being victimised. Law can regulate human behaviour, but changes in values and attitudes are urgently needed to reshape an India that is safe for women. Hence, legal reforms need to be supplemented by social reforms as violence against women will not end overnight. Gender-based violence is deeply rooted in our culture and social relations between sexes. It should not be forgotten that persons who are in the legal system are also products of society, and their behaviour reflects this.
I have a favourite question that I ask the heads of the police: "In this 21st century how safe would you feel if a woman from your family is required to visit a police thana at night?" That's an indicator of how much trust you have been able to generate. This aspect needs introspection in order to improve the perceptions of safety and trust that have been lost. Making more police women available also is not the ultimate answer since they too absorb the masculine culture. Some police women may themselves feel unsafe in the presence of male colleagues!
Community policing
Gender-sensitive policing requires constant training, and public evaluation. There is a need to have key performance indicators for gender responsive and gender-sensitive policing. Community policing experiments carried out in this regard, particularly teaching girls self-defence by the police will serve the dual purpose of empowering women and also build up trust with the police. Aspects of crime prevention need a special focus and community policing has to be in the spirit of true partnership. It will require a more visible leadership in the police that strives to create faith, and trust in the community in order to bring order in the system.
How safe do victims feel in approaching the police? After a crime takes place, the first step towards seeking justice is lodging an FIR. The recent incident of a rape victim committing suicide in Patiala district, and another case of Sarita who had consumed poison in front of Haryana police headquarters around four years ago was due to the fact that victims were not heard, were disbelieved. The names of victims may differ, but their problems in struggle for justice remain almost the same. The police at large fails to recognise that rape is not just unwanted sex; it's a highly traumatic event. Rape victims suffer disintegration of their inner world. The survivors may end up being victimised over and over again and at times many may attempt suicide in their battle for justice.
The justice system
In India very few officers in the criminal justice system – the police, prosecution and the judiciary are aware of the rape trauma syndrome. Research has shown that rape victims suffer a significant degree of psychological trauma during, immediately following and for a considerable time after they have been raped. There are a specific set of physical, cognitive, behavioural and emotional symptoms that may be seen in survivors over time. The time it takes to recover fully varies for each survivor, depending upon the support systems available as well. In fact, in the courts of South Africa and other countries, this syndrome is introduced as evidence. Victim impact statements must be a part of the sentencing process in India. Aside from deterrence, measures to alleviate the trauma of sufferers are much needed.
Few women, even highly educated amongst us, know what to do if a sexual assault takes place. Valuable evidence may then get lost. It is time that we educate our girls to be prepared and have support systems in place when an incident happens. Rape crisis centres should be set up to help the victims immediate medical and health needs. In the aftermath of an attack, the victim is in a struggle to take back control of her life. Victim blaming takes many forms — in terms of dress, what were you doing etc. Compounding the problem may be reactions of the family, friends, co-workers and the police who ask many of the same questions. These myths — like rape victims invite it themselves, it cannot be without the woman's consent, most of the rape complaints are fake etc — exist in all countries. Addressing this issue is very important. There is a need to raise awareness and dispel the myths that effectively affect outcomes for victims and the confidence in criminal justice system. Rape is one of the most traumatic events that leave their irreversible impact on victims. Counselling can help these victims to deal with their fear and also cope with the psychological impact of the attack. Rape victims may have to confront different types of fear. The initial response from victims may be of rage, fear, worthlessness, guilt/blame. The initial feelings of shock and disbelief are followed by bewilderment, fright, rage and despair. Victims need time to sort out their emotions before they can come to grips with reporting an incident to the police. Healing takes time and even family members need help in coping with the trauma.
Issue of child abuse
Another sensitive issue is of child sexual abuse. These have an even deeper impact on the emotional instability of the victim. Imagine the trauma of being raped by someone you trusted and loved or the trauma of no longer feeling safe in your own home. These are the disturbing dynamics that increase the severity of the impact of abuse by a known person. The Protection of Children from Sexual Offences Act, 2012, has specifically defined the sexual offences against children and the punishments along with having child friendly procedures for reporting and trial process.
Awareness of this particular law is needed especially amongst the law enforcers so that the rights of children are protected. It is also essential that we do not shy away from discussing child abuse in a language that children understand. Crime prevention strategies have to start early. It is easy to make laws, but the real challenge always lies in effectively enforcing and implementing them. We need action, not platitudes; there is a need to create faith in the justice system to dispel the darkness surrounding the system today.
The ability of the law to produce change is probabilistic, contingent and sequential. Internalisation of values that we seek today, demands action from each of us. We also need to teach the boys to grow up as men who respect women and who learn early in life that there is no place for violence in relationships.
The writer is the Deputy Director, Institute of Correctional Administration, Chandigarh. The views expressed are personal