At UN, India slams Pak for promoting terror
Tribune News Service
New Delhi, January 16
Even as Pakistan Foreign Minister Hina Rabbani Khar chaired a debate on counter-terrorism at the UN Security Council, India hit out at Islamabad for using terrorism as an instrument of state policy and cautioned the international community against adopting selective approaches in dealing with terrorist groups or in dismantling the terrorist infrastructure.
With tension mounting between India and Pakistan over the recent killing of two Indian soldiers on the Line of Control (LoC), India's Permanent Representative to the UN Hardeep Singh Puri said, ''Terrorism is a Frankenstein monster. Resort to the use of terrorism as an instrument of State Policy is short-sighted. Indeed, those who have taken recourse to it have invariably themselves suffered immensely from it proving the age old dictum that those who play with the sword, shall also perish by it.''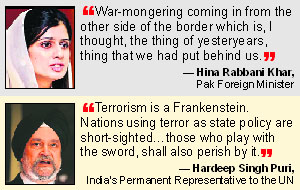 Pakistan assumed the rotational Presidency of the UNSC for a month on January 1 and New Delhi fears that Islamabad might use the opportunity to again attempt to internationalise the Kashmir issue. It was in this backdrop that Islamabad had recently demanded a probe by the UN Military Observers Group in India and Pakistan (UNMOGIP) into the recent ceasefire violations along the LoC.
India has, however, made it clear that there was no question of allowing any third party intervention in settling issues between India and Pakistan. As far as UNMOGIP is concerned, New Delhi believes it has become irrelevant after the Simla accord between the two countries. UNMOGIP, in fact, now has a symbolic presence in India.
In her speech, Pakistan Foreign Minister Hina Rabbani Khar said Pakistan has been "one of the biggest victims of terrorism", underlining that a "uni-dimensional" approach to defeat the "hydra-headed monster" would not be sufficient. However, in her address to the Asia Society, she accused India of war-mongering and embarking on a 'narrative of hostility'.
But the Indian envoy was quite sharp in denouncing Pakistan for its role in promoting terrorism, though he did not name Islamabad even once during his speech. "My own country, India, has faced the scourge of terrorism for over two-and-a-half decades. And, indeed, our entire region, South Asia has been wracked by the activities of the biggest terrorist actors in the world, be the Al-Qaida, Lashkar-e-Toiba, Jamat-ud-Daawa, elements of Taliban and others.''
Terrorism, extremism and radicalisation continued to pose a serious challenge to peace, progress and prosperity in the region, he added.
Over the years, the visible landscape of international terrorism has vastly changed. In the globalised world, terrorists were also globalised in their outreach and activities. They recruit in one country, raise funds in another and operate in others and were waging an asymmetric against the international community.
Puri also spoke about the growing risk of weapons of mass destruction of different kinds falling into the hands of terrorists. India has long held the view that Pakistan's nuclear arsenal was not safe and there was every risk of terrorist groups acquiring it.