ETO's Suicide Case

Police officer Amandeep Kaur surrenders
Mohali, January 15
Evading arrest for about five months, the key accused in the ETO Ranjit Singh suicide case, Amandeep Kaur, suspended Superintendent of Police (Vigilance), surrendered before a Mohali court this morning.


Amandeep Kaur, SP, at Mohali's District Courts on Tuesday. Tribune photo: Vicky Gharu

7 more bidders deposit amount
Chandigarh, January 15
The Punjab Industries department found some solace with seven more bidders for the sand quarries coming forward to deposit part of the bid amount and stake claim over mining rights in these quarries.
The state government may re-auction six quarries where it suspects collusive bidding

BSF constable shoots dead colleague, self
Amritsar/Tarn Taran, January 15
A BSF constable, Sunil Kumar (26), allegedly shot dead his colleague Mahesh Kumar (25) with his service weapon and then committed suicide at the Chheena Bidhi Chand post, 30 km from Tarn Taran, late last night.The Chabbal police, on the statement of Platoon Commander SK Pradhan, has registered an FIR under Section 174 of the CrPC.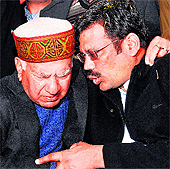 Kamal Sharma unanimously elected state BJP chief
Chandigarh, January 15
Kamal Sharma was unanimously elected president of the BJP state unit here today. Sharma, who is adviser to Chief Minister Parkash Singh Badal, enjoys a rapport with the Leader of the Opposition in the Rajya Sabha Arun Jaitley and Madhya Pradesh Chief Minister Shivraj Singh Chauhan.



BJP national vice-president Shanta Kumar (left) with new state party chief Kamal Sharma in Chandigarh on Tuesday. Tribune photo: Manoj Mahajan

Moga byelection
Panel formed to pick nominee
Chandigarh, January 15
The Punjab Congress today formed a six-member committee, headed by senior leader Rana Gurjit Singh, for selecting its candidate for the Moga byelection. The committee has been asked to submit its report by January 18.
Badal, not Capt, has 'Majithia phobia', say Congress leaders
Chandigarh, January 15
Not letting the controversy surrounding Revenue Minister Bikram Majithia die down, Congress legislators and other leaders today hit out at the ruling Shiromani Akali Dal (SAD).
Govt gets into sop-spinning mode to check flight of textile industry
Chandigarh, January 15
Fearing the flight of its textile industry to Gujarat, Maharashtra and Madhya Pradesh, the Punjab Government is all set to announce a slew of incentives, including major subsidies, for the textile industry.
Punjab to seek Rs 5,000 crore non-Plan grant
Chandigarh, January 15
Punjab will seek a non-Plan grant of Rs 5,000 crore from the Centre to enable the state to tide over its fiscal crisis. Finance Minister Parminder Singh Dhindsa, who will present the government's wishlist at a pre-Budget consultation meeting to be chaired by Union Finance Minister P Chidambaram at New Delhi tomorrow, said the committee set up by the Centre under the Secretary, Expenditure, to explore ways to provide relief to states like Punjab, West Bengal and Kerala, had yet to submit its report.
Suspended SP Uppal dead
Jalandhar, January 15
Nearly three months after his services were suspended, Superintendent of Police (SP) Dharam Singh Uppal, died of cardiac arrest at his official accommodation here today.
28 Punjab hospitals selected for UN bio-medical waste disposal project
Ludhiana, January 15
Twenty-eight Punjab hospitals have been selected for an international project aimed at effective management of bio-medical waste. Of these hospitals, four are big, eight medium and 16 small ventures.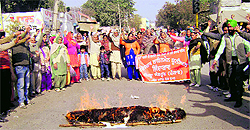 Linemen want release of protesters
Sangrur, January 15
A large number of unemployed linemen along with their family members today staged a demonstration at the traffic light chowk near the main bus stand here.

Unemployed linemen and their family members hold a protest demonstration in Sangrur on Tuesday. Tribune photo

Chandigarh-Ludhiana rail link
Trial run from New Morinda to Sahnewal carried out
Ludhiana, January 15
Having missed many deadlines due to various factors and faced hiccups all through since its conception in 2000, the 110-km-long Chandigarh-Ludhiana rail link finally seems to be getting near completion. The latest deadline of the project is March 31, 2013.
The sixth edition of the national economic census will start in Patiala from tomorrow. It will continue till February 16. The census will cover all aspects of economic activities carried on by residents of the city.
Molestation
Patiala college installs eight CCTV cameras
Patiala, January 15
Following in the footsteps of Punjabi University, city colleges are planning to install CCTV cameras on their campuses to keep a check on untoward incidents. The Government College of Education has recently installed eight cameras on its campus following complaints of eve teasing.
Train docs for swine flu cases, CMOs told
Ludhiana, January 15
With the suspected cases of swine flu pouring in at a faster pace, the Punjab Health Department has asked all the chief medical officers (CMOs) to impart training to the doctors to deal with such cases.


High Court upholds life sentence in honour killing case
Chandigarh, January 15
A harrowing tale of a double murder for honour in Gurdaspur district has surfaced in the Punjab and Haryana High Court. A young man not only killed his sister, but his cousin too as he doubted their character.
3 rapists sentenced to life imprisonment
Barnala, January 15
The Additional Sessions Judge, Barnala, BS Sandhu, today awarded life imprisonment and a fine of Rs 10,000 each to three convicts under Section 376 of the IPC in three different rape cases.
Info sought on renovation of former DGP Gill's house
Chandigarh, January 15
The Punjab and Haryana High Court today sought details of huge expenditure involved in the maintenance and renovation of a house occupied by Punjab's former Director-General of Police PS Gill.


Patiala man held for raping minor
Patiala, January 15
The Tripuri police has recovered a 15-year-old Patiala girl who was allegedly lured by a local man to Lucknow two months ago.