Ensure Panth's victory: SAD
New Delhi, January 22
The Damdami Taksal chief, Harnam Singh Dhumma, accompanied by former Akal Takht chief Jathedar Jasbir Singh Rode, today called upon the Sikh voters in the Capital to save the 'Panth' (community) and vote for the Parkash Singh Badal- Shiromani Akali Dal in the Delhi Sikh Gurdwara Management Committee (DSGMC) poll on January 27.
CBI wants Bibi convicted of murder, seeks early hearing
Chandigarh, January 22
Nearly nine months after Bibi Jagir Kaur was convicted for abduction and forcible abortion of her daughter Harpreet Kaur, the Central Bureau of Investigation (CBI) today moved the Punjab and Haryana High Court for early hearing of its appeal.
HC seeks list of pending rape cases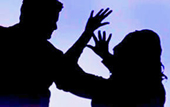 Chandigarh, January 22
In a significant order, the Punjab and Haryana High Court has called for a list of rape cases pending in the States of Punjab and Haryana for more than a year.The summoning of the list by Justice Ranjit Singh indicates the initiation of the process to fast-track all such cases pending adjudication for more than a year.
Special court in Amritsar
Amritsar, January 22
A special court to expedite hearing of cases pertaining to crime against women has been set up at the district courts here as instructed by the Punjab and Haryana High Court. Such courts have been set up in all districts where the number of cases pertaining to gender crime is more than 40.
Capt Kanwaljit's daughter Dolly joins Congress
Chandigarh, January 22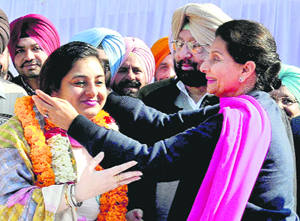 Former SAD leader Capt Kanwaljit Singh's daughter Manpreet Kaur Dolly today joined the Congress, claiming she had lost faith in the SAD as well as Chief Minister Parkash Singh Badal. Dolly joined the Congress at the Punjab Congress Bhawan here in the presence of PCC president Capt Amarinder Singh, Patiala MP Preneet Kaur, CLP Leader Sunil Jakhar and Rajpura MLA Hardyal Kamboj.
Manpreet Kaur Dolly being welcomed by Union Minister Preneet Kaur and Punjab Congress chief Capt Amarinder Singh in Chandigarh on Tuesday. A Tribune photograph


Moga Byelection
Amarinder: Will ask Manpreet to withdraw candidate
Chandigarh, January 22
The Punjab Congress, which had virtually allowed the Dasuya byelection last year to be a walkover, is getting its act together for the Moga bypoll. Pradesh Congress Committee (PCC) president Capt Amarinder today announced that he would stay put in Moga for the duration of the election campaign.


Nabha SHO shifted for dereliction of duty
Nabha, January 22
In a face-saving exercise, the Patiala police has now shifted Nabha Kotwali Station House Officer (SHO) Gurinder Bal to Police Lines for dereliction of duty. Under Bal's supervision, an Assistant Sub Inspector (ASI) Balwinder Singh had managed to illegally lock a woman up at the SHO's police station for two days in a fraud case.
Govt to re-auction quarries, amend mining policy
Chandigarh, January 22
With collusive bidding by the "mining mafia" thwarting Punjab Government's attempts to auction 13 sand quarries in the state, the government has decided to re- auction these.The government also proposes to make amends in the mining policy to ensure that the re- auction sails through.
Haryana to implement Punjab's power model
Patiala, January 22
With Punjab power corporation scripting a success story for drastically bringing down the Aggregate Transmission and Commercial (AT&C) losses in the past five years, Haryana has also decided to adopt the Punjab model to bring down its AT&C losses. A team of experts today visited Patiala to see the systems adopted by the Punjab power corporation.
Setback for PTU
Jalandhar, January 22
The Delhi High Court has directed the Punjab Technical University (PTU) not to conduct admissions under its distance education programme till it got sanction from the Distance Education Council.
Waive road tax worth Rs 26 crore, PRTC to Punjab Government
Patiala, January 22
The Pepsu Road Transport Corporation (PRTC) management has sought exemption from paying road tax worth Rs 26 crore to the state government in wake of the fact that the central government has increased the prices for bulk procurement of diesel by Rs 11 per litre.
RTI: Phillaur BDPO fined Rs 25,000
Chandigarh, January 22
The Punjab State Information Commission has imposed a penalty of Rs 25,000 on Hardev Singh Sodhi, the BDPO (Phillaur) for causing a delay in supplying the requisite information to Harbans Singh, the complainant in an RTI application. The Commission also fined Ranjit Singh, BDPO (Ludhiana), Rs 10,000 on the same account.
Four Pak prisoners sent back via Attari
Amritsar, January 22
Four Pakistani prisoners, including a woman, who were lodged in the Amritsar Central and Tihar jails were repatriated to the neighbouring nation through the Attari-Wagah joint check post today.


Heroin worth Rs 50 crore seized
Amritsar, January 22
The BSF today seized 10 kg of heroin, estimated to be around Rs 50 crore in the international market, from near an outpost on the India-Pakistan border. BSF Inspector General Aditya Mishra said at 3.15 am, a patrolling party noticed movement on the 'no man's land' near the fence at Chanmulla border outpost.
Rape Hoax
Police arrests 2 more persons
Bathinda, January 22
The police today arrested two more accused in connection with the false rape case registered by Gurvir Kaur of Landeke village in Moga. Addressing a press conference, Senior Superintendent of Police (SSP) Ravcharan Brar said while one of the accused, Rohtash, had already been arrested, his accomplice Ramesh Kumar of Khaat in Rajasthan and Pardeep Kumar of Khuian Sarvar were arrested this afternoon from near Gidderbaha.