THIS ABOVE ALL
Malice my livelihood, bear no ill-will
A couple of people took me to court but did not pursue their grievance against me. I have never been fined or put behind bars.
Khushwant Singh

IN my diary I came across something I had scribbled on the last page some months ago. It read: "God mystic in night, wake up bright in the morning light, and do what is right, with all my might".
It sounded like a New Year resolution. In the 97 years of my life I have made many resolutions on New Year eves but failed to keep them beyond a few days. The commonest was not to bear malice against anyone nor write malicious pieces about them in my columns. It did not last more than a week as my column is titled "With Malice Against One and All".
Malice provides me with my livelihood. So far I have got away lightly with whatever I have written. A couple of people took me to court but did not pursue their grievance against me. I have never been fined or put behind bars. Only one Judge of a High Court ordered my appearance before him as he felt I had maligned him. He threatened to send me to jail if I did not apologise to him. It was in the height of summer and I could not bear the thought of spending some months or days in jail. So I readily tendered an apology.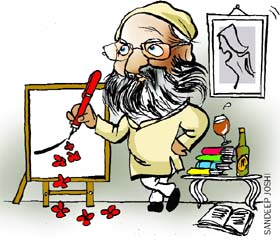 Let me assure my readers that I bear no ill-will against anyone. If I look down upon anyone — mainly politicians — I keep my contempt for them to myself. I promise to stick to the rule for the rest of my life. I am over 97 and have not very long to go. I wish all my readers a very Happy New Year and for years to come.
Nightmarish in verse
Night is failing, to home they all head,/ The roads are unsafe so everyone's read,/ Young and old do it daily, hoping 'twill be alright/ God keep us safe, they all pray,/ Let there be light!/ Sunday, the sixteenth, the night that tragedy fell,/ Six young men did it! May they just rot in hell!/ A young lady of twentythree and her male friend/ Rode home in a bus but landed in a dead end!/ She was brutalised and raped, both thrown out of the bus,/ Those six men who did it, their heads full of pus!/ Hell has since broken loose there's yelling and crying,/ Everyone wants justice, and for that, the public's trying./ A woman is raped, yes, it happens, twenty minutes intermittent./ Whose daughters are bridges burnt? Not, I think, very infrequent!/ Who the families? Of Child Girls circling seven times the bridal fire,/ We hear this daily, why no tears shed? Are not these cause for ire./ When such things happen, shouldn't hair be torn, calls made for action?/ Neither politicians, police nor government can give us much traction./ They just pass laws, set up systems, they prevent ill occurrence;/ Only change in people, homes, thinking too! Will give true deterrence!
Courtesy Wg Cdr SJ Nazareth (retd), Nagpur
RAPE
Dr Gursham Singh, Senior Agriculture Adviser to the UN, was posted in Baghdad. He found the climate and soil of Iraq suitable for cultivation of mustard, which was not being done. He pioneered the cultivation of RAPE, a special variety of mustard in Iraq. Soon it became a joke in international agriculture circles that Dr Gursham Singh has introduced RAPE in Iraq.
Sets of three
The three Cs fast spreading in India: Cricket, corruption, cancer.
Three Ps confronting India: Population, poverty, power shortage.
Three Es India should lay stress on: Economics, education, environment.
Three Ms every Indian wants to possess: Money, mobile, motorcar.
Q: Whom External Affairs Minister SM Krishna owed his position to?
A:His initials told the tale — Sonia and Manmohan
'Bada' peg
The terminology drinking men have devised to describe big and small peg — Amitabh Bachchan and Jaya Bachchan peg.
Morning prayer
What new thing schoolchildren have included in their morning prayers?
A: That there be no power grid failure.
Contributed by KJS Ahluwalia, Amritsar