With Pakistan, follow a 'Line of Caution'
In Pakistan right now, the discourse is not about India but its internal problems and the coming general elections. Its army even declared recently that the country's enemy number one was now home-grown militants.
Raj Chengappa

Barely a year and a half ago, the Pakistan Army flew me down by helicopter to visit the Line of Control at Chakothi in Pakistan Occupied Kashmir (POK). Bright blue highway signs indicated that Uri was just 11 km away and Srinagar 121 km. We stood at Aman Setu, the bridge that was opened in 2006 to facilitate trade and passenger movement between the two Kashmirs, waving to Indian soldiers, stationed on the other side.
This was my second visit to the LoC from the Pakistan side, the first being in November 2004, a year after the ceasefire agreement came into place. There was then sporadic exchange of fire between the two armies. Only a dirt road and a rickety bridge led to the LoC at Chakothi and the atmosphere was still tense.
When I returned in May 2011, there was a sea change in the atmosphere. Apart from a freshly tarred highway, enough for double-lane traffic, there was a newly built facilitation centre that doubled both as a dry port for trade and a visa checkpoint.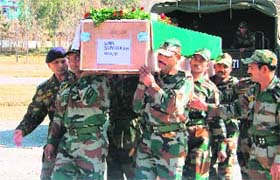 Indian Army personnel carry the coffin of Lance Naik Sudhakar Singh at Rajouri on January 9. Two soldiers were killed last Tuesday on the LoC by Pakistani intruders. AFP
Syed Asif Hussain, the impressive Secretary to the so-called Azad Jammu and Kashmir (AJK) government, told me, "There has to be a paradigm shift in the approach of both countries. The narrative should change from the focus on territory to that of development. People do not want confrontation. Instead, they want food and security from internal threats."
From this atmosphere of hope and peace, we appear to be almost back to square one after the deplorable mutilation of the bodies of the two Indian jawans killed at the LoC. In this current surcharged atmosphere, it is politically correct to talk in terms of giving Pakistan a fitting reply for its perfidy on the LoC.
Even the normally circumspect Union Defence Minister A.K. Antony described the decapitation of an Indian soldier killed at the LoC as "inhuman" and "provocative". Talking tough, Air Chief Marshal N.A.K. Browne, Chairman of the Joint Chiefs of Staff, warned that India would have to explore "other options" if there was repeated violation of the ceasefire.
Without doubt the mutilation of the bodies of our soldiers is a heinous action, deserving both national and international condemnation. But even as we beat our collective chest in anger and anguish, it is wise to proceed with caution while demanding action against Pakistan. There is talk of cutting of all diplomatic relations, halting trade and putting off the liberal visa regime that had just been signed with much fanfare between the two countries.
We must try and analyse why tensions have suddenly escalated before we advocate extreme measures. It is a fact that ceasefire violations at the LoC have almost doubled in the past year between the two countries. Yet at the same time, we have signed a liberal visa regime and Pakistan is on the verge of finally giving India the Most Favoured Nation (MFN) status that would enhance trade between the two countries. Though Pakistan's Interior Minister Rehman Malik almost undid most of the gains by his loose talk when he visited Delhi recently.
India still rankles over the inaction of Pakistan against the perpetrators of Mumbai 26/11. In Jammu and Kashmir, the Indian Army has been doing an excellent job in halting infiltration bids by militants sponsored by Pakistan's ISI. In the Valley, there has been thankfully almost two years of relative peace which has resulted in a boom in tourism. The major complaints are against the shortage of LPG rather than talk of separation.
So why would Pakistan suddenly want to escalate tensions between the two countries? One line of thinking is that with the general elections to be held this summer, the Peoples Party of Pakistan (PPP)-led government may see it fit to raise the Indian bogey again. But the fact is that all three major political parties — the PPP, the Pakistan Muslim League led by Nawaz Sharif and Imran Khan's Tehreek-i-Insaf — have talked of having good relations with India.
In Pakistan right now the discourse is not about India but on its internal problems, both political and security related. The Pakistan government's current worry is not border tensions with India but how to stave off the "long march" of Tahir-ul-Quadri, the cleric who returned from Canada recently and is demanding reforms across the board.
Rather than turning the heat on its border with India, the Pakistan Army appears to be more focused on quelling internal security threats and on ensuring that it has a larger say in Afghanistan. Just last week, the Pakistan Army, which is showing signs of a lack of cohesion in its ranks, announced that in its new military doctrine, the country's enemy number one was home-grown militants and internal threat of terrorism. India was down to second place.
So if Pakistan or its Army is suddenly raising the stakes against India, we need to understand why. We need not, like Pakistan, have a kneejerk reaction and stop trade and bus service across the LoC. We need to discern its game-plan and then take action commensurate with our assessment of the new threat. Till we have clarity, it is better to proceed on the line of caution while considering retaliatory action, though we must make it clear to Pakistan that India is deeply offended by what happened recently on the LoC.