Making them partners in growth
Overseas Indians can help India emerge as a global power and accelerate its economic growth. Affluence and knowledge coupled with love for their roots make overseas Indians a sought-after community back home
Prabhjot Singh
Overseas Indians have to play a greater role not only in helping India sustain a 7 to 8 per cent annual growth but also help it wield the role of a global power after securing a permanent seat in the UN Security Council. The message was given loud and clear not only by leaders of India but also of countries with a substantial population of Indians at the recent Pravasi Bharatiya Divas (PBD) in Kochi.
Mauritius, for example, has more than half of its population of Indian origin and contributes more than 30 per cent of India's Foreign Direct Investment besides supporting the demand for a permanent seat for India in the Security Council. Mauritius has been a committed supporter of India at all international forums.
Act as bridges
The President of Mauritius, Rajkeswur Purryag, exhorted overseas Indians to act as bridges between the countries of their present abode and their ancestral land to help project this great nation as a global power. A similar message was give by the first woman of Indian origin to become the Prime Minister of Trinidad and Tobago at the 2012 PBD.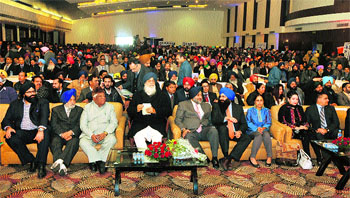 Punjab has not held any formal census of NRIs or overseas Indians from the state. A view of a recent gathering of NRIs in Jalandhar. Chief Minister Parkash Singh Badal and Deputy Chief Minister Sukhbir Singh Badal were among those present
The overseas Indian community, credited with producing several Nobel laureates, including Hargobind Khurana, besides world-class scientists, doctors, engineers, academicians, parliamentarians, businessmen, captains of industry and sportsmen, has created a niche for itself that commands global respect and honour. It is this elite group that is being called upon to augment India's quest to be a global knowledge leader. In the US overseas Indians reportedly have the highest per capita income among all expatriates. 
In 2011 when Deputy Chairman of the Planning Commission Montek Singh Ahluwalia commented that the Indian government was reaching out to overseas Indians by organising the Pravasi Bharti Divas every year "not because we need your money" but to let them discover what is going on in the country of their origin.
His comments had generated an unsavory controversy. Union Minister for Overseas Indian Affairs Vayalavar Ravi supported Montek Singh, saying that only 1.3 per cent of the total FDI came from overseas Indians.
No investments
Montek Singh Ahluwalia's mantra to overseas Indians to buy a holiday package for their children to come and visit India and see things happening here appears to have been forgotten. "Be partners in the country's growth" is the new slogan that reverberated the venue of the 2013 PBD in Kochi.
Though the overseas Indian community may not be investing in infrastructure development or industry, its remittances back home form a substantial potion of the Gross Domestic Product. Last year it was estimated at over 4.5 per cent.
Realising the potential the overseas Indian community has in global recession that has brought down India's annual growth rate from 8 per cent in 2010 to 6.5 per cent in 2011 and further down to 5.5 per cent in the current fiscal, President Pranab Mukherjee, Prime Minister Manmohan Singh and Union minister Vyalavar Ravi made a fervent appeal to the overseas Indian community in general and affluent members of the Indian diaspora in particular to invest in India so as to accelerate the growth of the Indian economy that had slowed down in the past two years.
Inward remittances
Intriguingly, the inward remittances touched a new high of $63.7 billion in the last fiscal; the Foreign Direct Investment was only $46.8 billion during the corresponding period. Nearly 55 per cent of the overseas remittances went to Kerala. In fact, Kerala has perhaps the highest percentage of NRIs among its overseas community while Punjab has the lowest. Of 2.8 million Keralites overseas, 2.3 million are in the Gulf and are all Indian passport holders. It is why the Kerala Government is now planning to grant them voting rights not only in local bodies but also in panchayats.
India has pushed China to the second place in remittances from overseas. This year India's treasury from remittances is richer by $5.8 billion than the projected figure. This has been primarily due to a weak rupee and robust economic activity in the Gulf
This inflow has come very handy for India as it had been struggling to attract capital inflows to bridge the high current account deficit that is likely to reach 3 per cent of the GDP.
Kerala, one of major beneficiaries of overseas remittances, got more than Rs 45,600 crore in the last fiscal that accounted for nearly 23 per cent of the Gross Domestic Product. The same may not be true of Punjab, another state with a large overseas community. While Kerala has 2.8 million people overseas, Punjab has nearly 2 million.
Air connectivity
While Kerala has three major operational international airports in Cochin, Thiruvanthapuram and Kozhikode, Punjab has just one at Amritsar. Even remittances from overseas to Punjab are nowhere close to Kerala.
Punjab's second international airport – Shaheed Bhagat Singh airport at Mohali – is scheduled for commissioning in 2014 or 2015. Even though Chandigarh airport was granted the status of international airport in October 2010, no international operations have yet been permitted from the renovated and upgraded terminal in the last 15 months. Huge investment made to upgrade facilities, including a larger apron and a bigger taxing area, more specious departure and arrival lounges, however, has remained productive only to a limited level.
Now Kerala has taken up aggressively its demand for starting its own airline, Air Kerala, to facilitate the to and fro travel of overseas Keralites. Air India is opposing the proposal on various technical grounds, including that no agency or state government could start an airline without the minimum prescribed requirements – minimum of five years of domestic experience and also the possession of a specific number of aircraft for starting international operations.
Punjab, however, has no such plan. Its overseas community continues to grapple with different sets of problems, including immovable property disputes, fraud marriages and insecurity of their investments back home.
Punjabis, however, have several distinctions to their credit. Getting assimilated into the mainstream politics of their countries of domicile and without losing their distinct identity, they have achieved laudable success. Their new role as political leaders can help foster better bilateral ties, business partnerships and sharing of advanced technologies with India.
The issues that continue to agitate the overseas Indians in general and NRIs in particular include change of status of those who decide to return home and settle down. The withdrawal of NRI status makes them liable for taxation on the savings they bring back by working overseas. They want this income/savings to remain exempt from taxation. And Kerala has been the worst affected by the withdrawal of NRI status.
Both Kerala and Punjab have the problem of their people facing police cases and prosecution abroad. Both states want the Indian missions in the United Arab Emirates in particular and other countries of the Arab world in general to be more proactive in extending legal assistance. There are hundreds who are languishing in various jails in the Gulf even after completing their sentences.
The overseas Indians also want the Union Government and the state governments to treat their wards on a par with local students. The NRIs have to pay at times more than double the fee than their fellow Indian students. Many NRIs, especially those unskilled and semi-skilled, maintain that they really struggle hard and could not be compared with rich and affluent overseas Indians. Further, the sword of uncertainty continues to hang over the beneficiary students as states and universities keep making policy changes frequently.
Their contribution

Investment Foreign Direct Investment in 2011-12 $46.8 billion Remittances in 2011 $63.7 billion In the absence of secure investment opportunities, overseas remittances of more than Rs 48,000 crores were sitting in the banks in Kerala alone.

India has been the world's largest beneficiary of remittances in terms of inflow of money transfers. The remittances increased from $2.1 billion in 199091 to $ 52 billion in 2008.

Most overseas remittances come from the United States, Canada and Europe. More than half of all overseas funds received in 2003 and 2004 came from North America alone.

Prominent People of Indian Origin : Five Heads of State and 70 others holding important positions as federal or provincial ministers, Speakers, leaders of national or provincial parties and legislators in different countries are Pserson of Indian Origin, according to President Pranab Mukherjee.

Persons of Indian Origin (PIOs) can act as the bridge between the country of their nationality and the country of their origin to project India as a global power, says Rajkeswur Purryag, President of Mauritius, himself a PIO.

India remains under-invested and thus faces a challenge on the current account and fiscal deficit fronts, says Montek Singh Ahluwalia. Encouraging long-term FDI inflows will be more fruitful as the government has decided to borrow as little as possible.