Show-cause notice to PTC
New Delhi, January 27
Moving with alacrity, the Centre today issued a show-cause notice to Punjab's PTC News Channel for telecasting advertisements yesterday, asking for votes in favour of a political party ahead of the Delhi Sikh Gurudwara Management Committee elections.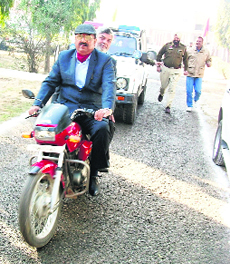 Republic Day celebrations
Jiyani sees red as his beacon-fitted car not allowed inside poll-bound Moga
Bathinda, January 27
Forest Minister Surjit Kumar Jiyani chose to ride a motorbike at the Republic Day function in Moga after the district administration refused to allow his red beacon-fitted official car in view of the poll code for the February 23 by-election. Jiyani, who was the chief guest at the function, made quite a scene as he drove the motorcycle for about 2 km, with his staff and guards running behind him. He opted for the motorcycle after a heated argument with the administration officials.
Forest Minister Surjit Kumar Jiyani arrives for the Republic Day function on a motorcycle after his official car was not allowed inside Moga on Saturday. A Tribune photograph

Need to respect women: Governor
Ropar: Punjab Governor Shivraj V Patil unfurled the national flag at the state-level Republic Day function held at Nehru stadium in Ropar on Saturday. He took the salute from the march past led by various contingents. He inspected the parade too, which was led by Ludhiana Assistant Commissioner of Police Dhruman Nimbale.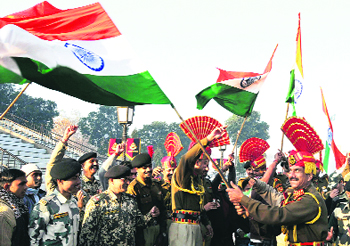 United colours of patriotism: BSF jawans wave the Tricolour on Republic Day near the Attari-Wagah joint checkpost on Saturday. Photo: Vishal Kumar

Freedom fighters a neglected lot
Ropar, January 27
Though the district administration honours freedom fighters on occasions like Republic Day, it has failed to protect their interests. As many as 40 freedom fighters and their spouses reside in the district. They not only have to pay for their travelling expenses but are also forced to shell out money for availing health services despite the fact that they have been issued identity-cum-privilege cards by the state government.
CM unfurls national flag in Amritsar
Amritsar, January 27
Chief Minister Parkash Singh Badal today said farming no longer was a viable venture due to the "non-remunerative" minimum support price (MSP) of various crops vis-à-vis the escalating cost of agricultural inputs.
Cong's Sathi wants police officer shifted
Moga, January 27
Congress nominee Vijay Sathi has demanded that the Election Commission should immediately transfer Superintendent of Police (SP) Dilbagh Singh Pannu from Moga district. He alleged that the SAD-BJP Government was "misusing Pannu to influence the electorate". He demanded that Moga be declared a hyper-sensitive constituency and that the Punjab Police be replaced by para-military forces.
Bir Devinder wants Majithia sacked
Chandigarh, January 27
Former Deputy Speaker Bir Devinder Singh today demanded the sacking of Public Relations Minister Bikram Singh Majithia for "letting down" the people of Punjab by not sending the state tableau at the Republic Day Parade in New Delhi.


Jagraon family struggles to bring body from Saudi Arabia
Jagraon, January 27
A 45-year-old man hailing from Cheemna village near Jagraon was killed under mysterious circumstances in Saudi Arabia one month ago. His family members have since been running from pillar to post to bring his body to India.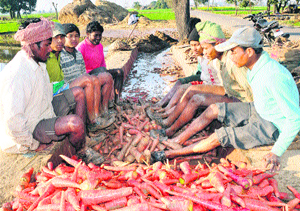 Labourers wash carrots at Diyalpura village, near Chhatbir Zoo, in Mohali on Saturday. Tribune photo: Vicky Gharu

Shagun scheme comes a cropper in Ropar
Ropar, January 27
The much-publicised Shagun scheme of the Punjab government seems to have lost its sheen with over 2,500 families in the district waiting for monetary help for the past three years. The scheme was launched by the Shiromani Akali Dal-BJP government in 2007. Many families have not any money under the scheme even after three years when they got their daughters married.
Release pending drought relief: BKU
Chandigarh, January 27
The Bharati Kisan Union (Rajewal) today urged Chief Minister Parkash Singh Badal to release Rs 150 crore for disbursement among farmers as drought relief for 2009-10. A delegation of the union, led by its president Balbir Singh Rajewal, today held a meeting with Badal at the Punjab Bhawan. The Union Government had given Rs 800 crore as relief to the state government that had promised to disburse Rs 300 crore among the farmers, but only Rs 150 crore was disbursed.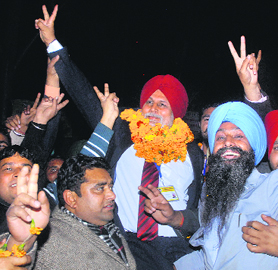 Gill elected NRI Sabha chief, turnout under 9%
Jalandhar, January 27
Jasvir Singh Gill has been elected the new president of the NRI Sabha, Punjab. He defeated sitting president Kamaljit Singh Hayre with a huge margin of 197 votes. Hailing from Loharnangal village in Jalandhar district, Gill was polled 657 votes while Hayre polled 460 votes. After the announcement of the result by Jalandhar ADC-cum-returning officer Parneet Bhardwaj, Hayre and another contestant Pritam Singh Naurangpur congratulated Gill.
JS Gill celebrates his win with his supporters in Jalandhar on Sunday. Tribune photo: Malkiat Singh

After DGSE appeal, SGPC restricts loudspeaker hours in gurdwaras
Chandigarh, January 27
Students living in the vicinity of gurdwaras are in for relief. They can now concentrate more on their studies in the wee hours as the Shiromani Gurdwara Parbandhak Committee (SGPC) has agreed to ban use of loudspeakers in religious shrines between 10 pm and 6 am.
High-powered panel to reform school syllabus on cards
Sangrur, January 27
The Punjab government has decided to constitute a high-powered committee under the chairmanship of an expert educationist to review and make changes in the curriculum being taught at government schools which has not been changed for years.
PGI satellite centre for Ferozepur approved
Ferozepur, January 27
In a significant development which will give a major fillip to healthcare facilities in the hitherto 'neglected' border region of the state, the Ministry of Health and Family Welfare has given its nod to develop a satellite centre of the Post Graduate Institute of Medical Education and Research (PGIMER), Chandigarh, at Ferozepur.
Moga Bypoll
May take stir to Moga, warn Faridkot farmers
Faridkot, January 27
Farmers, who had given their land to Sugarfed in 1988 to start the Faridkot Sugar Mill ,are up in arms against the government with Sugarfed writing to the Faridkot Revenue Department to transfer the ownership of the mill land to the Punjab Urban Development Authority (PUDA).
'Fast urbanisation to blame for rising crime graph'
Ludhiana, January 27
Fast urbanisation which brought development in the country has also given rise to problems such as unemployment, poverty, drug addiction along with a rise in crime graph, say experts.
Forest Dept staff manhandled, 7 booked
Ferozepur, January 27
Seven persons have been booked for manhandling and threatening the staff of the Forest Department that went to plant trees on a piece of land taken back from the illegal custody of the land mafia in Gatti Harike area a few days ago.
Man held for carrying pistol near court complex
Bathinda, January 27
A man was found carrying a pistol near the District Courts Complex here on Friday and was rounded up by the police at the police post on the court premises. The police said the accused was found carrying a pistol in the parking area. But a case was not registered against him as he did not enter the court.
Factory directors booked as manager goes missing
Fatehgarh Sahib, January 27
Three directors of a Mandi Gobindgarh-based steel unit, MN Steel, have been booked under Sections 306 and 34 of the IPC after a manager of the unit, Amarjit Singh, went missing under mysterious circumstances yesterday. His car was found abandoned near the Bhakra canal near Sirhind.


Man shoots brother's wife dead, booked
Tarn Taran, January 27
Kanwalpreet Singh (30), a resident of nearby Pandori Gola village, today shot dead his sister-in-law (brother's wife). Manpreet Singh, the husband of the deceased, had a narrow escape in the incident. Sources said the victim used to raise objection over the fact that the accused was a drug addict.
Minor raped, one arrested
Fatehgarh Sahib, January 27
A minor Dalit girl of Nalina Khurd village was allegedly raped by two men of the same village when she was alone at her house, the police said.