Colours of patriotism

Punjab Police Head Constable Nishawar Singh dressed up in the Tricolour during the final rehearsal of the 64th Republic Day in Patiala on Friday. Tribune photo: Rajesh Sachar
Technical glitches may hamper cash transfer plan in Gurdaspur
Gurdaspur, January 25
Gurdaspur is one of the three districts in Punjab, and a select few across the country, where the Union Government's Direct Cash Transfer Scheme is to be implemented from February 1.




Moga bypoll: Sathi is Congress nominee
Moga, January 25


The All-India Congress Committee today announced former MLA Vijay Sathi as its nominee for the Moga byelection to be held on February 23. Jagmeet Singh Brar, member of the Congress Working Committee (CWC) said the decision was taken by party President Sonia Gandhi in consultation with the state leadership. He hoped that the Sanjha Morcha would lend support to Sathi, one of the most honest political leaders in the state. "I will personally call on PPP president Manpreet Singh Badal and leaders of the Left parties to seek their support," he said.
Moga BJP leaders skip Jain's meeting
Moga, January 25
Supporters of former DGP Paramdeep Singh Gill, including his cousin Dr Sharanpreet Singh Gill, popularly known as Micky Gill, along with 12 former councillors attended a meeting called by Joginder Pal Jain, SAD candidate for the Moga byelection, here today.


Leopard trapped in telephone cables saved
Jalandhar, January 25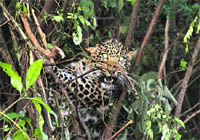 Pathankot wildlife officials struggled for more than 28 hours to rescue a leopard trapped in a thick forest in the Mamoon cantonment area. The animal leg was entangled in a bunch of telephone cables laid by the Army inside the forest. As the beast cried out in pain, the authorities contacted Pathankot Divisional Forest Officer (Wildlife) Rajesh Mahajan at about 1 pm yesterday.

A trapped male leopard in the Mamoon cantt area on Friday. A Tribune photo
Head Constable gets President's Police medal
Chandigarh, January 25
Head Constable Chamkaur Singh of Punjab Police will be awarded the President's Police Medal for Gallantry on the occasion of Republic Day-2013.
Award for CRPF top official
Chandigarh, January 25


Kulbir Singh, Inspector-General, North West Sector, Central Reserve Police Force, Chandigarh, will be awarded the President's Police Medal for Distinguished Service on the occasion of Republic Day, 2013, in recognition of his unblemished and outstanding services over the past 36 years. His has been posted at insurgency infested areas of Nagaland, Manipur, Mizoram and Assam. He served for about eight years in militancy-prone areas of Jammu and Kashmir.
NRI Sabha poll evokes little interest
Jalandhar, January 25
A majority of over a million Punjabis settled abroad are showing no interest in the election to the post of president of the NRI Sabha, Punjab, scheduled to be held on January 27.
Delhi Sikh Gurdwara Management Committee poll -2013
Campaigning ends, voting tomorrow, counting on Jan 30
New Delhi, January 25
Campaigning for the January 27 Delhi Sikh Gurdwara Management Committee (DSGMC) elections ended today with all candidates making tall promises in their last attempt to win the voters in their favour.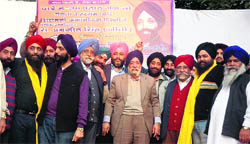 No Cong backing: Sarna
New Delhi, January 25
The SAD (Delhi) has claimed that it was fighting the election without any support from the Congress, as was being claimed by its rival Sukhbir Badal-led SAD.

SAD (Delhi) president Paramjit Singh Sarna addresses a rally in Paharganj (ward number 36) on the last day of the campaigning on Friday. A Tribune photograph
53 polling stations declared hypersensitive, 128 sensitive
New Delhi, January 25
Of the 449 polling stations where Sikh voters would cast their franchise for the DSGMC elections on January 27, 53 have been declared hypersensitive whereas 128 have been put in the sensitive category.
Young Sikh voters throng Sukhbir's rallies
New Delhi, January 25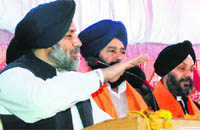 The focus of SAD president Sukhbir Singh Badal's attack is PS Sarna. On the campaign trail with Sukhbir in his bullet-proof Montero with a vehicle with jammers in tow, it is all about discrediting Sarna.




SAD president Sukhbir Badal campaigns at Jaitpur (ward 8) in Delhi on Friday. A Tribune photograph
Riot-hit hold the key in Tilak Nagar
New Delhi, January 25
Tilak Vihar, a dingy colony located in Tilak Nagar ward of west Delhi, is home to several 1984 anti-Sikh riot-affected families.
Poll code violation: SAD files complaint
New Delhi, January 25
The Shiromani Akali Dal today filed a complaint with the Directorate of Gurdwara Elections alleging poll code violation by SAD (Delhi) leaders, including it president Paramjit Singh Sarna.
4 college teachers allege harassment
Hoshiarpur, January 25
Four women teachers of the English Department of GTB Khalsa College for Women, Dasuya, employed on contract, were allegedly harassed by an employee of Giani Kartar Singh Memorial College, Tanda, while on examination duty as centre superintendent.
National Voter's Day
Chief Electoral Officer urges youth to vote
Jalandhar, January 25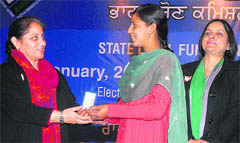 The Punjab Election Commission organised the National Voters' Day on the campus of a private university in Jalandhar today. Punjab Chief Electoral Officer Kusumjit Sidhu was the chief guest.



Chief Electoral Officer Kusumjit Sidhu gives a voter ID card to student in Jalandhar on Friday. A Tribune photograph
Bhakra canal mishap
Bodies of brother-sister yet to be found
Ropar, January 25
The bodies of a brother-sister duo who had fallen in the Bhakra canal along with their car at Bharatgarh near here yesterday could not be traced today. The divers were able to locate the car lying on the base of the canal, but the bodies are yet to be found.


Ludhiana court decides 3 rape cases in a day
Ludhiana, January 25
The local fast-track court hearing rape and dowry death cases decided three rape cases in a day, convicting two persons in two cases. In one of the three cases, all three accused were acquitted with the complainant turning hostile.
Charge sheet issued to former Anandpur Sahib BDPO
Chandigarh, January 25
Anandpur Sahib's former Block Development and Panchayat Officer is in the dock. The State of Punjab has informed a Division Bench of the Punjab and Haryana High Court that a charge sheet has been issued to him and appropriate action would be initiated against the officer in accordance with law in a land allocation matter.
Decide on Industrial Housing Policy in 3 months, HC tells Punjab
Chandigarh, January 25
The Punjab and Haryana High Court has set a three-month deadline for the State of Punjab and its authorities to decide the industrial plot owners' plea for allocation of residential plots to accommodate the staff.