Private schools, dept head for showdown
Chandigarh, January 27
The UT Education Department and the private unaided schools in the city are heading for a confrontation on filling seats under the Right to Education (RTE) Act. The Independent Schools Association, Chandigarh, has refused to abide by the directions of the education department on the conversion of vacant seats under the RTE Act.
rti query
Depts adopt different yardsticks
Chandigarh, January 27
The departments of the Chandigarh Administration adopt different yardsticks when it comes to the disposal of an RTI query. An applicant, who has sought a list of employees who have not submitted annual property returns for the year ending March 31, 2011, and March 31, 2012.
sector 19 market
Demolition orders against 25 SCOs
Chandigarh, January 27
The UT Estate Office has passed demolition orders against all SCOs in Sector 19 where 'non-sanctionable' violations were detected during a survey. Owners of a majority of the SCOs have illegally constructed structures in the rear courtyard of their showrooms.
R-Day speech: Adviser skips mention of new projects
Chandigarh, January 27
Barring the finalisation of the draft master plan, the Republic Day message of UT Adviser KK Sharma made no mention of any major projects started in the city during the past one year.


Open house response
Admission process needs transparency
The UT Administration should take erring schools to task. The price of admission forms should be fixed. The ratio of sale of forms to number of seats in each school must be formulated as schools earn a huge amount by selling a large number of forms against a few number of seats.





64th Republic Day celebrated with patriotic fervour across tricity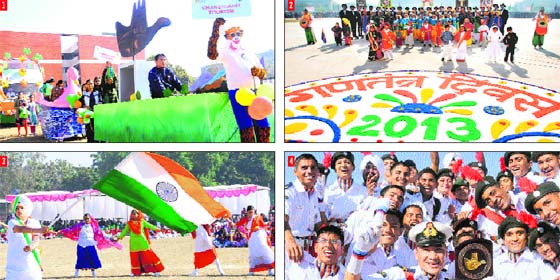 1. Tableau of Chandigarh Tourism at parade in Sector 17, Chandigarh; 2. Students perform a cultural item at Parade Ground, Sector 5, Panchkula; 3. Students perform a patriotic dance at Government College, Phase VI, Mohali; 4. NCC cadets in a jubilant mood after winning the 1st prize in Chandigarh on Saturday. Tribune photos: Pradeep Tewari, Parvesh Chauhan, Nitin Mittal
No tab on fire safety violations in city
Chandigarh, January 27
The fire incident at a Sector 17-based boutique five days ago that claimed a life, has brought to light the failure of the Municipal Corporation in keeping tab on the fire safety violations.
A shop in a basement that flouts fire safety norms in the Sector 22B market opposite Sector 21 on Sunday. Tribune photos: Pradeep Tewari

Janaushadhi Centres
Costlier drugs at centres keep patients away
Chandigarh, January 27
The Janaushadhi Centres that were launched with the purpose of providing medicines at costs lower than those of branded medicines have failed to find many takers. Surprisingly, few medicines/items at these centres were found priced slightly above those available at other chemist shops.


A Janaushadhi Centre in Chandigarh. A file photo



Mohali Janaushadhi store short of medicines
Mohali, January 27
Five months after it was reopened by the local administration to provide low-cost medicines to patients, the Janaushadhi store at Civil Hospital, Phase 6, remains short of medicines.
Haryana adds 2 members to panel
Chandigarh, January 27
Rectifying the inaccuracy of setting up a one-man tribunal in Panchkula under the Maintenance and Welfare of Parents and Senior Citizens Act, the Haryana Government has added two more members to the panel. A fresh notification to the effect has also been issued by the Haryana Government.
Open dancesport
Mumbai couples rule dancing championship
Chandigarh, January 27
Dancing couples from Mumbai and Pune stole away the show at the first Chandigarh Open DanceSport Championship, held at the skating rink of Sector 17, here. A five-hour programme, where more than 100 couples participated, were well supported by the spectatotrs.


Couples perform during the first Open Dancesport Championship at a skating rink in Sector 10, Chandigarh, on Sunday. Tribune photos: S Chandan
Actor Ranbir Kapoor to shoot in city
Chandigarh, January 27
Several Bollywood stars, including tinsel town's current heart throb Ranbir Kapoor will arrive in the City Beautiful next week for the shooting of Dabangg fame director Abhinav Kashyap's next movie "Besharam".
4 more cases of swine flu reported
Chandigarh, January 27
Four new cases of swine flu have been reported at city hospitals in the past two days. Of these, one case is from Mani Majra, one each from Punjab, Haryana and Kalka.
PGI to open two new satellite centres
Chandigarh, January 27
On the occasion, Prof YK Chawla, director, PGIMER, told the employees about the two satellite centres of PGIMER which are going to be opened at Sangrur and Ferozepur to cater to patients of Punjab.
ASI suspended
Panchkula, January 27
In charge of the Sector 2 police post Assistant Sub-Inspector Mahmood Khan, was suspended on Saturday. It was learnt that a number of snatchings took place in his area, following which he was placed under suspension.


syndicate meeting
PU adopts Aadhaar card as identity proof
Chandigarh, January 27
Panjab University Syndicate in its meeting today decided to adopt Aadhaar card as a valid document for proof of identity. The students of PU affiliated colleges will now have the right to use Aadhaar cards as the residence proof in place of other documents required for the admissions.
PEC to be vehicle-free zone from today
Chandigarh, January 27
The Punjab Engineering College (PEC) is all set to turn its campus into a vehicle-free zone from Monday. The plan will be introduced in a phased manner in the coming months. Initially in phase-1, three roads will become vehicle free and two major parking areas will be created for students where they can park their two and four wheelers.


Mohali, January 27
Punjab transport minister Ajit Singh Kohar unfurled the National Flag at the ground of Government College, Phase 6, yesterday. "We have constructed five new bus stands, having ultra advanced facilities by spending Rs 40 crores in the state.
NCC cadets during the R-Day function at Government College, Phase-VI, Mohali, on Saturday. Tribune photo: Parvesh Chauhan
FROM SCHOOLS
St Anne's Convent school
Chandigarh: Students sang patriotic songs and presented dances. Manager Rev Father Ambrose presided over the function and gave away the prizes for the sports and various activities to the students. The principal Sister Gracy greeted the staff and the students.