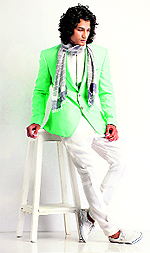 The recently cancelled Vizag Fashion Week once again stirs up the controversy and we wonder whether spirituality makes for a safe fashion subject…
Faith-fully fashionable
Slip into a tee that has a motif of Lord Ganesha printed on it and yet it won't mean that you are wearing spirituality on your sleeve, even when you tangibly are! Spirituality and fashion: the combination is more for the sake of fashion than for spirituality. A tangential message might be there, but on the whole it is fashion that takes centerstage.



A creation by Sunil Mehra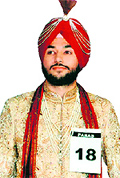 Model choice
It was only on his mother's insistence that the handsome, six-feet tall Amninder Singh Grewal decided to take part in the Mr. Ludhiana contest in 2013. During practice, after getting selected through the auditions, he overheard choreographer Vikrant Sharma as saying, "Amninder seems very disinterested." That statement really shook him; Amninder put in his hundred per cent and won the coveted crown of Mr Ludhiana after three rounds, including Western, bridal and formal.

Amninder singh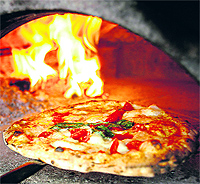 Conventional methods of making a pizza are fast becoming popular
The good old pizza
Hot ambers emanate from the fire over the burning-golden wood in the oven that melts the cheese over these pizzas. As compared to 'push-button-beep-get-the-pizza' methods at multinational food outlets, this quaint old way of making pizzas in wood-fire ovens has its own charm. Not only for the method of preparation, but also for the taste of the pizzas!
Doc Talk
Make your feet happy
A lot of people tend to suffer from painful foot disorders without realising what is causing or aggravating them. Feet endure tremendous pressures of daily living. An average day of walking brings a force equal to several hundred tons on them. They are subject to more injury than any other part of the body.
A smooth sail
General Motors India has launched the Chevrolet Sail. The premium sedan takes styling, comfort, performance and safety in its segment to a new level. The Sail is built on a new global passenger car platform created especially for fast-growing emerging markets. Engineers at the GM Technical Center-India in Bangalore spent nearly two years refining the platform for India to ensure that it would meet the requirements of the local market and car buyers. —TNS
Bollywood has its share of glamorous moms. Bollywood's mummies wear designer clothes, look gorgeous day and night and they are perfectly slim, trim and glowing. But then, they have money, designer friends and lots of free time and help at hand to do what they do. Here is what they do and how they do it.
Yummy mummies of B-town
Sunny clarifies rape comment
Actress Sunny Leone found herself in the thick of a controversy recently. It all started after former Bigg Boss contestant Kamaal R Khan tweeted, "Ye lo @SunnyLeone says - Rape is not a Crime, Its just a Surprise Sex."
Pun'jab'
Sandeep Joshi



hot resolution:

I want to shed 5 kg before the summer starts.

Sherlyn sizzles
Sexy Playboy playmate Sherlyn Chopra added the glamour quotient at Dr Vijay Mallya's McDowell Signature Premier Indian Derby as she stepped out in style at the Mahalaxmi Race Course in Mumbai. Sherlyn rocked in her black and white Bebe dress which defined her curves. Style comes at a cost, and Sherlyn sure knows that as she dared to wear the sexy Ruthie Davis peep-toe platforms with killer heels.
Set it straight
Known for making realistic films, filmmaker Madhur Bhandarkar denies that his next film is based on Indian Premier League (IPL).
it's rocking
Such a pleasure!
Tube and Berger, aka Arndt Roerig and Marko Vidovic, began their career in music with a punk band at the age of sixteen. However, they progressed to producing organic electronic music after an introduction to house and techno during the late 90s.
High Spirits
Barbara-D
Ingredients 45 ml Fuel Orange Vodka 10 ml pomegranate syrup 20 ml litchi juice Splash of lime juice
HEART talk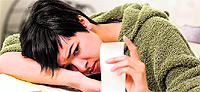 Clear the air
I am a 19-year-old girl staying as a paying guest in Chandigarh. My landlord is very nosy. He and his wife want to know every little detail about what I do, where I go. How do I deal with the problem without upsetting them?
green thumb
Ornamental value
When Chandigarh was born, the city was lucky to have Dr M S Randhawa as its first chairman of the Landscape Advisory Committee. A passionate horticulturist, he introduced many species in this city, both indigenous as well as exotic, not however, disturbing the local groves of fruit trees and other indigenous species. Some of the exotic species introduced in the city established themselves making Chandigarh their natural abode.
Chatter box
Emotional time for Kamya
Kamya Punjabi, who is presently part of Colors' out-and-out comedy show, Nautanki—The Comedy Theatre, is superb when it comes to entertaining everyone with her perfect comic timing, but not all know that the lady is going through an emotional setback in her personal life at the moment. However, this does not stop her from being a thorough professional when it comes to work.
The year ahead
If your birthday is February 7...