Jagvir Goyal ...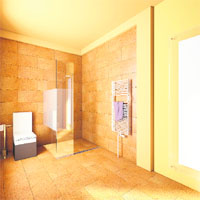 The most attractive trait of tiles is that these provide ready to use and finished surfaces almost instantly. This feature is solely responsible for the tremendous popularity of tiles. As people want everything ready to use, so tiles have become favorite flooring and cladding building element. The moment a house builder selects tiles for his home, his impatience about seeing them fixed in position begins to build up.
While the use of floor tiles in the house remains optional, wall tiles have become an essential element. There are certain areas that have now been permanently assigned wall tiles. Let's have a look at the various aspects related to wall tiles:
Areas: Walls of toilets are nowadays are essentially provided with tiles only. In addition, the wall area above the counter top and below cabinets in kitchen has also become the exclusive domain of tiles. In chimney area, the tiles are provided up to chimney level.
Characteristics: Tiles used for the walls are ceramic tiles. In ceramic tiles, there are further options of porcelain tiles, glazed tiles, unglazed tiles and matt finish tiles. Many dealers offer porcelain tiles as a separate variety. Ceramic tiles are divided into four groups, Group II, III, IV and V. The higher the group, the stronger are the tiles. Tiles belonging to higher groups cost more. For walls, Group III tiles are suitable and should be chosen.
Glazing: Glazed tiles are coated with a liquid glass. The liquid glass is a mixture of glass and elements like Feldspars, Zirconium and Zirflour. On baking the tiles, this liquid glass enters the surface of the clay and provides the tiles with 'stain-free' property. Glazing of tiles helps in providing an unlimited range of colours and designs. Tiles are produced either by first burning the clay biscuit and later again with the glaze applied on them or by firing them only once, with the glaze applied on them in the first instance itself. Tiles burnt singly are better than tiles that are subjected to burning twice.
The size: Wall tiles are available in many sizes, ranging from 8 x 12 inch to 36 x 12 inch. Popularly used sizes these days are 24x12 inch and 18x12 inch. Bigger sizes have made the job easier for masons also as they have to match the corners of lesser number of tiles on a wall. Earlier 4x4 inch size used to be provided and it was a really tough job to match their level and corners besides the grouting of joints. However, bigger tiles are costlier. Size of the tiles used should be finalised by keeping in mind the size of the toilets, cost factor and also to cause minimum wastage.
Colour selection: There is such an array of colours available in tiles that the buyer is likely to get lost and taking a decision may look hard. Catalogues and websites don't really help in selection of tiles and one has to make two or three visits to showrooms, spend time, roam about and visualise to ultimately narrow down to the tiles for his house.
It should always be kept in mind that the sanitary ware now available in the market is of white colour only. One or two companies are offering sanitary ware in ivory or pastel colours otherwise white has universally been adopted by the sanitary ware manufacturers. While selecting tiles the combination of the tiles and sanitary ware should be visualised.
The highlighter: The craze of providing highlighter on the walls in the seat, shower and wash basin area is now fading. Use of highlighter here and there in the toilets erodes its sophisticated look. Highlighter should at the most be used on the shower wall, extending to 1.5 to 2 feet on each side of shower. The final choice, however, is of the user who may ask his architect to show some 3D image options of the toilets by providing highlighters in different manners.
Features: The tiles may be totally plain or have some self designs. Run your fingers on the tile surfaces to have a feel and to finally select the tiles and highlighters. Select tiles having beveled edges. These, when fitted in position by a skilled mason, look beautiful. Joint-free tiles with edges and corners perfected to match to give a joint-free look may be selected if the house owner likes that type of look.
The quantity: The quantity of tiles required for each area or toilet should be worked out carefully by considering the dimensions, height up to which the tiles are to be fixed and by deducting the door and window areas falling in the area to be tiled. Care should be taken to cater for the extra number of tiles needed near the corners of the walls, wash basin counter, window edge etc where these may have to be cut and fixed to match the beveled edges. The quantity purchased should, therefore, be a little more than the exact quantity worked out theoretically.
One box of tiles normally contains 8 pieces of 2x 1 ft size or 10 pieces of 1.5x1 ft tiles and so on. Instead of buying some loose pieces, a whole number of boxes should be worked out. Tile suppliers have no hesitation in accepting back the extra tiles after their use at full price. House owner should, therefore, buy an extra box for each type of tiles.
The cost: Bigger tiles are costlier. Yet the cost is now quite competitive and use of tiles always proves to be cheaper than using marble or granite. The cost of tiles ranges between Rs 20 per sq ft for simplest tiles of 8x2 inch to a few hundred rupees per sq ft for bigger sized digital tiles.
It should be noted that the highlighters are now no more costlier than normal matching tiles and rates are uniform whether you buy the highlighter or the matching tiles.
Grouting: After fixing the tiles, the joints of the tiles should be grouted well with a grout of matching colour. One should allow at least 24 hours to pass before doing the grouting work. During grouting, a damp sponge to wipe
off the extra grout from tiles surface should be used constantly.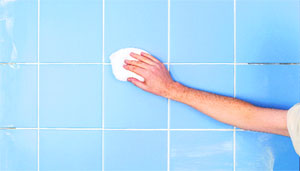 Advantages
There is no match for the colour and effect that tiles can add to a room. Wall tiles maintain the 'new' look year after year as these hardly undergo any wear and tear, don't accumulate dirt and can be cleaned easily. Minimum maintenance like just cleaning or sponging them occasionally keeps their shine intact. These don't infest any germs and are ideal from the hygiene point of view. Above all, these are easy to select and install.
This column is published fortnightly