Her world, music
Most just rue the fact that Indian art has been lost in the 'Western' lanes; Durga Jasraj just decided to 'make a difference'. She decided to scour talent; polish it and provide it a prestigious platform.
Leaving a Big impression
On a rainy Saturday morning, actor-anchor Aman Verma looks a few years younger ever since he knocked on the small screen. Torn jeans with a moustache make him look different, but the voice defines his presence.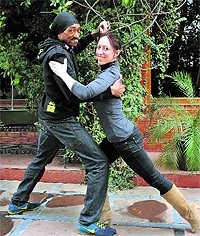 A dance, a passion
Before we begin to question, UK-based salsa instructor Phillip Langlais gets straight to the point, "Salsa is passion; for me it is life." Langlais holds a Guinness world record of 130 spins in a minute with his co-dance-cum-instructor Natalie Watterson. "Salsa comes naturally to me and I have been pursuing it for over twenty-one years now," he laughs while adding, "I never really was formally trained; it was a friend of mine who introduced me to Salsa and since then there was no stopping. The record-breaking spins too came effortlessly to me; however, my partner had to practice a lot."

couple chemistry: Phillip Langlais and Natalie Watterson. Photo: Manoj Mahajan

Road to stardom
You remember him as Sahil Anand, the Chandigarh-lad who rose to fame on the front-burner of Roadies Season 4. Now, he has paved his way into Bollywood after much struggle. Here are excerpts from his journey, the roadie ride and the stumbling blocks on his way.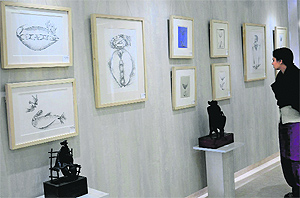 A stream of thoughts
Ceramics have long been providing drama to art and at Art Portfolio, Sector 9, it has made the stones speak volumes through expressions carved by SC Ahuja, a Delhi-based sculptor. With as many as 20 sculptures, Ahuja's works were priced at the range between Rs 45,000 to 1 lakh.


white magic: A visitor admires the paintings displayed at Art Portfolio. Photos: Manoj Mahajan

star track
Room for improvement
Saif Ali Khan admits that Race 2 was a bit far-fetched and could have had a meatier second half. He is happy that the film has entered the 100 crore club! He knows it is a good-looking commercial film and the fans love it for that. He will make sure that Race 3 has a superb script.
chatter box
Marriage on the cards
Shefali Jariwala and Parag Tyagi showed their super duper dance in Nach Baliye, though they are not in the show anymore. However, their love is strong as ever and buzz is that the couple is planning to marry soon. They haven't decided the date but it seems that the end of the year is a strong possibility.
Astro turf
ARIES: Turn your attention to money and budget. Go over the figures and see where you stand. If there are problems, discuss them with partners or close associates. Tarot message: Do not swing away from the course you have charted so far. Lucky colour: Yellow. Magic number: 49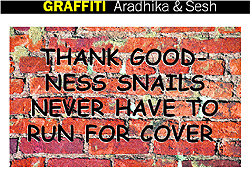 The year ahead
If your birthday is February 17...
Master Chef
Colour of romance
The orange coloured citrus fruit is all around us and in this romantic month of February we could celebrate it by making a simple juicy cake out of oranges with an eye-catching decoration depicting the colours of basant.



Treat from Mexico