moga bypoll


Winning over deras crucial for parties
Moga, February 16
Political parties are vying with each other to win over religious bodies and deras who command sizable followings both in the urban and rural areas of this constituency.







Jakhar wants Cong ticket norms changed
New Delhi, February 16
Leader of the Opposition in Punjab Assembly Sunil Jakhar has sought an end to the practice of seeking applications for allotting the party ticket in elections and sending outside observers to choose nominees.
Sunil Jakhar
SAD gets another turncoat
Moga, February 16
In a setback for the Congress, PCC secretary Gursharanbir Singh Paggy joined the SAD here this evening.
Bhattal, Tewari joins Sathi's poll campaign
Moga, February 16
Union Information and Broadcasting Minister Manish Tewari called the Akali Dal ungrateful as state government "survived" only through the grants provided by the Centre.
EC for observers at polling booths
Moga, February 16
The Election Commission of India has ordered the appointment of micro-observers for every polling booth in the Moga byelection.


Mediation centres won't hit lawyers: Justice Sikri
Bathinda, February 16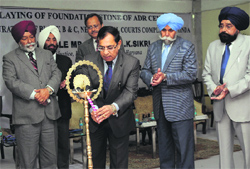 Allaying fears of the lawyer community of losing business after opening of an Alternate Dispute Redressal Centre here, Punjab and Haryana High Court Chief Justice AK Sikri has said such centres will, in fact, benefit the lawyers apart from disposing of cases quickly.



Punjab and Haryana High Court Chief Justice AK Sikri lights the ceremonial lamp during a function at Judicial Complex in Bathinda on Saturday. Tribune photo: Pawan Sharma
Medical report rules out gang-rape in Jalandhar minor's case
Jalandhar, February 16
The Lohian minor girl's alleged gang-rape case took a new turn today with her medical report, prepared by a board of doctors, saying she was not gang-raped.
Excise officers threaten to resign en masse
Chandigarh, February 16
The All India Association of Central Excise Executive Officers today announced they would submit mass resignations on April 30 in case their long pending demand for cadre restructuring was not cleared by then.
Visually impaired accuse government of discrimination
Faridkot, February 16
Over 500 visually impaired persons from Punjab, Haryana, Himachal Pradesh and Chandigarh are showcasing their skills in chess, cricket and other fields at Faridkot these days.


High Court warns govt bodies on red-tape in filing appeals
Chandigarh, February 16
For instilling a sense of discipline in the matter of filing appeals, the Punjab and Haryana High Court has made it clear to government bodies, their agencies and instrumentalities that red-tapism and the usual explanation of file moving from one table to another for months, even years, will not be tolerated. The warning came as a Division Bench of the High Court imposed a fine of Rs 10,000 on the Centre for abnormal delay of 811 days in filing an appeal in the case of a freedom fighter, Gurnam Singh.


Man shoots his son dead
Barnala, February 16
A man allegedly shot his 25-year-old son dead at Dhilwan village in the district last night.
Three held with narcotics
Fatehgarh Sahib, February 16
The police has arrested three persons, including a woman, for illegally possessing 4 kg poppy husk, 100 sedative injections and 44 bottles of country-made liquor.