Sukhbir sticks to development plank
Moga, February 15
Deputy Chief Minister Sukhbir Badal has said Capt Amarinder Singh and his party was taken to task by Joginder Pal Jain and now the time has come for the Moga electorate to make a choice between performers and non-performers.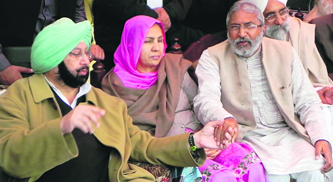 You were a Cong man too, Capt to Badal
Moga, February 15
PCC president Capt Amarinder Singh today said Chief Minister Parkash Singh Badal must not forget that he had started his political career on a Congress platform.
PCC president Capt Amarinder Singh with party candidate Vijay Sathi at Jhandewala village in Moga on Friday.


Despite code, Badals promise to meet panchayat demands


No development in Moga's outer areas: Bajwa


Parties resort to mudslinging as campaign gathers steam
New Twist To Patiala Rape Case
Sacked SI alleges cover-up at Rakhra's behest
Chandigarh, February 15
Adding a twist to the controversy shrouding the rape of a teenager and her subsequent suicide after she was allegedly humiliated and insulted by the Patiala police, dismissed Sub-Inspector Naseeb Singh has alleged that the death was a result of a suicide pact and a massive coverup operation was undertaken at the behest of Cabinet Minister Surjit Singh Rakhra.
Quacks have a field day in Patiala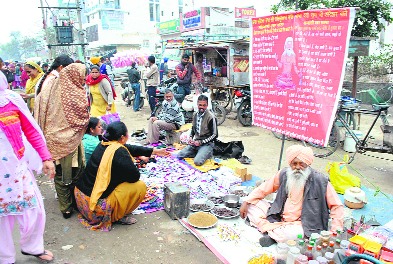 Patiala, February 15
Unchecked, several quacks continue to operate in Patiala district, endangering people's lives. The Department of Health and Family Welfare has failed to take action against them. The Health Department functionaries make excuses and say the village panchayats prevent them from taking action against the quacks.
A quack operating from near the Gurdwara Dukh Niwaran Sahib in Patiala on Friday. Tribune photo: Rajesh Sachar

Parshuram Park embezzlement
No action yet against indicted ex-JE
Fatehgarh Sahib, February 15
Another inquiry report that probed the embezzlement of Rs 4.25 lakh in the Parshuram Park case has indicted the former Junior Engineer (JE) of the Sirhind Municipal Council. The report has been submitted to the Secretary, Local Bodies Department, which is yet to take action against the accused.
Liberalised industrial policy on cards: Joshi
Amritsar, February 15


To give a boost to the industrial sector and lure back investors who have migrated to other states, Punjab will introduce a single-window clearance system and "land bank" in its industrial policy 2013 to be notified in a month. Making an announcement in this regard during the launch of the first-ever model industrial park here today, Industry Minister Anil Joshi said the concept of "land bank" was aimed at identifying non-agricultural land lying abandoned in various pockets of the state to put it to use for industrial purposes. Industry Minister Anil Joshi in Amritsar. A Tribune photo

Two teachers in Ludhiana dist suspended
Chandigarh, February 15
Two teachers in Ludhiana district have been suspended by the education authorities. While one of them faces the charge of inappropriate behaviour with girl students, the other was found keeping drugs in a school almirah to supply the same to his "favourite" students.
Chief Minister announces memorial at Kartarpur
Bhaini Sahib (Khanna), February 15
Chief Minister Parkash Singh Badal has said the state government has prepared a plan to set up a "Jang-e-Azaadi" memorial at Kartarpur near Jalandhar to showcase the supreme sacrifices made by Punjabis in the freedom struggle.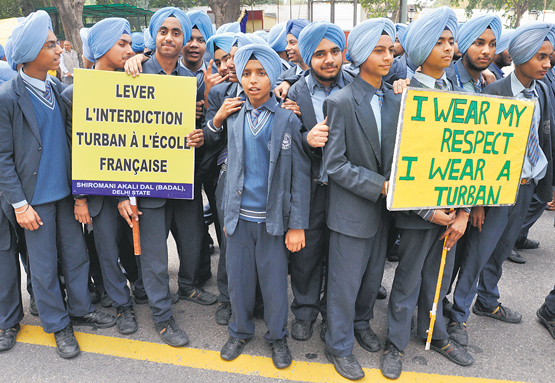 Sikh schoolboys in Delhi holding a protest against the turban ban in schools in France, on Friday. Tribune photo: Mukesh Aggarwal

MoU with Monsanto alarms farmers
Chandigarh, February 15
Various kisan unions and health groups today came together to express shock and dismay at the Punjab Government's decision to sign MoUs with Monsanto in the name of diversification. They pointed out that Monsanto had no expertise in the subject. On the contrary, it had a history of exploitative practices, promoting monocultures and was known to be "anti-farmer, anti -people and anti-nature."
Cong: Probe grain pilferage
Chandigarh, February 15
The Punjab Congress has demanded a high-level inquiry into foodgrain pilferage. In a statement here today, party MLAs, including former Food and Supplies Minister Lal Singh, Brahm Mahindra, Parminder Singh and Anandpur Sahib MP Ravneet Singh Bittu, said the pilferage was a mega scam running into about Rs 25,000 crore over the years. They said the scandal should be either probed by a Vidhan Sabha committee or the CBI.
Chinese kite string injures 15 in Ropar
Ropar, February 15
As many as 15 people, who used the banned Chinese string to fly kites, have been injured in the last two days.
Swine flu patient from Moonak dies
Sangrur, February 15
A swine flu patient, Riya Jain (40), resident of Moonak, died last night at the PGI, Chandigarh. She was cremated today at Moonak, about 60 km from here. Sangrur Civil Surgeon Dr HS Bali said she was admitted to PGI about 10 days ago and had tested positive for swine flu.


Rape case verdict in two working days
Hoshiarpur, February 15
Additional District and Sessions Judge JS Bhinder today set a record by disposing of an abduction and rape case within two working days of presentation of the police challan. The case, registered on September 18, 2012, with the Mehtiana police station, was placed before Bhinder on February 12, 2013. The witnesses were called on February 13 and the verdict pronounced this afternoon, the courts being closed yesterday for Basant Panchmi.
Dhuri patwari, tehsildar get one-month imprisonment
Sangrur, February 15
The local District Consumer Disputes Redressal Forum has awarded one-month imprisonment and a fine of Rs 5,000 each to Dhuri tehsildar Manjit Singh and patwari Rajwinder Singh for not complying with an order of the forum.