Re-auction of 13 sand quarries fetches Rs 14.90 cr
Chandigarh, February 14
With the successful re-auction of 13 sand quarries in four districts, the state government raked in a record Rs 14.90 crore today. The auction has ensured that mining contractors owing allegiance to the Shiromani Akali Dal wrest control of the mining operations in the state.
Appointment of Vigilance Bureau Chief Director
Have formulated policy, Punjab tells HC
Chandigarh, February 14
The Punjab Government today informed the Punjab and Haryana High Court that it had formulated a policy for the appointment of the Chief Director, State Vigilance Bureau.
Personal contact is PPP president's poll mantra
Moga, February 14
Keeping the poll campaign of his candidate Ravinder Singh Dhaliwal low profile, People's Party of Punjab (PPP) chief has adopted a novel way of personal contact to seek votes. During the party's door-to-door campaign, one can see Manpreet embracing people and whispering something in their ears.
Threat to disturb SAD rallies works, 31 linemen released
Faridkot, February 14
A day after unemployed linemen threatened to move to Moga to disturb the ruling SAD's political rallies, the state government today released all 31 linemen who were languishing in the Faridkot central jail for over a month. The linemen were arrested in Muktsar on January 13 for disturbing Akali Dal's Maghi Mela political conference.
High Court seeks explanation on sale of Patiala's heritage buildings
Chandigarh, February 14
In a major embarrassment for the Punjab Government, Justice Ranjit Singh of the Punjab and Haryana High Court has asserted that the State needs to be put on notice to explain why sale of heritage buildings and the land on which these stand be not stopped.
Dam authorities tricked into transferring six employees
Pathankot, February 14
Irrigation officers working with Ranjit Sagar Dam (RSD) transferred six employees on the basis of a fax message that turned out to be a hoax. A fax was received in the office of Amarjit Singh Dullet, Chief Engineer (Canals) in the last week of January, recommending the transfer of six employees. The demi-official letter carried the 'signatures'of Chief Minister Parkash Singh Badal.
Appointment of 252 doctors cancelled
Chandigarh, February 14
The Health and Family Welfare Department has cancelled the appointment of at least 252 doctors and specialists who failed to report on duty despite repeated reminders. Already, the department has more than 150 doctors absent from duty for the past several years.
Sushma urged to raise turban issue with Hollande
New Delhi, February 14
Leader of the Opposition in the Lok Sabha Sushma Swaraj assured a delegation of BJP Sikhs today that she would take up the issue of ban on turbans in schools of France with visiting French President Francois Hollande.
Few takers for Punjabi varsity language courses
Patiala, February 14
The language departments of the Punjabi University such as Sanskrit and Pali, Persian, Urdu and Arabic are struggling to keep afloat as lesser number of students are opting for these courses.
Welcoming spring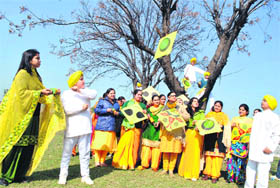 Dressed in yellow, teachers and students fly kites on the eve of Basant Panchmi at a school in Patiala on Thursday. Tribune photo: Rajesh Sachar
I-T raids on two Mandi Gobindgarh steel units
Patiala, February 14
Continuing with its crackdown on tax evaders in Mandi Gobindgarh, the Excise and Taxation Department sleuths today raided the premises of two more rolling mills namely Baba Steel Industries and Jawala Steel Corporation, Mandi Gobindgarh.
78 beneficiaries not paid in Sangrur
Sangrur, February 14
Under the inter-caste marriage scheme of the central government, 78 beneficiaries in Sangrur district have been awaiting award money of Rs 50,000 for the past five years.
Fatehgarh Sahib court awards 10-yr RI to Akali activist's son
Fatehgarh Sahib, February 14
DP Singla, Additional District and Sessions Judge, sentenced Kirpal Singh , son of Akali leader Satnam Singh Brass and a former Chairman of the Khera Block Samiti, to 10 years of rigorous imprisonment and fined him Rs 13,000 for raping a Class XII student.
Rapist teacher held
Sangrur: The Cheema police on Thursday arrested 49-year-old Gurjant Singh, mathematics teacher at Government Senior Secondary School in Namol near Sunam, for allegedly raping a 14-year-old Dalit student of Class VIII at his residence on December 31 last.
ASI's Murder: Charges framed against 5 accused
Amritsar, February 14
The court of Additional Sessions Judge today framed charges against five accused, including Ranjit Singh Rana, expelled SAD leader, in the ASI Ravinder Pal Singh murder case. The latter was shot dead in broad daylight in Amritsar's Chheharta area on December 2 last year.