Contest wide open, no party has the edge
Moga, February 7
The Moga assembly constituency has been at the centre-stage of Punjab politics for decades. It has traditionally been a Congress citadel with the Akalis making their presence felt on a few occasions amid a strong Socialist movement in the 1960s and 1970s.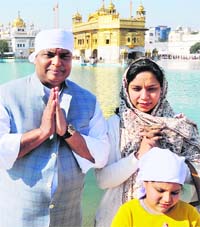 President Pranab Mukherjee's son Indrajit Mukherjee and his wife Sugandhi pay obeisance at the Golden Temple in Amritsar on Thursday. Photo: Vishal Kumar
EC: EVMs are tamper-proof
Chandigarh, February 7
Negating allegations by different organisations about the possibility of tampering electronic voting machines (EVMs), the Election Commission (EC) has clarified that the EVMs were tamper-proof.
Rape victim battles for life in Amritsar hospital
Amritsar, February 7
To save her life, the uterus of a 14-year-old Jalandhar gang rape victim was removed by a team of doctors at Guru Nanak Dev Hospital here today. The girl, who was raped by three youths at her native village on January 28, was brought to the hospital in a critical condition late last evening. Post-surgery, she is in the intensive care unit (ICU), battling for life.
140 villages say no to liquor vends, write to authorities
Patiala, February 7
In a state where liquor vends are opened even before grocery stores and where 29 crore liquor bottles are consumed annually, residents of 140 villages from various districts, including 43 in Sangrur and 26 in Patiala, have submitted applications to the authorities concerned pleading that the vends in their areas be closed.
Punjab faces severe shortage of IPS officers
Patiala, February 7
Punjab is set to face an acute shortage of Indian Police Service (IPS) officers with 11 officers about to retire by 2015-end. Currently, against the sanctioned strength of 172 IPS officers, 128 IPS officers are serving in the state, including the recently-promoted Punjab Police Service (PPS) officials last month.

Panchayat poll in May, says Rakhra
Jagraon, February 7
Rural Development and Panchayat Minister Surjit Singh Rakhra today said panchayat elections in Punjab would be held in May. Speaking to mediapersons here, he said the elections would be held in a transparent manner.
Rural Development and Panchayat Minister Surjit Singh Rakhra in Jagraon on Thursday. Tribune photo

Heritage village project breaches deadline
Amritsar, February 7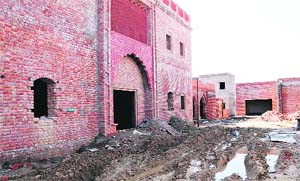 The state government's ambitious Heritage Village project has once again breached its January 2013 deadline. A visit to the site suggests that the work is nowhere near the stage where it could be thrown open to tourists. When The Tribune team visited the project site located at Guru Nanak Dev University premises on the Amritsar-Attari bypass road, the entire area was in a mess, though almost all the structures that were a part of the project had been raised.
The Heritage Village project site in Amritsar. Tribune photo
Judicial officer in dock for disobeying HC order
Chandigarh, February 7
An Additional Chief Judicial Magistrate is in dock. The Punjab and Haryana High Court has sought his comments for allegedly disobeying its orders on the issue of framing charges.
Free education to J&K Sikh girls in SGPC institutions
Amritsar, February 7
To promote education among Sikh girls in Jammu and Kashmir, the SGPC has decided to offer free education and accommodation to them in institutions run by the committee.
Treasuries to implement online payment system from April 1
Chandigarh, February 7
All payments from the state and district treasury offices will be made online in the bank accounts of the government employees, other claimants and beneficiaries of various schemes from April 1. A decision in this regard has been taken by the State Finance Department.
Science Congress inaugurated
Faridkot, February 7
Punjab Governor Shivraj V Patil inaugurated the16th Punjab Science Congress at Guru Gobind Singh Medical College, Faridkot, organised jointly by Baba Farid University of Health Sciences and the Punjab Academy of Science.
Varsity to decide Ahluwalia's fate tomorrow


Fatehgarh Sahib, February 7
The board of trustees of Guru Granth Sahib World University will meet on Saturday to decide the fate of suspended Vice Chancellor Jasbir Singh Ahluwalia. The meeting has been convened after the Punjab and Haryana High Court dismissed Ahluwalia's petition challenging his suspension.
2,600 personnel to man Hola Mohalla
Ropar, February 7
As many as 2,600 security personnel will man the six-day historic Hola Mohalla festival to be held at Kiratpur Sahib and Anandpur Sahib from March 23 to 28 near here. Over 15 lakh devotees from different parts of the country and abroad are expected to visit.
Inauguration of Patwari work station postponed
Anandpur Sahib, February 7
The inauguration of the new Patwari work station, built at a cost of Rs 24 lakh, was postponed indefinitely here today. Deputy Commissioner (DC) PK Aggrawal was to inaugurate the building at 11 am today. Though the DC cited lack of furniture at the building as the reason for postponing the inauguration, sources said Aggrawal had to abandon the programme following objection from a senior local politician in the ruling SAD-BJP alliance.
Road safety panel opposes toll tax
Fatehgarh Sahib, February7
Members of the District Road Safety Committee lodged a strong protest against SOMA Company for levying toll tax even though the construction on the new road has not yet finished. The meeting was presided over by Additional Deputy Commissioner (ADC-D) Baljit Singh Sandhu in the absence of the DC. PWD XEN Vipin Bansal said toll tax was to be levied only after providing all the new facilities. SOMA charged the tax even though commuters had to travel on the old GT road.
Protesting police 'oppression', 80 officials go on leave
Mohali, February 7
Over 80 members of the Punjab Rural Development Officers Association took mass casual leave here, demanding a fair and thorough inquiry in the police case registered against three officers of the department.
Narcotics seized from Fazilka jail
Fazilka, February 7
Officials of the district administration today seized narcotics and other banned articles from two barracks of Fazilka Sub-Jail during a scheduled checking.
Dancers at wedding assaulted
Ferozepur, February 7
Three members of a marriage party, including the younger brother of the groom, have been booked for assaulting girls belonging to a Zirakpur-based dance troupe after the marriage ceremony at a resort on the city outskirts.