Makkar: New DSGMC to look into bunglings by Sarna team
Amritsar, February 1 Avtar Singh Makkar, SGPC chief, todaysaid he would be visiting Pakistan next month to hold talks with the Pakistan Government for streamlining the management of gurdwaras in that country. Talking to mediapersons, he said the SAD victory in the DSGMC elections had paved the way for the implementation of the amended Nanakshahi Calendar in Pakistan gurdwaras. The Pakistan Sikh Gurdwara Parbandhak Committee (PSGPC) had been following the original calendar till now.

Jain releases calendar, courts trouble
Moga, February 1
Chairman of the Punjab Warehousing Corporation and SAD nominee for the Moga byelection released a calendar of a religious sect here today. District Electoral Officer Arshdeep Singh Thind has sought a report from Returning Officer Joram Beda.
Ex-Maharaja 'shoots' wildlife
Chandigarh, February 1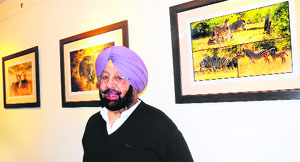 He stands there, greeting the visitors, most of them who have known him for a long time. He sips his wine and settles to talk about photography, an art, a childhood passion which has now graduated and found place on the walls of the gallery, Art Folio in Sector 9.
Punjab Pradesh Congress Committee president Capt Amarinder Singh at the Art Folio in Sector 9 in Chandigarh on Friday. A Tribune photograph

108 Ambulance Service employees threaten to go on strike
Amritsar, February 1
Cracking the whip on employees of 108 Ambulance Service threatening to go on strike, Ziqitza Health Care (ZHL) announced fresh recruitments, holding a test for drivers at the company premises here today.
Goodwill gesture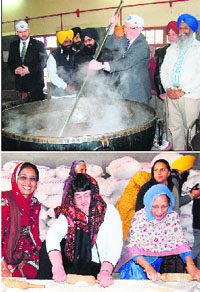 Canadian province Manitoba's Premier Greg Slinger (top) and his wife Claudette Toupin prepare 'langar' at the Golden Temple on Friday. Photos: Sameer Sehgal
Cash-strapped govt opts for online lottery
Chandigarh, February 1
The cash-strapped Punjab Government has opted for online lottery to earn additional revenue. Burdened with a huge deficit and faced with another bleak year that ends on March 31, it has decided to start online lottery hoping to earn Rs 150 crore per annum.
Congress questions credibility of electronic voting machines
Chandigarh, February 1
Congress Working Committee (CWC) member Jagmeet Singh Brar has urged the Chief Election Commission (EC) to ensure that EVMs fitted with the voter verifiable paper audit trail (VVPAT) system alone are used in the Moga byelection.
'Will work for pact with Left parties'
Chandigarh, February 1
Congress Working Committee member Jagmeet Singh Brar today said that a pact with Left parties was the need of the hour to defeat the SAD-BJP alliance.
State Govt, Opposition vying for credit
Sangrur, February 1
Following the in principle approval by Union Health Minister Ghulam Nabi Azad for the 300-bedded satellite centre of Postgraduate Institute of Medical Education and Research (PGIMER), Chandigarh, to be set up at Sangrur, politicians have been trying hard to take credit for the approval. This centre will be set up on Sangrur-Patiala road at Ghabdan Kothi, over 12 km from here.
Experts: Growth not determined by financial parameters alone
Chandigarh, February 1
Financial parameters of the states can be best assessed if they are viewed in relation to socio-economic priorities of the society and the government say experts who have prepared a report on the "Issue of State Finances" at the Centre for Research in Rural and Industrial development (CRRID) here.
CJI to preside over Patiala law varsity's convocation
Patiala, February 1
Chief Justice of India (CJI) Altamas Kabir will be the chief guest at the first convocation of the Rajiv Gandhi National University of Law (RGNUL) to be held at its new Sidhuwal campus tomorrow. He will also deliver the convocation address.


Breaking a leg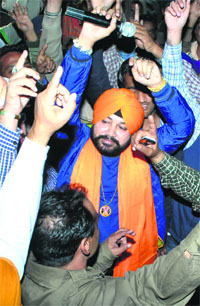 Punjabi pop singer Daler Mehndi perform with truck drivers during the shooting of his new video album in Patiala on Friday. Tribune photo: Rajesh Sachar
Less than 50% specialist doctors join govt service
Ludhiana, February 1
The state health department's efforts to appoint specialist doctors to improve health services have proven to be a damp squib as more than 50% of the specialist doctors appointed have not reported at their stations.
Fatehgarh Sahib schools to get Rs 28 crore under SSA
Fatehgarh Sahib, February 1
The government will spend Rs 28 crore under Sarv Sikhya Abhiyan (SSA) to provide quality education, proper infrastructure and modern facilities to raise the standard of education in the government schools of the district. This was stated by Deputy Commissioner (DC) Yashvir Mahajan while presiding over the meeting of the Education Development Committee.
282 'outdated' PRTC buses plying in state
Ludhiana, February 1
The state government may be making tall claims of bringing state-of-the-art city bus services in various districts of Punjab, but Pepsu Road Transport Corporation (PRTC) continues to ply 282 'outdated' buses on the roads.
Sacha Sauda case hearing on Feb 8
Bathinda, February 1 The case seeking vacation of the stay on appearance of Sacha Sauda sect chief Gurmeet Ram Rahim Singh came up for hearing in a Bathinda court today.
Yannick case: Bail plea of accused rejected
Jalandhar, February 1
A local court today rejected the bail application of one of the nine accused in the attempt to murder case of Burundi student Yannick Nihangaza. Additional Sessions Judge SK Singla rejected the bail plea of Harsh Gosain, currently in judicial custody, after hearing the arguments of the counsels of both parties.
Barnala man gets 10 years RI for rape
Sangrur, February 1
Sangrur Additional Sessions Judge Virinder Aggarwal today awarded 10 years' rigorous imprisonment (RI) and a fine of Rs 2,000 under Section 376 of the Indian Penal Code (IPC) to 24-year-old Pritpal Singh, resident of Manal village in Barnala district, for raping a 17-year-old girl.
Woman found dead in Ropar
Ropar, February 1
A 22-year-old woman named Rano was found dead at a farm house in Nurpur Bedi near here yesterday night. Rano, resident of Nawanshahr had been missing from her home since January 17. The local police at Mukandpur police station had registered a case of kidnapping on the complaint of her parents.