SAD leaders disrespected national anthem: Jakhar
Gurdaspur, January 29
The Congress has accused several SAD leaders of allegedly showing disrespect to the national anthem during the Republic Day functions that they attended as chief guest.
Shrinking Harike sees 30% less migratory birds
Amritsar, January 29
While the percentage of migratory birds which arrived at Harike wetland this year has gone down by almost 30 per cent, the number of species spotted has gone up by six.
Those with cancer symptoms to be examined
Chandigarh, January 29
Cancer patients and those identified with cancer symptoms will undergo a check-up in the next four months so that treatment, where desired, can be started immediately.


moga bypoll
EC orders transfer of Moga SP
Moga, January 29
The Chief Election Commissioner has ordered that the Moga Superintendent of Police (H), Dilbagh Singh Pannu be transferred out of the district.
DSGMC poll: Counting of votes today
New Delhi, January 29
Even as the results of the Delhi Sikh Gurdwara Management Committee (DSGMC) elections will be announced tomorrow, the Sikh community in the Capital has shot off a letter to various parties, seeking changes in the functioning of the DSGMC.
Mann announces candidate
Moga: The Shiromani Akali Dal (Amritsar) has decided to field Navtej Singh Honey for the Moga byelection. Addressing a gathering here, president Simranjit Singh Mann said that former MLA Joginder Pal Jain was an opportunist who had not only betrayed the Congress but also done a grave injustice to the 62,000 people of the constituency who had elected him.


Mohinder killed his family to seek revenge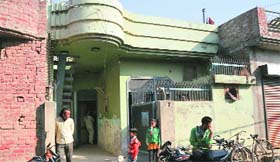 Ludhiana, January 29
"Revenge" was on his mind when he killed his minor daughter and wife and disintegrated a family beyond redemption. Neighbours describe Ludhiana resident Mohinder Singh, who raped his minor daughter and assaulted his wife in 1999 and killed them when he was out on parole in 2006, as an unlikely offender.

The house that belonged to Mohinder is now a makeshift Aadhar centre in Ludhiana. Tribune photos: Inderjeet Verma

Drug addiction adding to TB cases
Faridkot, January 29
The menace of drug addiction in Punjab has now started showing its adverse impact on government's efforts to control tuberculosis (TB).
India, Pak traders ink pact
Ludhiana, January 29
Tension at the Line of Control (LoC) failed to dampen the spirits of entrepreneurs from India and Pakistan who today signed a memorandum of understanding (MoU) for exchange of trade and technology.
Jailbreak: Govt decides to recruit 560 jail warders
Chandigarh, January 29
Facing severe criticism over repeated incidents of jailbreak and drug haul from within the jail premises, the Punjab Government has decided to recruit 560 jail warders. Forty of the warders will be women.
Police officers refuse to join as Jail Supdt
Patiala, January 29
Perturbed over the refusal of four senior Punjab Police Services officers to join duty, the Jail Department has sent a letter to the Home Department. These officers say they cannot serve under a DIG-ranked officer in the jail wing junior to them.
State's financial health unsteady
Chandigarh, January 29
Punjab's economy continues to be unsteady. Fiscal indicators available point towards a considerable shortfall in stamp duty revenue this fiscal year.Till the end of November 2012, collections from stamp duty and registration fee stood at Rs 1,920.30 crore against a target of Rs 3,375 crore.


Note-worthy reception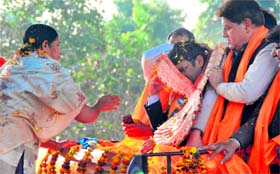 A supporter greets new Punjab BJP president Kamal Sharma with a garland made of currency notes during a road show in Ludhiana. Tribune photo: Himanshu Mahajan
Faridkot abduction and rape case
3-day police remand for main accused for threatening witnesses
Faridkot, January 29
A fortnight after he allegedly threatened the prime witnesses in the Faridkot minor girl kidnapping and rape case, the main accused, Nishan Singh, was today sent to three-day police remand.
Over 1,500 poor families yet to get housing aid
Sangrur, January 29
Though the local zila parishad has Rs 60 lakh in its kitty, over 1,500 Below Poverty Line (BPL) families in the district will have to wait for the new list of BPL families to come out before they get financial assistance for the repair of their houses.
Legal Aid clinic to come up in Patiala
Patiala, January 29
With a view to providing free legal aid, Rajiv Gandhi National University of Law (RGNUL), in coordination with the district administration, would establish a Legal Aid Clinic for the Jassowal and Sidhowal villages of Patiala district.
Five former Armymen granted Rs 77,500
Fatehgarh Sahib, January 29
The district administration distributed Rs 77,500 among five ex-Army personnel of the district here today.
42% water samples in Patiala fail test
Patiala, January 29
More than 42 per cent water samples collected from the district from January 1, 2012 to December 31, 2012 have been found non-potable.
Union urges Centre to pay teachers' salaries
Bathinda, January 29
The Bathinda unit of the SC/BC Teachers' Union held a meeting at the Teacher's Home under the presidenship of Swaranjit Singh, district head of the union.


Bathinda Land deal
CBI submits report to HC in sealed cover
Chandigarh, January 29
Less than six months after the Punjab and Haryana High Court ordered a CBI probe into land acquisition for allegedly helping three influential families earn approximately Rs 5.63 crore, the premier investigating agency today submitted its report in a sealed cover.

Woman gang-raped in Batala
Batala, January 29
A married woman of Kiri Afghana village falling under the Sri Hargobindpur police station was allegedly gang raped by four persons of the same village on January 26.
Two Khanna youths held in fake currency racket

Khanna, January 29
The Khanna police today arrested two youths for 'printing' fake currency notes. One of them used the fake currency to buy a gift for his girlfriend while the other used it to clear his college canteen bill.





Khanna DSP displays the fake currency. Tribune photo
Man registers false case, says son kidnapped
Sangrur, January 29
Senior Superintendent of Police (SSP), Sangrur, has directed the Dhuri police to initiate legal action against Jagwinder Singh alias Vicky for registering a 'false case' and misguiding the police.
Former sarpanch held in Moga, Cong cries foul
Moga, January 29
A former Congress sarpanch of a Moga village was arrested tonight for embezzlement of 100 quintals of wheat meant for distribution among labourers engaged in rural works.