Cong ready with election strategy
Moga, January 31
The Congress has chalked out a multi-pronged strategy for the Moga assembly byelection.
Challenging road ahead for SAD in Delhi

Amritsar, January 31
The SAD may have scripted a historic win in the Delhi Sikh Gurdwara Management Committee (DSGMC) elections, but the road ahead of it is full of challenges as the Sikh community in New Delhi is facing various issues and the massive mandate, which the party has got, has only added to their expectations from it.

After victory, thanksgiving: Accompanied by the newly elected DSGMC members, SAD president Sukhbir Singh Badal and his wife Harsimrat Kaur, Bathinda MP, offer prayers at Gurdwara Bangla Sahib in Delhi on Thursday. Tribune photo: Manas Ranjan Bhui

Bullock cart race back at Kila Raipur

A contestant loses control over his bulls during a bullock cart race at the 77th Kila Raipur Rural Sports in Ludhiana district. The race, which was banned last year, has been resumed. Tribune photo: Himanshu Mahajan
Police officer fined for delaying info
Chandigarh, January 31
The Punjab State Information Commission has slapped a fine of Rs 25,000 on Inspector General of Police (Crime) for failing to supply information to a Mohali resident within a stipulated period.
210 MW unit shut as coal shortage hits Ropar plant
Ropar, January 31
The management of the Ropar Guru Gobind Singh Super Thermal Plant has decided to shut one of its six generation units from today due to shortage of coal. Sources said the plant management was left with coal stock for just 11 days.
Follow sound limit, SGPC tells gurdwaras
Chandigarh, January 31
The Shiromani Gurdwara Parbandhak Committee (SGPC), in a formal communication to managers of all gurdwaras, has sought that the volume of loud speakers should be restricted within the boundaries of the premises.
High taxes spell doom for ginning industry
Chandigarh, January 31
High taxes imposed by the state government on cotton are sounding the death knell for the ginning industry.
Ludhiana civic body to pledge its properties to clear pending bills
Ludhiana, January 31
The financial condition of the Ludhiana Municipal Corporation is in a shambles. The situation is such that even councillors have started holding protests against the civic body.
Phone smuggling: Tighter checks for jail staff
Patiala, January 31
From today, even jail staff and government officials entering jail premises in Punjab will have to undergo a stringent security check to ensure that mobile and drug smuggling is curtailed by all means. The orders to this effect were issued by senior jail officers.
Swelling jails, lean staff a worry for authorities
Patiala, January 31
Grappling with the problem of overcrowded jail cells and acute staff shortage, often leading to jailbreak, the state government plans to set up four new jails and recruit over 1,000 personnel. Work on two of the four jails is nearly complete.
Board takes steps to trace missing answer-sheets
Mohali, January 31
To check the problem of missing answer-sheets every year, the Punjab School Education Board has decided to fix responsibility of erring officials and take effective measures.
Mandi Gobindgarh industrial units raided by PPCB
Patiala, January 31
Punjab Pollution Control Board (PPCB) officials today raided 36 industrial units in Mandi Gobindgarh and found nine violators.
Fisheries Dept to introduce two more species
Jalandhar, January 31
The Punjab Fisheries Department has introduced two more species of fish to boost pissiculture. The species, tilapia and pangasius, would be cultured in Gurdaspur and Jalandhar districts on a trial basis, sources said. As of now, six species (catla, silver carp, rohu, graqss carp, mrigal and common carp) are being cultured in the state.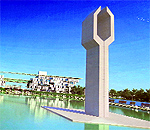 IIT Ropar to have its own building soon
Ropar, January 31
Five years after it came into existence, the Indian Institute of Technolgy (IIT), Ropar, is likely to get its own building in the near future. The management of the premier institution in the region has finalised the consultant for the work and the drawings of the building are expected to get the approval from the Board of Governors soon.
A view of the building plan of the Indian Institute of Technology, to be set up on 501 acres in Ropar.

Latest machinery inaugurated in Patiala Medical College
Patiala, January 31
A Biolizer 600 worth Rs 35 lakh and Elisa Reader Machine worth Rs 2.65 lakh set up in the Bio-Chemistry lab of Government Medical College, Patiala, were inaugurated by Chuni Lal Bhagat, Medical Education and Research Minister of Punjab, today.


Retired employee can't be dismissed retrospectively
Chandigarh, January 31
In a significant judgment, the Punjab and Haryana High Court has made it clear that an employee, allowed to retire from service during the pendency of a criminal case against him, cannot be dismissed retrospectively upon his conviction.
ASI's Murder
Police files challan in court
Amritsar, January 31
The local police has filed a challan in connection with the murder of Assistant Sub-Inspector Ravinder Pal Singh in the court of Judicial Magistrate (First Class).The ASI was shot by a SAD leader and his accomplices on December 5, 2012, when he confronted them for harassing his daughter.
Ready to deposit one-third of arbitration fee, Ladhar tells HC
Chandigarh, January 31
Less than two months after the Punjab Government claimed that Jalandhar Divisional Commissioner Sucha Ram Ladhar had committed misconduct, the IAS officer today refuted the stand and claimed he was ready to deposit one-third of the arbitration fee. But, the state Chief Secretary was not responding.
Assess implementation cost before introducing Bills: HC
Chandigarh, January 31
The Punjab and Haryana High Court today disposed of a petition filed in public interest to restructure the Punjab Right to Service Commission after observing that the State Government should conduct "judicial impact assessment" before introducing Bills and legislations in the Punjab Vidhan Sabha.
Parsvnath Case
Arbitration tribunal terminated by SC
Chandigarh, January 31
The three-judge arbitration tribunal, bleeding the Chandigarh Housing Board dry by charging up to Rs 4.5 lakh even for granting adjournments, will not hear the Parsvnath case. For, the Supreme Court has appointed its former judge, Justice RV Raveendran, as the sole arbitrator.


Lovers found dead in Hoshiarpur village
Jalandhar, January 31
Unable to overcome the caste barrier, lovers Mandip Kaur Monu of Pandori Sumlan village, who was studying in New Zealand, and Pardip Singh Lucky of Gillan village, ended their life at Dhoot Kalan village in Hoshiarpur district today.