OPED

Governance
Enabling police to handle rape cases
Rohit Choudhary
The Justice J.S. Verma committee, set up in the wake of the Delhi gang-rape, has recommended tougher penalties and sweeping changes in laws in its 630-page report, which is also critical of the police response and role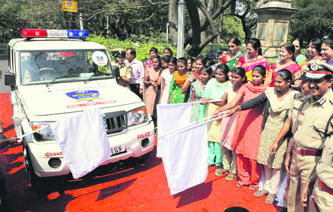 Students launch a patrol vehicle for the women police in Bangalore on Wednesday. There is a strong case for increased awareness and sensitivity starting at the school level. The police should visit schools and colleges, involve teachers and professors to spread awareness about safety and security among girl students. Photo: PTI

Strong legislation, as demanded by the Delhi rape case agitators and recommended by the Justice J.S. Verma report, is only one part of the solution. The key issue, however, is the implementation of the law. In the UK, a nation whose justice system has been used as a model in our country, rape goes largely unpunished as, according to government statistics, only 5.7 per cent of rapes officially recorded by the police in England and Wales end in conviction. This is when it is estimated that only 10 to 20 per cent of rapes are brought to the authorities' attention. Alarmed at the trend, the government has promised to address the "justice gap".
Low rate of conviction
With 24,206 rape cases reported during 2011 in India, the conviction rate stands at 26.4 per cent, or 4,072 convictions, while 11,351 acquittals were recorded. Rape is a repeat offence unless the perpetrator is apprehended, and also where women are repeatedly ignored by the police when they report sexual violence. Even if the crime is recorded, very often the victim is forgotten after an initial hue and cry.
By and large insensitivity, if not hostility, of the criminal justice system towards the rape victim is a significant factor in the low conviction rate and a high percentage of rape cases going unreported. There is a direct relationship between the effective control of crime and the criminals being made to feel that the commission of crime almost certainly leads to conviction.


The police needs to walk that extra mile – shun the sceptical attitude and inculcate the culture of belief, support and respect in dealing with rape cases by shifting the focus from seeking reasons not to believe the accuser to gathering evidence to support the charge.
In India, all across, there is poor investigation and understanding of the law in many cases. In most of the failed cases, either the prosecution could not provide enough evidence, or the victims turned hostile, probably due to security reasons. If the police fails to support women when they report abuse, which falls in the 'stranger rape' category, then just imagine how much worse it is when the case involves acquaintances which constitute about 97 per cent of the rape cases, wherein there are greater chances of victims turning hostile at a later stage of the investigation as they settle the matter among themselves.
Medical evidence, which is vital in rape cases, is not preserved properly due to delays in reporting the crime and gathering evidence in the pre-trial stage, lack of training and unavailability of forensic kits during investigations. And even when the investigation of rapes cases is poorly done, responsibility of the police is rarely fixed and officials responsible are not punished for their laxity. Delays in receiving Forensic Science Laboratory reports for medical evidence related to cases add a sense of indifference in investigations.
Once the investigation is over, delay in the trial of such cases and a long course of legal proceedings become other impediments in dispensing justice to the victims. The defence side in such cases tries to push for adjournments by filing a petition under the Criminal Procedure Code's section 317, giving excuses such as ill-health of the accused.
Rape is a unique crime because in no other case are victims subjected to such scrutiny in courts. Victims are often reluctant to open up before courts and the police. Owing to delays and long-drawn out legal proceedings, and with no witness protection programme, very often the victim is influenced by the accused and is forced to withdraw the case and prosecution witnesses turn hostile or forget details of the incident. An inadequate number of courts to try such cases is also a reason for the inordinate delays and the low rate of conviction. A speedy trial of rape cases through fast-track courts may address many of these issues.
Measures to be adopted
Nothing can replace measures of basic professional policing like proper preventive patrolling, a quick response, especially when the distress caller is a woman, and thorough investigations and follow-up during court trials of cases related to atrocities on woman. All police officers should be made to undergo a mandatory one-week gender sensitisation course. Investigations of such cases should not be handled by the regular law and order police but by a separate, trained police wing. There is also a need to set up Rape Referral Centres in every district with one-stop service. Such centres set up in the UK provide medical care and a forensic examination for evidence collection under one roof. These centres can be funded and run jointly by the health department, the police and voluntary agencies.
For strengthening the investigation and medical forensic evidence collection, the forensic science laboratories will also need more personnel and funding if they are to keep up with an increase in cases coming to them. DNA technology is a strong tool that arms the investigators with clinching evidence in rape cases. However, this is not used as often as it should be, barring some high-profile cases, due to lack of knowledge, unavailability of a testing facility at all laboratories and the cost of testing involved. The Singapore Police Force in collaboration with National Technological University has developed a mobile DNA analyser which can be used for an onsite analysis of samples and is cost effective. Such appropriate technology can prove to be extremely useful for investigators in India too.
US shows the way
In the US, in the last 40 years, several measures have been initiated both in terms of legal procedures and investigations to cope up with this situation. Several steps have been initiated such as prohibition of the victim's prior sexual activity from being entered into as evidence, elimination of the requirement that there be a corroborating witness to a rape, and creating procedures to collect physical evidence from victims.
Today the US police and prosecutors are extensively trained in how to move cases forward, and sexual-assault investigative and prosecutorial units are common in most major cities. The introduction of rape kits to collect physical evidence by the police has significantly enhanced the effectiveness of police investigations in the US. A rape kit contains instructions, forms and aids such as slides, boxes and bags for collecting and storing evidence such as clothing fibres, hairs, saliva, semen or body fluid, which may help identify the assailant and provide evidence supporting prosecution in a criminal trial. Since the rape-kit testing was completed in 2003, the New York Police Department has seen its arrest rate for rape increase dramatically, from 40 per cent to 70 per cent of reported cases, and there are increased numbers of prosecutions and convictions for rape.
Above all, states should empower the survivors of sexual assault and witnesses by giving them a regular access to information about their cases and providing them protection, wherever required. California has a victim-notification statute that requires law enforcement to provide information about the status of the rape case to the victim. Such information holds the government accountable to each individual victim. Then, it is also vital that vulnerable victims and witnesses of rape cases are covered under the Witness Protection Programme so that they do not turn hostile during the trial.
Deeply engrained culture
Crimes against women account for about 10 per cent of the total IPC crimes in India. An increase in the women police strength, from the current less than 7 per cent to at least 25 per cent of the total civil police, to handle women-related problems will be another step in the right direction as this will make a woman feel confident to approach the police and report cases.
There is a strong case for increased awareness and sensitivity starting at the school level. The police should visit schools and colleges, involve teachers and professors to spread awareness about safety and security among girl students. Women police officers could also be posted as Police Liaison Officers attached to major girls' schools and colleges, with a working office on the premises, to be available and deal with police-related problems faced by students. A media exposure to women helpline numbers will enable the victims to know that such facilities exist in the police department and how to access them.
A widespread belief that it is common for survivors to make false allegations is also misplaced as the figure for false accusations is just about 2 per cent. When women aren't believed, no wonder an overwhelming majority of rape cases aren't even reported in the first place. Another belief that needs to be challenged is that women are partially or totally responsible for being raped if they wear revealing cloths.
What should be done
Focus on increasing the conviction rate.
Train the police and prosecutors extensively in how to investigate sexual-assault cases and form specialised sexual-assault investigative units at the district level.
Introduce rape kits for the collection physical evidence by the police.
Set up Rape Referral Centres in every police district providing medical care & forensic examination under one roof.
Strengthen forensic science laboratories with more personnel and funding.
Develop a sense of urgency by holding police officers accountable and fixing responsibility for laxity in response and investigation.
Empower survivors of sexual assault by giving them regular access to information about their cases.
Give wast media exposure to women helpline numbers.
Inculcate the culture of belief, support and respect in dealing with rape cases.
Introduce a Witness Protection Programme for victims and witnesses.
Increase the women police force to handle women-related problems.
Have a mandatory training module on gender sensitisation for all civil police officers.
Rohit Choudhary , an IG in Punjab, is the author of "Policing: Reinvention Strategies in a Marketing Framework"