Moga bypoll
Brar appeals for conscience vote
Moga, February 5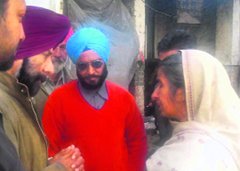 Attacking SAD nominee Joginder Pal Jain, CWC member Jagmeet Brar today said that the byelection had been forced on Moga residents by Jain who had resigned from the seat and joined the SAD for vested interests. By doing so, Jain, who had been earlier elected on the Congress ticket, had defiled the principles of democracy. Brar said that Jain had let down the voters after getting their mandate and it was for them to teach him a lesson now.
Jagmeet Brar (in purple turban) speaks to a woman voter in Moga on Tuesday. A Tribune photograph

Health Minister, his deputy spar again, this time over London visit
Amritsar, February 5
Health Minister Madan Mohan Mittal and Chief Parliamentary Secretary (Health) Dr Navjot Kaur Sidhu are at loggerheads yet again, this time over participation in an event scheduled to take place in London.
Ropar police files challan in rape case in 24 hours
Ropar, February 5
In a record of sorts, the district police filed a challan in a local court within 24 hours of registering a case of rape against an accused. Senior Superintendent of Police Inder Mohan Singh said it was probably for the first time in the state that a challan had been filed in the court within a day of the crime. A three-year-old girl was allegedly raped by her distant relative, Manoj Mishra (20), at her house yesterday.
Board told to prepare plan to revive Adarsh Schools
Chandigarh, February 5
Chief Minister Parkash Singh Badal today directed the Punjab School Education Board to prepare a blueprint to ensure the development of all 11 Adarsh Schools in the state. The directions were given by the Chief Minister during a high-level meeting with principals, officiating principals and senior officers of the Education Department held at his residence to review the functioning of these schools.
Commuting a nightmare on waterlogged Patiala roads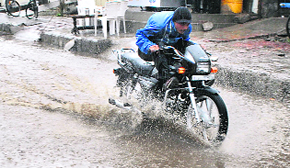 Patiala, February 5
The stretch leading to the Patiala bus stand is one of the busiest roads in the city and it is waterlogged as the Patiala Municipal Corporation (MC) is not fully equipped to drain out the accumulated water.


A man wades through the waterlogged road near Samania Gate in Patiala on Tuesday. Tribune photo: Rajesh Sachar

Make industry-friendly policies, apex chamber tells power corp
Patiala, February 5
Apex Chamber of Commerce & Industry (Punjab) president PD Sharma said the industry was suffering because of the anti-industry policies of the Power Corporation. He said under the Electricity Act, 2003, the cross-subsidy was to be reduced gradually.
Food authority extends deadline again
Ludhiana, February 5
The deadline for eateries to get their licence has been extended till August by the Food and Safety Standard Authority of India (FSSAI). Earlier the deadline was August 4, 2012 but the deadline to implement the Food Safety and Standard Act, 2006, was extended to February 4, 2013 in August last year.
Nambardars not paid honorarium regularly
Sangrur, February 5
Nambardars in various districts of the state have not been receiving the Rs-1,000 honorarium on a regular basis. As a result many nambardars have been waiting for the arrears for several months. There are over 33,000 nambardars in the state.
Ladhar: Ready to deposit one-third of arbitration fee
Chandigarh, February 5
Less than two months after the Punjab Government claimed that Jalandhar Division Commissioner Sucha Ram Ladhar had committed a misconduct, the IAS officer today told the Punjab and Haryana High Court that he was ready to deposit one-third of the permissible fee with the government as envisaged under the rules.
15 months on, health centre project hangs fire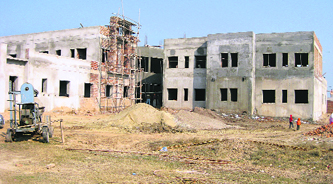 Fatehgarh Sahib, February 5
The construction of the 30-bed community health centre at Khera village has been delayed by more than 15 months. Sources said, the reason for the delay was state government's inability to release the grant. The centre was to be built at a cost of Rs 5 crore.
A view of the community health centre that is under construction near Fatehgarh Sahib. A Tribune photograph

ASI shifted for 'misbehaving' with woman
Patiala, February 5
An Assistant Sub-Inspector (ASI) was shifted to Police Lines on the complaint of a local woman. A resident of Dheeru-ki-Majri area, the complainant alleged that the drunk police officer barged into her house and manhandled her. She said the ASI was accompanied by a junior policeman.



High Court rejects Ahluwalia's plea
Chandigarh, February 5
For a silent burial to the controversy shrouding the functioning of Dr Jasbir Singh Ahluwalia as Vice Chancellor of Guru Granth Sahib World University, Fatehgarh Sahib, the Punjab and Haryana High Court has suggested to the university's Board of Trustees to consider the option of accepting his resignation.
BSF officer objects to conduct of trial
Chandigarh, February 5
If allegations in a telegram sent to the Punjab and Haryana High Court are to be believed, an under-trial BSF Deputy Commandant was produced in an Amritsar court on a stretcher and asked to cross-examine prosecution witnesses. He has raised questions on the conduct of the trial and the presiding officer while seeking that the case be transferred to another court in Punjab.
Notice to DGP Saini for 'failure' to check black films on vehicles
Chandigarh, February 5
The Punjab and Haryana High Court has issued notice to Punjab Director General of Police (DGP) Sumedh Singh Saini and Ludhiana Police Commissioner Ishwar Singh, asking them why contempt of court proceedings should not be initiated against them for their alleged failure to check vehicles with black film and tinted glass in and around Ludhiana.
Arrest warrants issued against SAD candidate Jain's son
Faridkot, February 5
Cancelling the bail plea of Puneet Jain, son of SAD candidate for the Moga byelection Joginder Pal Jain, the court of Judicial Magistrate (First Class) today issued non-bailable warrants for his arrest. The court directed the police to arrest Puneet and produce him in court on or before March 4.
Bail to Pherurai confirmed
Chandigarh, February 5
Less than six months after the Patiala Special Judge convicted former Senior Superintendent of Police GS Pherurai in a corruption case, the Punjab and Haryana High Court today confirmed his bail. Taking up the matter, Justice Ranjit Singh admitted his appeal against conviction. Pherurai had moved the court alleging that the trial court had "erred in law and facts on the file in recording his conviction".


Two killed, 4 hurt in accidents
Bathinda, February 5
Two persons were killed when a speeding vehicle ran them over near the Ganpati Enclave on the Dabwali road yesterday. Three others were also injured in four different road accidents.
No dowry, NRI skips wedding; father arrested
Ferozepur, February 5
All arrangements were in place for the wedding, the bride's relatives had arrived, but the groom did not turn up. The incident occurred in the Zira subdivision of Ferozepur where a non-resident Indian (NRI) ditched the bride and her family at the last moment.
Woman killed, 2 injured in road mishap
Sangrur, February 5
A 55-year-old woman Soma Devi today died while her granddaughter Rubi (19) and another person Parmod Kumar (22) were injured when their motorcycle collided with a car near the road over bridge (ROB) on Sangrur-Dhuri road here.
Tortured by in-laws, woman ends life
Tarn Taran, February 5
Gurjit Kaur (25), who was allegedly harassed by her in-laws, committed suicide by consuming poison at Sakhira village. The Patti police has registered a case under Section 304- B of the IPC against four persons, including her husband Gurjant Singh, father-in-law Waryam Singh, brother-in-law Sikandar Singh and his (Gurjant's) grandmother Parkash Kaur.