Youth priorities find themselves shifting from the confines of identity politics to progressive leadership. Such a change has been attributed to movies, music videos and literature, prompting bans, even arrests, based on ambiguous interpretation of 'hurting sentiments'
Liberalising the lal-batti culture
Kudrat Kahlon
The term liberal has not enjoyed a good reputation in India. From images of scantily dressed women headed to discotheques to live-in relationships liberal has enjoyed a controversial image at most. The president's son's "painted dented" comment encapsulated this image. But the backlash to his comment, and his immediate apology on all major media channels marked a silent acceptance of that folly. The bureaucratic elite, a culture of lal batti can no longer continue their anti-liberal rhetoric freely, there is a shame attached to accusing a women for inviting rape because of the hemline of her skirt or being out late at night. While leaders might still harbour ignorant, misplaced, chauvinistic beliefs, it is no longer acceptable to be associated with them publicly.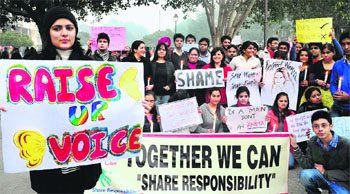 Students and residents protest against the Delhi gangrape case at the Central Plaza in Sector 17, Chandigarh. Tribune photo: Parvesh Chauhan
Advent of liberal youth
Culture is never static, and is an ever-morphing movement with the youth in every era heralding changes,whether it is at the forefront of revolutions or more subtle changes in tastes and preferences. Globalisation has catalysed the homogenising effect of values, with the youth in India embracing universal values not only of democracy, free speech but increasingly individualism and latitudinarian values. Youth priorities find themselves shifting from the confines of identity politics to progressive leadership. Such a change has been attributed to movies, music videos and literature, prompting censors and bans, and even, arrests based on ambiguous interpretations of 'hurting sentiments.' Liberaliation, however, is a phenomenon collateral with the rise in education, globalisation and social mobility. Liberalisation cannot be curbed by such superficial intimidation. Often misunderstood, misquoted and misrepresented liberalisation is an overarching set of values tied by a commitment to revise outdated mindsets with an underlying respect for each and every individual despite different genders, religion, castes or regions. A liberal man would not dismiss vulgar remarks made by his friends because boys will be boys. Liberal men would not find objectifying women's normal behaviour, leaving the onus to women to cover up, deeming men to be apes with no self-control. Liberalisation along with a propensity to discard archaic values is respect for the other, be it the other gender, religion or caste.
Institutionalising liberalisation
While heinous crimes against women have occurred before the Delhi gangrape case, and continue in other regions as well, Delhi seethed in anger, recent events being the tipping point for a society livid by the remarks made by police recommending curfews, categorising certain women as bottom feeders who get what they deserve. Subsequently a legislator in Rajasthan recommended a ban on skirts as school uniforms in Rajasthan. Derek O'Brien recommends banning condom ads on prime time television and all-women police stations. In a country where ex-lovers manifest their bitterness with acid attacks, banning skirts and imposing curfews for women is a convoluted approach to manage our disgraceful plight. As a society that has a history for supporting machismo and male entitlement, blaming women's behaviour is augmented. Rape, domestic abuse or even barring women from working is rooted in an insecurity to fortify male superiority. Hence curtailing women's freedom would not prevent rape or domestic abuse.
Expertspeak

The disconnect between governance and youth is latitudinal. Liberalisation itself must be redefined. Redefine the public and the private not just in economic but political realms. — Dr Shiv Visvanathan, social anthropologist. Professor at Jindal University
In addition the blame does not lie only with chauvinistic men, but the women who teach their sons no better, the women who believe they are not victims but perpetrators for their own anguish,women representatives such as Sushma Swaraj who declared rape victims who survive are zinda laash;(living corpses). Our culture is in dire need of a revision, where Kavita Krishnan, secretary of the All India Progressive Women's Association, declared the need for a society where women are free to be "adventurous, reckless and rash", words used by law enforcers to define "rapeble women".

Youthspeak
Suppression of voice


Lack of youthful representation in governance has led to suppression of a majority of the nation's voice. There is a great divide in the thought process between the values of the older generation and the needs of the young generation. Having young members in the government will only strengthen governance because younger officials will be more sensitive to the needs of the present to build a bright future for our nation. —
Bharat Guram, 23, student
Disconnect because of clash


There is a disconnect between the liberal youth and the politicians, because of clashing ideologies and a lack of initiatives. Ideological clash because the recent remarks made by politicians, based on caste and religion, appeal only to the fundementalists, orthodox Hindus and Muslims of the country and not to the educated, liberal youth of today. The latter are concerned more with the development of the country. The lack of action by the state or the Centre, the laxity in implementation of laws is irritating for the youth. We all see what really goes on in Parliament.
— Shirin Mann,25, journalist
Gap apparent


The recent developments in Delhi and around the country have made the gap between political elite and citizens of this country more apparent more than ever. With the introduction of stringent laws against corruption , rising public awareness and willingness to exercise the institutions of civil society and democracy against the excesses of those in power, some sense of accountability and responsibility can be restored.
— Rattan Johal, 25, Curator
Leadership must transform


Today the youth is well informed and aware of the environment they live in. Gone are the days when they needed a leader to follow. The youth is now independent and pointed which is why there is a clash in views. Leaders, however, almost always act in their own self interest, leading to corruption, red-tapism. Leadership must transform and transcend bureaucracy.
— Hasmita Brar, 25, student
To change such mindsets is first to realise and acknowledge that the directives to women, curtailing their freedoms is a convoluted approach to finding a solution. Instead the root of the barbarism must be addressed which is a deep-rooted machismo culture. Leaders who make comments such as why she was out that late, should be shamed, no woman is safe in India till comments of such nature are made, entitling men with criminal tendencies to hide behind the age-old she-asked- for-it veneer.
Lal batti fights back
Lal bati leaders hence are not happy with increasing liberalisation. Justice Markandey Katju summed up the lal batti culture as a phenomenon, "When most of our people go to vote they cast their votes on the basis of caste or religion, not the merit of the candidate. What else is the meaning of vote banks? This is exploited by some unscrupulous politicians, who know how to manipulate and manage these vote banks. That is why many persons with criminal backgrounds get elected." Youth must not prioritise candidates based on the right religion, right caste or background; they must demand sound policies, progressive and responsible. Such a challenge to status quo is not welcomed to leadership. Bureaucrats, politicians and leaders who have relied on gaining votes from predictable methods of identity politics will now have to work on something else than the divisive lines of religion, region, caste, creed or community. Giving powers to politicians should be subject to the results they produce for those who vote for them, and not by merely declaring themselves as belonging to the same religion.
Bridging the gap
The youth are not the only supporters and patrons of liberalisation but intellectuals too. Gurcharan Das provides a positive outlook for a case for liberalism in his book India Grows At Night, citing evidence of liberalism from as far as 2,000 years back where Emperor Ashoka supported secularism or education for women in 19th century Kerala. Das even provides liberalisation as a solution to deep-rooted problems such as corruption, blaming bureaucratic stronghold for quashing economic growth in India by giving them power to allow or quash new businesses, in other words creating positions to bribe.
Unflattering as the comparison might seem, current conditions in India are comparable to the Gilded Age in the United States at a time when the net wealth of those belonging to the "rich club" was in astronomical figures, inequalities were extreme and social mobility and reform difficult. Liberalisation, hence he proposes, is a step towards respect and equality but transparency and efficiency, a necessity if India is to live up to its super-power prediction.
Though intellectuals provide a ray of hope when juxtaposed against countries such as China, India's liberal status is misleading and premature where legislators still contemplate wrong-sided reforms such as banning skirts to prevent eve teasing. The anger and the change in mass sentiment is a potential indication of a wave of reforms but far from being heralded as the India Spring. Bridging the gap is a necessity to address the frustrations the youth faces. Institutionalising such a change is a fundamental step towards liberalisation of the lal batti. Bureaucrats' pay scale should reflect the positive changes they have made in their districts. Why would politicians want education when it dismantles their vote banks? Politicians should be elected for the policies they support not the temple they visit, by their actions not their affiliations.
Kudrat Kahlon is a filmmaker.