FIFTY FIFTY
See, hear, read no evil
We are intolerant of anything that threatens our status quo, but forget that most art and intellectual debate is provocative.
KISHWAR DESAI

This was a week when various groups decided what we should not read (Salman Rushdie), what we should not see (Kamal Haasan) and what we should not hear (Ashis Nandy). Perhaps they would have preferred us to be like Gandhiji's three monkeys — and Salman Rushdie was not entirely wrong when he declared a 'state of cultural emergency' in India.
For groups who are looking for cheap political mileage before the national elections, art, cinema and literature seem to be the easiest target. Attacking a star actor or writer gets quick global headlines, and these groups, often unknown previously, are suddenly famous.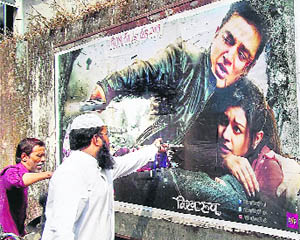 Protesters tearing a poster of Kamal Haasan's movie 'Vishwaroopam' in Mumbai.
But there are other implications: not just for freedom of speech and expression, but also for India's global image as well as diversity, which can only flourish if different and sometimes opposing views are expressed. Not if these are suppressed or banned.
We need to be very worried because India's emergence as a soft power has been on the fast track in recent years, and we are making an impact all over the world — even more than China! But before we can benefit from it, are the competing groups (or vote banks) in our country sabotaging this flowering?
Will the image of India as a liberal country with hard-won freedoms now be sacrificed at the altar of a few votes by nervous governments, both at the Centre and the state? Will the diversity that we celebrated now become a worrying factor as insecure, newly empowered communities flex their muscle, banning debate, literature, song and cinema at will?
Even though some of the soft power, especially through cinema, has been showcased globally, it still needs nurturing because there is so much to promote. Not only within the traditional arts, music, dance and painting, but also the modern community of artists, filmmakers and authors who are appreciated around the world. It also is a huge employment generator for those looking at working outside the formal sector. We are becoming a breakthrough nation thanks to our vast cultural heritage and it is indeed a tragedy that just when there is a possibility of gaining appreciation and accolades, we are tripped up and made to look as though we cannot give our creative energies free rein.
The fact that we are probably the most diverse nation in the world is often forgotten — a tragedy because it is this diversity that gives us creative energy, and, of course, leads to many of our problems as well, including the diverse (sometimes unpalatable) opinions expressed. To live in a country as varied as this requires a special skill and learning which we need to acquire, but not descend into censorship.
It is sad that our strength — diversity — can also be converted into weakness. A cauldron of unease often simmers with the multitude of religions and castes, classes and communities; either it can be calmed with the voice of reason, or it can boil over with the fury of confrontational politics. It all depends on who exploits it and with what purpose. And once a particular section of the population has been needled into deliberate anger, an incident is likely to spiral out of control.
However, by threatening someone, or excommunicating them, discussion or understanding is unlikely to grow. The real question then is that do only the 'offended' have the liberty of 'freedom of speech' and not the un-offended?
Does this mean Indians are becoming the most insecure species in the world? We are intolerant of anything that threatens our status quo, but forget that most art and intellectual debate is provocative. The skill lies in propagating better ideas than those of our opponents and not shutting them up.
Recently, at the Jaipur Literary Festival, we were sitting inside the authors' lounge when an irate politician burst in. None of us recognised him, but he was obviously someone important because he was accompanied by a posse of policemen. Suddenly, silence descended on the room, as the man was courteously escorted to a chair and the atmosphere changed completely. We realised the situation was very serious when Dr Ashis Nandy, who was also present, was questioned over his earlier statement in a public discussion about corruption. As Dr Nandy explained and other authors such as Javed Akhtar and Kanchah Iliah joined in to further clarify what had been said, it became obvious the matter would not be allowed to rest there. And of course, the next day we learnt that an FIR had been lodged and that there was an order for the organiser of the festival, Sanjoy Roy, not to leave the festival either.
Thankfully, the Supreme Court has given some relief to Dr Nandy, and he will not be jailed — as perhaps there is a tacit understanding that a statement made in an intellectual debate is meant to explore a particular argument, to analyse our society and the times. But the Supreme Court, too, could not resist giving Dr Nandy a rap on the knuckles.
While in the past week we have seen mob censorship at its worst — in Rajasthan, West Bengal and Tamil Nadu (all non-BJP states, for once!) — encouraged by the state governments, we have to understand that this is a reflection of the political expediency that prevails.
The paradox is we do not need these threats and banishments to preserve India's diversity, but more diversity itself through more ideas, interaction, debate and discussion. If we listen to those who only want bland universally accepted thoughts and censorship, we will become a land of homogenous bores.