Jaipur Lit Fest

Writing is on the wall
E-book or paper, it's the reader who will decide what succeeds, not the publisher
By Vandana Shukla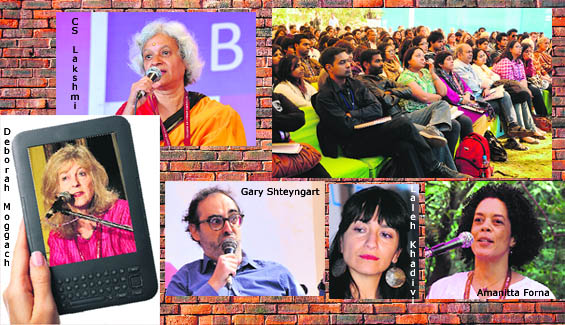 From expletives to prayers, and so much in between, words make the entire gamut of human experience tangible. Creative writers and poets explore the depths of etymology and connotations till each word becomes a manuscript. 'Beloved' and 'disgrace' are ordinary words of everyday use, but in the writings of Tony Morrison and JM Coetzee, these simple words create a fresh trajectory to express vulnerabilities of the human world.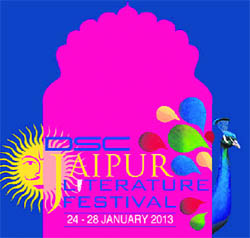 Spiral-bound
The issues that had the literary world talking:

State repression


Fading appeal of fiction


Overburdening of memoirs from conflict zones


Growing demand for nuanced realism, humour


Web threat for publishing industry


Will English devour vernacular literature?
For the last six years, close to 300 writers, thinkers and subject experts assemble at Jaipur for the DSC Jaipur Literature Festival (JLF) to explore the mysterious power and range of the written word and its capacity to transform the human mind. The complexity of literary trends, underlying currents and geographical as well as ideological territories of literature are explored for five days spread across 175 stimulating sessions.
Over the decades, the literary world has witnessed growing popularity of diverse voices; the Black literature, diaspora writing, women's literature, magic realism of Latin American authors and lately, South Asian literature. Through these growing and fading trends, the written word continues to evoke diverse responses in the minds of millions of readers. Yet, the mystery remains — why some books defy time and changing trends to become classics, while others become bestsellers and a few, despite their brilliance, remain unnoticed. Perhaps therein lies the undying appeal of literature.
At the literature festival this year, among many issues that dominated the writers' world, five major concerns reverberated through deliberations — state repression of writers, fading appeal of fiction, overburdening of memoirs from conflict zones in literature, growing demand for nuanced realism and humour in writing, and the threat of the Web for the entire publishing industry. On the reader's front, two questions kept resurfacing — in the marketing-driven publishing practices, how does a reader come to know if a book is readable, and if English will devour vernacular literature?
For all literary languages, the battle between the grammarian and technology continues to trigger a serious debate as technology succeeds in communication despite total disregard to the structure of a language. All this leads to a definite conclusion; like technological upgradation of their gadgets, readers demand fresh ideas and innovative styles in writing. And, they demand books to be slim, smart and crisp.
Non-fiction the new fiction
With breaking news staring back 24x7 from iPods and smart phones, the world of fiction is usurped gradually by the world of reality. This is reflected in the popularity of non-fiction works that climb the bestseller list, often pushing down fiction. Most of these writings are based on extensive research and have consumed, at times, over a decade in making.
This new love for realism in the reading world has opened greater opportunities for journalists, especially those who have reported from conflict zones. Four leading war correspondents have come out with literary creations, transforming experiences of a journalist in a war zone into works of literature. Jason Burke, author of the acclaimed "9/11 Wars", Anjan Sunderam, author of "Stringer" (to be released), Lucy Morgan Edwards of "The Afghan Solution" and Edward Giradet who wrote "Killing the Cranes", all have successfully moved from reportage to literature.
Samuel Johnson Prize winner for non-fiction, Frank Dikotter's "Mao's Great Famine" is another bestseller that supports an estimate of at least 45 million premature deaths in China during the famine years. His four-year research for the book was funded by the UK.
Even in the absence of funding, India is witnessing a kind of renaissance of creative non-fiction writing. Last year, two scribes dominated the scene with their maiden books. Meenal Baghel, editor of Mumbai Mirror, wrote "Death in Mumbai", a fast-paced chronicle of what a city like Mumbai can do to people like Maria Susairaj, an ambitious, morally ambiguous woman from Mysore, Emile Jerome, an upright Naval officer who excels in everything and Neeraj Grover, a man on the make from a well-to-do family.
Aman Sethi's "A Free Man" changed the way we look at 'bhaiyas' (labourers) who are not identifiable with their names in our memory.
Realism sans sheen of magic
This year, Rahul Pandita's much talked about book, "Our Moon Has Blood Clots", offered an alternative perspective to the official version of history of some 3,50,000 Kashmiri Pandits' exodus from the Valley in 1989. The book is more than a memoir of Pandita's loss of his homeland. Based on his extensive research with Hindus, living in refugee camps under squalid conditions, Pandita reconstructs the two-decade history in the words of the victims.
He says he became a scribe so that one day he could offer the other version, for, "In the last few years I've realised I've been getting more and more angry about the kinds of untruths being spoken about the circumstances that led to our exodus".
Among the many killed by militants was Pandita's brother when militants dragged him and two others off a bus and shot them. Pandita, then a teenager, fled the Valley with his family. The book had been brewing in his mind since then. "I found it extremely difficult to write because personal history was involved. I just put it away because it wasn't working and, at many levels, I wasn't sure about the kind of voice it should have," he says.
Pico Iyer's "The Man Within my Head" is yet another important work of this genre.
An outstanding realistic account, Pulitzer winner Andrew Solomon's "Far From The Tree" is another amazingly compassionate book of courage and love drawn from 40,000 pages of interview transcripts with over 300 families, where parents were struggling to deal with their exceptional children. This chronicle is also a bestseller.
The book deals with families where children are born with deafness, dwarfism, Down's syndrome, autism, schizophrenia, multiple severe disabilities, and children who are prodigies, or conceived in rape, or those who become criminals, or the transgender. Solomon narrates a universal struggle for compassion. He himself had experienced the suffering of his parents who struggled to accept his homosexuality. Inspired by these tales of brave parents, he decided to become a parent in his middle age. The book strikes a chord with millions of readers, for it is drawn from the very human struggle and the triumph of love and compassion against all odds.
Women dare to bare
Dismissive of the era of writing memoirs, new-age women writers like Laleh Khadivi, an Iranian-American, declares, "I write to grow, not to dig my past". This obliquely refers to her better-known predecessors like Aazar Nafisi who wrote memoirs of a repressive Iranian regime in "Reading Lolita in Tehran" and "Things I Have Been Silent About" or Ayaan Hirsi Ali's bold accounts of oppression of Muslim women.
The same goes for the Indian diaspora writing, filled with soppy details of an arranged marriage and oppressive patriarchy. "To offer a voyeuristic peep at one's own world is lazy writing, books have to be more nuanced for the new-age reader", says the author of a brilliant debut novel, "The Age of Orphans", the first of a trilogy based on the life of a Kurdish man caught between loyalty to his clan and demands of modernity and his dreams of love, land and home.
Laleh, practiced her art of story telling by telling tales of women prisoners as a journalist from a maximum security jail of South Louisiana. "I became their voice. It was a beautiful learning experience at a young age to drop all judgements. I knew a woman who had killed her child. I understood why she did it. It offered me the basic essentials of good writing — curiosity and compassion," she says.
Then there is Amanitta Forna, a British writer of Sierra Leonean and Scottish heritage, whose father was declared an Amnesty Prisoner of Conscience. He was hanged on charges of treason in 1975, when she was barely nine years old. To understand the complexity of ethnic and political system that would eliminate what did not suit it, she wrote a memoir, "The Devil Danced on the Water", followed by two novels, "Ancestor Stones" and "The Memory of Love," for which she received the Commonwealth Prize for Best Book-2010.
For her latest book, "The Hired Man", she raises the toughest questions about why humans do the things they do — from the smallest act of betrayal to the greatest acts of love. She goes back and interviews the betrayers of her father to make them realise what they did. "People I knew did terrible things, but a civil war, your neighbour turns out to be the betrayer and people use farming tools to kill each other." Forna worked as a journalist for the BBC and made several documentaries on Africa.
KR Indira, a small-framed woman from Kerala, dares to challenge the entire history of women's sexuality in India. According to her, of the 64 acts of copulation in Vatsyayana's "Kamasutra", the much-celebrated treatise on sex, women should agree to just four. She has re-imagined the "Kamasutra" from a woman's perspective in "Sthraina Kamasutra" (women's Kamasutra) published by DC Books.
Penning a practical guide for women to "win the battle between the sheets", she has no qualms questioning some basic premises stated as gospel in the erotic text of Vatsyayana. "Kamasutra says a man can have an active sex life from the age of 16 to 70, but what does it say about a woman's sexual age? Not a word," she says. Indira also did a survey on contemporary Malayali women's sexual behaviour by sending questionnaires to 500 women across Kerala. She got back only 100 sheets and most of the answers conformed to male-dominated sexual mores.
For Ambai, a pseudonym used by firebrand Tamil feminist writer, CS Lakshmi, nothing is impossible. This frail woman, author of a dozen books, while researching Tamil writers in the 1980s became aware of a complete silence on women's social history in the cultural sphere. She undertook a project to depict the social history of women in Tamil Nadu, illustrated with dialogues, speeches, photographs, diary entries, autobiographical notes, stories and letters. "I spoke to many women and understood how much of history has been silenced." Thus was born SPARROW (Sound and Picture Archives for Research on Women), which publishes these silenced histories.
Humour, not as genre
Gary Shteyngart, despite his unpronounceable second name, became a bestseller with his debut novel, "Absurdistan," which chronicles the adventures of Misha Vainberg, the 325-pound son of the 1,238th richest man in Russia. His second novel, "Super Sad True Love Story", a futuristic novel, once again proved people like to read humour, even if it comes from an American-Russian balding author's keyboard. How he got humour on his fingers was simple — "Till I was 7, we had no TV, no English, no God and no dollar. My father came in search of all these to America".
Deborah Moggach, gifted with a funny brain muscle, has penned 13 novels, including film scripts for "Pride and Prejudice" and for the film based on her novel, "The Best Exotic Marigold Hotel." She says the days of a separate genre of humour are over and readers want to be on the edge when they read. "Comedy works because of an element of truth, you have to be spot-on to find humour, and strongest humour comes out of reality."


The giant Web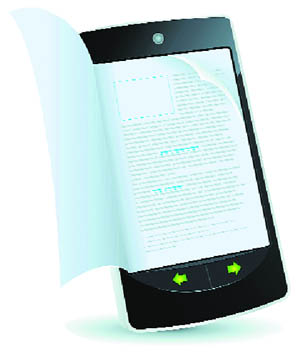 All writing begins with a spark, a thought, in the isolation of a writer's den. The writer structures his/her book by breaking and coining words, sentences, phrases and chapters. But, how does he reach the reader? A writer at the festival says, "My royalty cheque makes me feel ashamed and question my decision of becoming a writer."
To begin with, despite 32 clones of the JLF across the country, there is no organised system of literary agents for India-based writers. Compare it with the fact that France has a Book Attache, with proper staff to promote French books in India, translated into English and other Indian languages. While corporate publishing houses are setting shops and eyeing India's growing literate class, they are struggling to understand the rules of the publishing game. While independent vernacular publishing remains unorganised, but successful, the professionally organised publishing houses have not even come close to the numbers produced and sold by these publishers through their retail chains at bus stops and railway stations.
Then, there is this giant invisible Web that is set to devour books completely. The phenomenal success story of "50 Shades of Grey", a self-published e-book has made the publishing industry nervous. The book was rejected by all the major publishers. It also proved the publishers sitting in their ivory towers have no clue about public taste or future trends. The future of books belongs to readers. They decide what they read. And read they must, either in hardbound copy, on iPhone, iPod or on Kindle.
Cash Card: An artist is never poor but he needs money to pay the bills.
Jeet Thayil on winning dsc south asian literature prize, 2013, worth $50,000
Karmic: Geography is your destiny.
Abraham Verghese, author of "cutting for stone"
honey trap: If a fly falls into honey, it can't work. It has to fly away from honey to work.
Tahar Ben Jelloun, moroccon writer
X-factor: Not everyone can become a great artist/writer but great artist/writer can come from anywhere.
Christopher Ricks
high rise: What we look for is transcendence; either through love, sex or religion.
Sebastian Foulks, author of birdsong
read on: We give money to schools. We expect them to raise our children. We never even read stories to our children and we expect them to be culturally rich.
Ahmad Farookhi
decoded: Language is a deeply personal thing. Nobokov wrote in a private secret language that is mysteriously comprehensible to English reading people.
Nadeem Aslam, Pakistani author