G R O U N D Z E R O
ground zero
A young King and 'Gross National Happiness'
Any apprehensions that India harboured over relations between Bhutan and China were allayed by categorical assurances given by the Bhutanese government that the tiny kingdom would do nothing to jeopardise relations with India.
Raj Chengappa

Samuel Butler once wrote, "True greatness wears an invisible cloak, under the cover of which it goes in and out among men without being suspected." Both power and greatness rest lightly on the young shoulders of the King of Bhutan, His Majesty The Druk Gyalpo Jigme Khesar Namgyel Wangchuck. He will turn 33 on February 21, but exhibits a maturity and calm far beyond his age. His Majesty was the Chief Guest at India's 64th Republic Day celebrations, which he graced along with his charming young wife, Her Majesty The Gyaltsuen Jetsun Pema.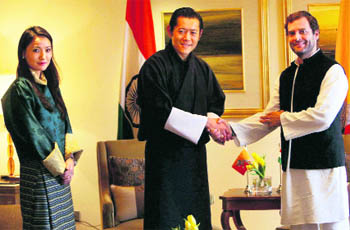 The Bhutan royals with Congress vice-president Rahul Gandhi in New Delhi on Monday. PTI
I first met His Majesty in the summer of 2005 when he was the Crown Prince and doing a course at the National Defence University in Delhi. He graciously consented to attend my lecture on India's nuclear weapons programme to IFS trainees at the Foreign Services Institute in Delhi. When he returned to Thimphu he wrote several letters in his own hand, which used to reach me via an extra-large envelope with the royal seal on it.
By the end of that year, his father King Jigme Singye Wangchuck, who had just turned 50, announced he was going to abdicate in favour of his eldest son and would start devolving powers to him with immediate effect. Not only did the then King want to give up his powers but he also decided that Bhutan would transit to a democracy with the monarchy having a considerably reduced role in governance. Rarely has there been such an enlightened monarch who so willingly abdicated his throne and ensured a peaceful transition to democratic power. In contrast, the Nepal King was forced to give up his powers after years of civil unrest.
King Jigme Singye Wangchuck was true to his word. In December 2006, Jigme Khesar Namgyel Wangchuck ascended the throne as the fifth Druk Gyalpo, or Dragon King, of the Kingdom of Bhutan. By then his father had begun the process of ending the absolute monarchy of Bhutan and paving the way for the establishment of a multi-party democracy, including a new Constitution that would define the powers of both royalty and a bicameral Parliament. He was also responsible for institutionalising the concept of "Gross National Happiness" as a barometer of progress rather than GDP growth, signalling that the well-being of a nation took precedence over materialism.
Among the first major acts of the new King, then the world's youngest head of state, was to sign a landmark treaty with India in February 2007 that lessened Delhi's influence over issues such as foreign policy and defence but ensured that Bhutan would not permit its territory to be used for any harmful activity against India's national interests. India continued to fund Bhutan's development, committing assistance worth Rs 3,400 crore during the Tenth Five Year Plan spanning 2008 to 2013.
Meanwhile, Bhutan moved steadily on the path to democracy by first conducting mock elections to get its 7.5 lakh people accustomed to the idea. In December 2007, the National Council, the upper-house in the bi-cameral Parliament, was elected. The first General Election for the National Assembly was successfully conducted in March 2008 with the Bhutan Peace and Prosperity Party sweeping to power and its leader, Jigme Thinley, being sworn in as Prime Minister. Only after a democratic government was put in place did the new King hold a coronation in November 2008 where he was formally crowned.
In the past five years, the King has ensured that democracy takes firm root, rarely interfering in governance issues and urging the Cabinet to take key decisions, without exercising his royal powers. He reportedly performs his duties with compassion and humility and is in constant touch with his people, touring the Kingdom extensively and listening to issues and helping out where he can.
Despite his busy schedule he never failed to keep in touch with me either through letters, which he continued to write in longhand, or granting me an audience whenever he visited Delhi, as he did when he came as Chief Guest for the Republic Day celebrations recently. Queen Jetsun was present and she talked of her days in Lawrence School, Sanawar, with fondness. She recalled with a smile that it was the King's long letters to her that was one of the factors that made her decide to marry him.
The King himself was modest when he talked about the five years of his rule, saying he had learnt a lot and there was still much to be done, particularly to promote inclusive growth and to ensure that the next democratic elections being held this spring were as successful as the first one. Any apprehensions that India harboured over relations growing between Bhutan and China were allayed by categorical assurances given by the Bhutanese government that the tiny kingdom would do nothing to jeopardise relations with India, which it views as a permanent friend. When it comes to Bhutan, 'Long Live the King' has a good ring for India.