Village democracy in China
Though Deng Xiaoping's reforms have lifted the rural Chinese standard of living, these have also led to socio-economic disparities and imbalances. Parts of China's countryside have become a dynamic new source of economic growth
Abhilaksh Likhi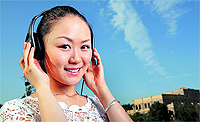 The number of Internet users in rural China stands at 530 million

Among the most significant political reforms implemented by the Chinese government since 1989 is the introduction of competitive elections in villages. The basis for village elections is a law promulgated in 1987 by the National People's Congress, China's legislature, which specifies that village leaders be directly elected by the villagers themselves for three years. India, since Independence, has constitutionally affirmed the importance of village democracy through grassroots local bodies though they acquired legal teeth only in 1993 after the 73rd Constitution Amendment.
Towards decentralisation
Village democracy in China is an example of a centrally driven policy change towards decentralisation and participation. Through much of China's long history, the central state has ruled the countryside only indirectly. In fact, during the Ming (1468-1644) and Qing (1644-1911) dynasties, the imperial bureaucracy extended only to the xian (county) level, leaving control of the countryside largely in the hands of local gentry and elites. It was not until the modern era, comprising the Republican Period (1911-49) and the People's Republic of China (1949-present), that the central government consolidated its control of the countryside. Beginning with land reforms in 1949 and accelerating with the collectivisation of agriculture in the mid-1950s the state established official bureaucracies at the county, township and village levels.
It was not until the 1970s that administrative power was decentralised to the rural communes that were converted into townships and villages. In these new entities, the more entrepreneurial officials soon began using their new-found authority and discretion to take advantage of opportunities opened by market liberalisation. Within a few years, China's countryside became a dynamic new source of economic growth too.
The electoral processes enshrined in Article 14 of the Organic Law on Village Committees combines a process of public nomination with secret ballots. The design of this process was based on a series of pilots encouraged by the government in as many as 24 provinces making China one of the few countries in the world where popular deliberation have been organised to determine electoral mechanisms. Interestingly, the Chinese Communist Party (CCP) maintains a parallel structure at the village level of a party village branch in addition to the basic and more representative grassroots' institution i.e. Village Development Committee (VDC).
Local self-governance
In India, participatory institutions of local self-governance amongst rural communities have existed since time immemorial. Local self-government in India, as an accountable representative institution, was the creation of the British colonial masters. Lord Ripon instituted local government reforms in 1882 for the primary purpose of providing political education and reviving India's indigenous system of government. Since the Constitution of India came into effect in 1950, the foundations of such village democracy, as a three-tier structure at the grassroots, (though extremely unevenly implemented across various provinces) have been strengthened by systemic improvements contained in the various recommendations of committees and consequent legislation that has been enacted.
But decisive reforms happened only in the 1990s when the 73rd Constitution Amendment strengthened the three-tier Panchayati Raj Insititutions (PRIs) with the Gram Panchayat comprising a group of villages, Panchayat Samitis at the community block level and the Zilla Parishad at the district level. It systematised PRI elections at all three levels, established independent election commissions and gave PRIs more fiscal authority and political power. For over two decades, the constitutionally mandated PRIs, despite challenges of elite capture and clientiesm, have led to the emergence of a large number of locally elected leaders, including for the first time over one million women!
These broad developments in the evolution of village democracy in China and India have been supplemented with the emergence of other grassroots democratic forums. The number of Internet users in rural China stands at a staggering over 530 million! Although blogging is a relatively recent phenomenon, blogs and chat rooms are a popular means of organising and spreading news even in rural areas, whether about socio-cultural stories of mass interest, perceived injustices, demands for private property rights, inequity concerns, environment, corruption, minority assertions issues etc. A study of four environmental NGOs (Greener Beijing, Green Web, TAIC, Han Shai Sha) shows how the Internet in China has helped myriad grassroots organisations to achieve institutional growth, mobilisation of resources and spread of online environmental activism.
In India, in the backdrop of a robust social and electronic media, the revival of PRIs has been supplemented by the recent proliferation of a large variety of local bodies whose numbers are increasingly exponentially. Apart from a mushrooming of non-governmental organisations (3.3 million and one NGO for less than 400 Indians active in the rural space) other new types of groups have also emerged. These include user groups for natural resource management such as forests and water, stakeholder committees, and self help groups (SGHs) for micro- credit and various livelihood creation activities. It is important to note that national or international donor agencies often prefer to route their assistance through NGOs, SGHs and user committees, ignoring the fact that these are non-elected bodies paralleling the already existing PRIs and the fact that they are equally vulnerable to elite capture or clientelism.
Poverty reduction efforts
Interestingly, in China since 1986, the Leading Group on Poverty (LGOP) and its executive agency, Poor Area Development Office (PADO), that has roots in counties and townships, has effectively been responsible for the overall success of poverty reduction programmes. But while it has increased its commitment to a broader poverty reduction, social protection and the human development agenda there is no evidence to indicate that grassroots units of village democratic institutions such as the VDCs have been structurally and systemically involved in the implementation process. In fact, there has been a move away, in the latest LGOP Report 2012, from making the poor-led community-driven development through VDCs the driver of rural poverty reduction programmes.
This is quite surprising since the last decade has seen the launch of a large variety of poverty alleviation programmes such as the launch in 2000 of the Western Region Development Strategy, training programmes to support he transfer of rural surplus labor, coordination of the nationwide rural social assistance programme -- Di Bao, universal primary education programme, the rural health insurance scheme, medical assistance scheme for rural areas, a compulsory education finance scheme and many more.
In India on the other hand, the 73rd Constitution Amendment provides legal backing to the Gram Sabha (village assembly that constitutes the Gram Panchayat). In fact, the Gram Sabha's crucial role in decentralised planning based on an area's resource endowment, people's felt needs and their relative absorptive capacity has been envisaged to be a realistic input into district plans that will form the basis of 2012-2017 macro-planning by the Planning Commission at the national level. The constituents of micro planning include literacy, elementary education, rural water supply, rural roads, housing, nutrition, employment guarantee and rural electrification as minimum needs. Despite the challenges of lack of convergence, adequate capacity building and stronger social audit such a system stands on a firm footing.
Institutional trajectories
There appear to be three institutional trajectories that will shape the nature, pace and expanse of democratic reforms in China, including village democracy. The first is the stimulation of social democracy through an inner-party collective leadership system. With more than approximately 70 million party members, the CCP has over the years skilfully absorbed and co-opted the vast majority of the country's social and political elites, including those in rural areas.
Secondly, China's democratisation will be characterised by the further growth and proliferation of the Internet and social media. Currently a virtual civil society is continually contesting in urban and semi-urban China with the forces of networked authoritarianism to express and flower. The party-state can at no cost ignore the future palpable vibrancy of an information rich and rights' asserting civil society that is bound to form the core of transparent governance.
On the other hand, it is evident that in India it took nearly four decades for the PRIs to be integrated into the country's core quasi-federal polity. Besides, the delayed integration has had severe systemic implications for effective service delivery in sectors such health, education, social protection, rural employment vis-a-vis umpteen parallel and local bodies that have now emerged in the rural space. As a result, the primacy of the legally backed PRIs as robust and thriving last mile grassroots bodies that act as an accessible and accountable fulcrum for the rural community has suffered in time.
The initiation of devolution of funds, functions and functionaries to PRIs through 'activity mapping' by the unbundling of 29 subjects in Schedule Eleven ranging from agriculture to education, which PRIs should actually supervise, implementation and monitoring are a critical step. Actual devolution through realistic mapping coupled with PRIs entering into public-private partnerships with civil society organisations could create an incentive compatibility that would bring effectiveness in the public delivery of multi-sectoral rural interventions.
The writer is an IAS officer and currently a Research Fellow at SAIS, Johns Hopkins University, Washington DC