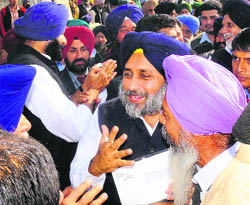 In rural Moga, voters may back party in power
Moga, February 13
The Congress might be slightly ahead in Moga town but as far as the villages of this constituency are concerned, the SAD seems to be having an upper hand.





Deputy CM Sukhbir Badal interacts with people at Nidhan village in Moga on Wednesday. Tribune photo: S Chandan

Many quota jobs lying vacant in Punjab
Chandigarh, February 13
In a twist to the ongoing controversy of reservation for government jobs in Punjab, officials have approached the Department of Social Welfare pointing out that a significant number of posts were lying vacant in the Education Department.
Former Cong MLA returns to party fold
Moga, February 13
Former Congress MLA from Dharamkot Gurdev Singh Gill, who had joined the SAD a few years ago, today returned to the party fold.



His efforts ensured return of 17 Indians on death row in Sharjah


Chandigarh, February 13
"Sarbat da Bhalla" (welfare of all) is the motto of 56-year-old Surinderpal Singh Oberoi, a hotelier-turned-philanthropist who has been making it to media headlines not only for securing the release of 17 Indian youths from Sharjah jail but also for his liberal financial help to those in need.


SPS Oberoi

3 more youths await release by UAE govt
Amritsar, February 13
Three Punjabi youths booked in the UAE for murdering two Indians are awaiting completion of documents to be set free by the UAE government. These youths have been identified as Sandeep Singh, Talwinder Singh and Paramjit Singh. 'Sarbat da Bhalla', an NGO which played the main role in the release of 17 Indian nationals, got their death sentence waived after availing the provision of paying blood money to the families of the deceased under the Islamic law.
9 members nominated to DSGMC
New Delhi, February 13
The Directorate of Gurdwara Election today announced the nomination of nine members through co-option to the DSGMC.
Re-auction of 13 sand quarries today
Chandigarh, February 13
The re-auction of 13 sand quarries, scheduled for tomorrow, is all set to rake in big money for the Punjab Government.
Rape accused constable dismissed
Faridkot, February 13
The authorities today dismissed from service police constable Kulwinder Singh, who was arrested on Monday on the charges of kidnapping and raping a 14-year-old girl.
Fatehgarh Sahib admn to construct 46 new classrooms under SSA
Fatehgarh Sahib, February 13
The district administration will spend Rs 2.39 crore under the Sarva Shiksha Abhiyan (SSA) to provide 46 new classrooms in 31 schools in the district.
Gender ratio improves in 116 Patiala villages
Patiala, february 13
In an encouraging trend, the gender ratio in the age group of 0-6 years in 116 villages from a total of 944 villages of Patiala district has improved drastically. In these villages, the number of girls is more than the number of boys.

Confined to house, family of four rescued in Mohali
Mohali, February 13
The police along with members of an NGO today rescued four members of a family who had confined themselves to their house for the past more than a year and were living in a pitiable condition.



Manmit, one of the rescued

Man dies in bus-car collision near Barnala
Barnala, February 13
An ex-serviceman Balwinder Singh (37) from Harigarh village died on the spot while his brother Jaswinder Singh (40) sustained serious injuries in a head-on collision between a private bus and a car about four km from Dhanaula on Barnala-Sangrur road.
Woman dies of swine flu
Fatehgarh Sahib, February 13
The total number of swine flu cases in the district has gone up to four in the past month with the death of a 45-year-old woman, who was being treated for swine flu at the local Civil Hospital.
Baal Preet magazine launched for children
Patiala, February 13
The Patiala District Child Welfare Council has launched a bimonthly Punjabi magazine "Baal Preet" to encourage students to write. The magazine will feature poems, short stories, essays etc written by children.



Punjab told to check plying of heavy vehicles from HP
Chandigarh, February 13
Emphasising on road safety and pollution-free environs, the Punjab and Haryana High Court has directed the State of Punjab and its authorities to look into the plying of gravel-carrying trucks and other heavy vehicles from Himachal Pradesh into the bordering villages of Hoshiarpur district.



Teacher booked for raping 14-yr-old
Sangrur, February 13
A government schoolteacher was today booked under Sections 376 and 506 of the IPC for allegedly raping a 14-year-old student of Class VIII. The incident had taken place at the residence of the teacher at Namol village on December 31 last year. The victim's parents learnt about the crime yesterday.